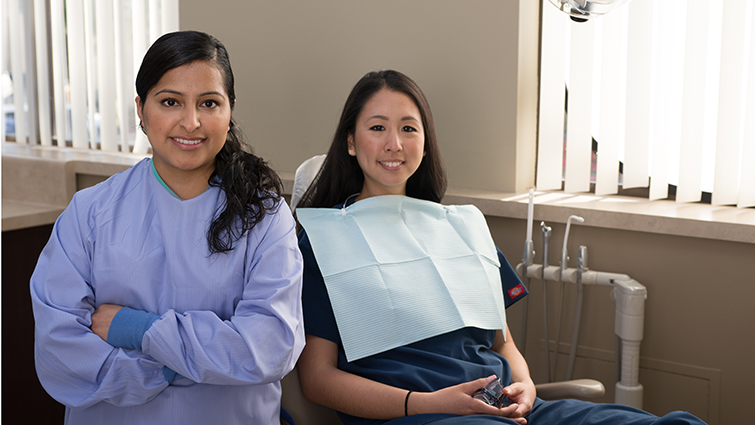 The Admissions Office at Loma Linda University School of Dentistry is participating in the ADEA Dental Hygiene Centralized Application Service, known as DHCAS. Applicants to the Dental Hygiene program will apply online using the DHCAS application. To learn more about the DHCAS application process, visit www.adea.org. A supplemental application for LLUSD will also be required.
Dental Hygiene is an undergraduate program in the School of Dentistry, that is largely focused on preventive oral health services and continuing care. The purpose of the program is to develop professionals prepared for the current practice of dental hygiene and future changes in dentistry. The hygienist works in association with the dentist in private–practice offices, industrial organizations, schools, hospitals, local, state or federal public health services, and the armed forces.
We invite you to view the information on the American Dental Education Association's Go Dental Page for more information about a career in dental hygiene.
Admission Requirements
Proficiency in verbal and written English
20 hours minimum of observation/shadowing
Dental assisting experience is strongly recommended.
Three letters of reference: employer or dental professional, pre–professional committee or science professor uploaded with AADSAS application. A spiritual leader reference letter should be submitted along with the LLUSD supplemental application.
A formal interview (by invitation only).
Official transcripts from all schools attended.
Prerequisites
Humanities–16 quarter or 11 semester units, 3 content areas required from the list below:

History/Civilization
Art History & Appreciation
Music History & Appreciation
Performing Arts (4 units max)
Literature
Foreign Language
Philosophy/Ethics/Religion

Anatomy and Physiology I & II–Two classes with lab
Microbiology–One class with lab
Chemistry–Introductory Inorganic, Organic & Biochemistry–One year with lab
College Algebra–One class
Cultural Anthropology–One class
Introduction to Psychology–One class
Introduction to Sociology–One class
Freshman English–One year
Speech–One class
Physical Education–Two activity classes
Personal Health or Nutrition–One class
The entry-level dental hygiene applicant must meet the following minimum requirements:
96 quarter or 64 semester units of accredited college coursework. NOTE: Loma Linda University requires all students who graduate with a baccalaureate degree to complete a minimum of 68 quarter units of general education, which is integrated into the entire undergraduate program.
A grade point average of 2.7 or higher in science and non-science coursework, averaged separately; a minimum grade of C for all pre-entrance coursework to be transferred to the University. The entering grade point average is typically 3.2 or higher.
A personal interview (by invitation only) with a representative designated by the School of Dentistry. This interview will assess personal qualities such as, values, spiritual heritage, communication skills, service orientation, and volunteer experience. The interview is by invitation only.
Three personal letters of reference: employer or dental professional, pre–professional committee or science professor uploaded with AADSAS application. A spiritual leader reference letter should be submitted along with the LLUSD supplemental application.
A minimum of 20 hours observation with a dental hygienist. Completion of observation hours prior to an interview is recommended. Dental assisting experience is also highly recommended.
Dental hygiene applicants are expected to complete all general education requirements before matriculating in the School of Dentistry. A student may be accepted with a deficiency in one or more of the areas but is expected to eliminate deficits before registering for the Dental Hygiene Program. Courses are to be completed at an institutionally accredited college or university.
Required science courses must be completed within five years prior to the desired date of matriculation.
Transfer Agreements
These DH transfer agreements are from common local and Seventh-day Adventist schools that students choose to attend for their prerequisite coursework. This is NOT a complete list of higher educational institutions from which we accept credits.  We only accept prerequisite courses from regionally accredited colleges and universities.  If your previous college is not listed you may contact us directly.
How to Apply
All applicants must apply online at www.adea.org and fill out the DHCAS application between November 1 and June 1.
Based on the review of the application, transcripts and recommendation letters, applicants may be invited to LLUSD for a personal interview.
FAQ
Q: Do I have to complete all pre–requisite coursework before I can apply?
A: No. You may apply with coursework in progress, and an applicant may be accepted with a deficiency in one or more of the areas but is expected to eliminate deficits before enrolling in the Dental Hygiene Program.
Q: Can I attend part–time or work while in the program?
A: No. This is a full–time program and working is discouraged.
National Board Exam
Upon successful completion of the Dental Hygiene program, all students are required to pass National and State or Regional practical exams.
Financial Aid
A financial aid advisor and financial aid programs are available, please contact 909–558–4509 or email finaid@llu.edu. Website information can be located on the financial aid website.
International Students
Students applying for, or holding F–1 U.S. Student Visas are required by U.S. immigration regulation to secure sufficient funds for their first year's tuition and fees and provide documentary evidence of sufficient funds for their second year.
To satisfy this immigration requirement, LLUSD requires non–U.S. citizens and non–U.S. permanent residents to pay the first year's tuition and fees before registration for the first term.  Contact University International Student Affairs: 909-558-4955.
Forms and Additional Information
Estimated Student Expenses
Useful Links
Discipline Accrediting Agency https://coda.ada.org/en
State Accrediting Agency https://dhbc.ca.gov/
Bureau of Labor Statistics, U.S. Department of Labor, Occupational Outlook Handbook, 2014-15 Edition, Dental Hygienists, Statistics on salary, job growth, and demand areas.
http://www.bls.gov/ooh/healthcare/dental-hygienists.htm
Information on blood borne infectious diseases and possible work-related risks and injuries.
http://www.cdc.gov/oralhealth/infectioncontrol/faq
Education/career paths and national and state employment opportunities.
www.adha.org/professional-roles
RDH scope of practice in California. 
https://dhbc.ca.gov/
Office of Admissions
11092 Anderson Street Room 5503
Loma Linda, CA 92350
 
Disclaimer: The School reserves the right to modify or change admission standards or requirements at any time without prior notice and effective immediately. The information provided on this site is for informational purposes only and does not create any agreement or understanding or establish any rights or responsibilities whatsoever between LLU School of Dentistry and any student or prospective student.