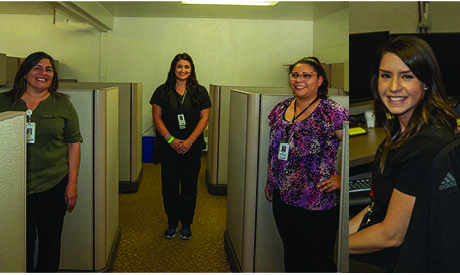 By Douglas Hackleman - April 29, 2020
The ongoing Covid-19 pandemic has made the safe practice of dentistry extremely difficult. It is impossible to practice social distancing in a dental operatory. And the opportunities for contamination through the air and physical surfaces for both patient and practitioner are continuous.
But the need for oral healthcare services continue and sometimes become urgent. To meet the needs for patients in pain, or those at medical risk, all of the Loma Linda University School of Dentistry dental clinics are making available Teledentistry and E-visit services to new and existing patients.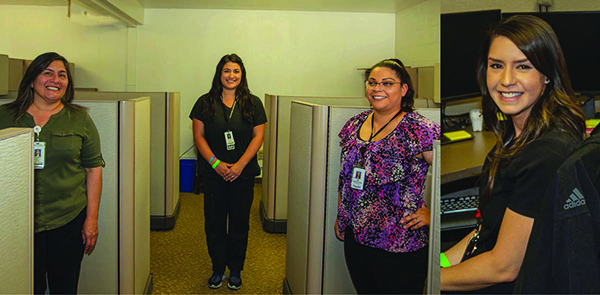 L-R: Virginia Gardner, coordinator, Patient Business Office; Imelda Ramirez, manager, Patient Care; Right) Sessaly Luis, coordinator, Patient Business Office; Blanca Munoz, coordinator, Financial Planning
E-visit and computer based videotelephony and online chat services, such as Zoom, Skype, Apple Face Time, Facebook Messenger Text and Video Chat, or Google Hangouts, so often used for teleconferencing, telecommuting, and distance learning, provide the opportunity for patients to consult with our clinicians and to exchange with them any form of electronic data (images, audio, video, and other forms of data) that might facilitate diagnosis or a determination of whether an emergency in-person visit is necessary.
Please do not contact us using public-facing services such as Facebook Live, Twitch, or TikTok, which are not permitted by the federal government for this purpose.
Because online communications services can introduce privacy risks, patients should know that LLUH care providers use remote videotelephony under or within all available encryption and privacy protocols.
The following conditions may qualify for a Teledentistry and E-visit:
Screening of a patient

Consultation

Limited evaluation

Re-evaluation

Post-surgical follow-up

Localized infection or localized inflammation

New and existing patients may call to schedule a Teledentistry at (909) 558-4222.
Teledentistry should be used to request advice for non-urgent care needs and dental triage to determine if you need to be seen by a dentist.
Teledentistry Services by appointment
When you reach a Call Center representative at 909 558-4222, you will be guided online through MyDentalChart to complete your patient registration form that includes your medical/dental health history. The Call Center representative will schedule a time with you and a dentist. The E-visit meeting details will be sent to your email address and to the dentist for your Tele-visit appointment.
If you need to change your appointment, please contact the Call Center at (909) 558-4222. Teledentistry services are offered to all patients; for more information; please contact the School of Dentistry.
In response to Covid-19 considerations. Please call (909) 558-4222 on Monday through Thursday from 8:00 am - 5:00 pm, and Fridays, 8:00 am - 4:00 pm, to schedule an appointment.
For medical emergencies, please call 911.