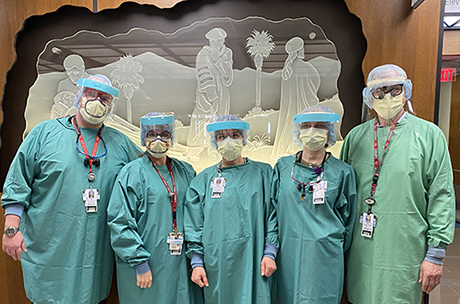 By Douglas Hackleman - April 23, 2020
The Covid-19 virus pandemic is an enormous frustration to dental patients and their care providers at the LLU School of Dentistry.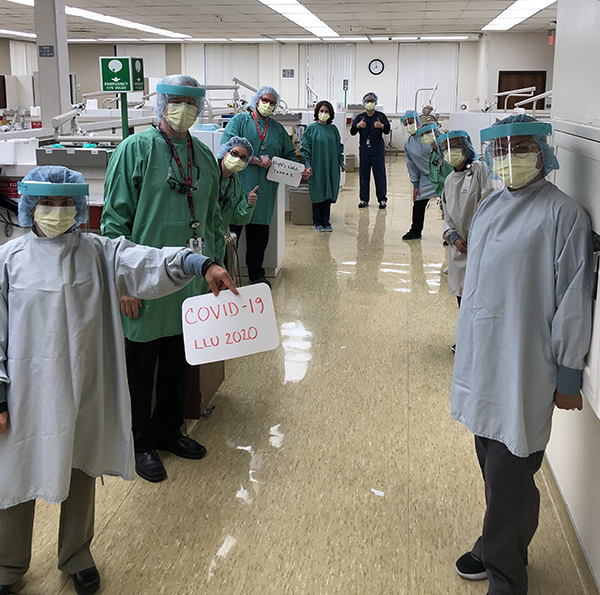 Although they look a little forbidding, the School's dental staff and clinicians are as welcoming as ever.
Out of ultimate concern for the safety of our patients and our dental care providers, the School of Dentistry is in full agreement and cooperation with the Center for Disease Control, the American Dental Association, and the California Dental Association that under the present circumstances, in-office dental appointments should be limited to dental emergencies.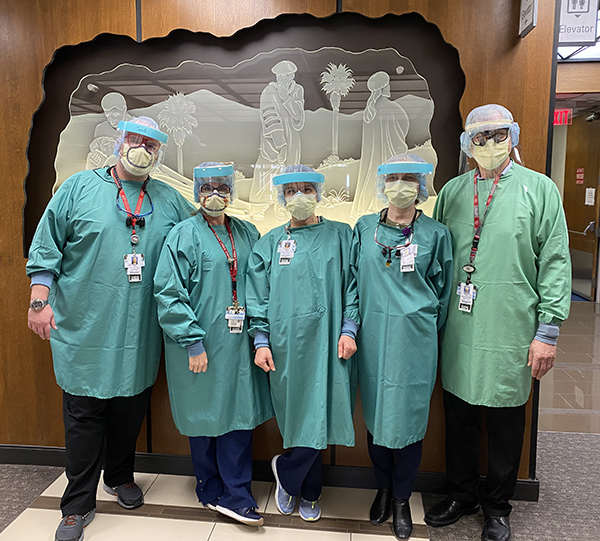 These safety-enhanced members of the School's clinical team represent the front line of service.
Circumstances that qualify for emergency appointments include the following and can be evaluated for treatment so long as you do not exhibit signs or symptoms of the Covid-19 virus.
Uncontrolled bleeding

Cellulitis, infection, or trauma that potentially compromise the patient's airway

Severe dental pain

Surgical post-operative osteitis (dry socket) treatment

Abscess, or localized bacterial infection resulting in pain and swelling.

Tooth fracture resulting in pain or causing soft tissue trauma

Replacing temporary filling on endodontic access openings in patients with pain

Snipping or adjustment of an orthodontic wire or appliances piercing or ulcerating the mouth

Biopsy of suspected oral cancer site

Extensive dental cavities or defective restorations causing pain

Suture removal (non-resorbable)

Denture adjustment on radiation/oncology patients

Replacing/recementing provisional crowns/bridges
If you are not sure whether your dental issue falls within these categories, please call 909 558-4222 for a consultation.
We encourage you to self-register at MyDentalChart patient portal. And please come alone, unless you need a driver or are a minor, in which case a guardian must be with you. We request that your driver remain with the transportation vehicle.
Please use the School of Dentistry's main (west facing) lobby entrance and arrive wearing whatever mask you may have, even homemade.
You will be met by a nurse and three dentistry professionals who will provide a health screening and determine where to escort you for emergency dental care.
You will find enhanced screenings and social separation, in addition to gowns, gloves, and enhanced masking, part of our reinforced methods to keep you, and those who treat you, as safe as possible.
Please call 909 558-4222, to be pre-screened and to schedule an appointment.