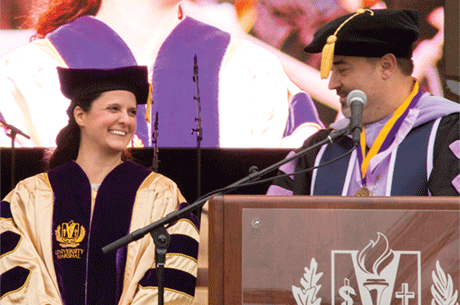 By Douglas Hackleman - August 8, 2019
Zina Johnston, DDS'00, assistant professor, Division of General Dentistry, was presented at the 2019 LLUSD commencement with the School of Dentistry Teacher of the Year Award by Mark Estey, DDS'98, assistant dean, Office of Academic Affairs who explained her selection.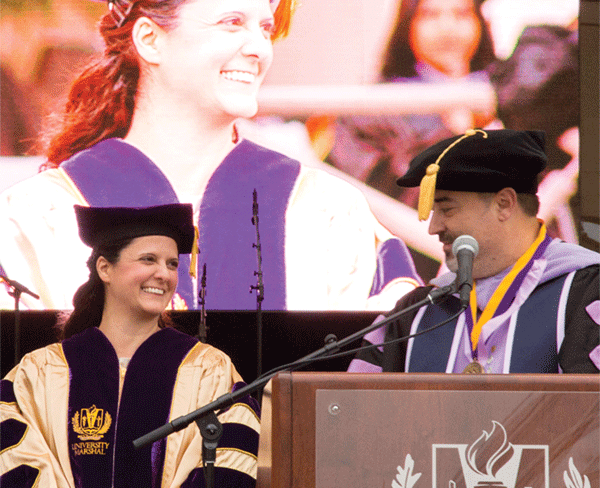 Dr. Zina Johnston receives her award from Dr. Mark Estey.
 "The School of Dentistry Teacher of the Year Award was established to recognize a faculty member whose accomplishments have made an extraordinary impact on students, peers, and the School family.
"Dr. Johnston was born in Bagdad, Iraq. She graduated from Orangewood Adventist Academy before completing her predental education at La Sierra University.
"Dr. Johnston graduated from the Loma Linda University School of Dentistry in 2000 where she was awarded the American College of Prosthodontics Award and the Wilfred E. Nation Award.
"Following graduation from the School of Dentistry, Dr. Johnston practiced dentistry in Riverside and Yucaipa, California, before returning to Loma Linda University in 2008 to join the faculty on a full-time basis.
"As the writer William A. Ward once said, 'The mediocre teacher tells, the good teacher explains, the superior teacher demonstrates, and the great teacher inspires.'
"We have only to look at the consistently outstanding assessments submitted by students to support why Dr. Johnston is one of the great teachers. Let me just read a couple of comments made by students about Dr. Johnson from this year's graduating class.
"One student describes Dr. Johnston as 'one faculty that embodies the mission of Loma Linda University. She cares for each of her students and patients. She does not make us feel as if we are taking up her time with our questions and will take the time to help us.'
"Another student states, 'Dr. Johnston is an example of how every faculty member should be on clinic. She is very committed to her task. She's also a great teacher and has a lot of knowledge.'
"Dr. Johnston has served on numerous committees for the School of Dentistry as well as currently serving as co-chair of the Professional Standards Committee. Additionally, Dr. Johnston has served on search committees for both department leadership and dean of the School. Dr. Johnston was inducted into Omicron Kappa Upsilon, the dental honor society, and she served as president of its Chi Chi chapter from 2016 to 2017.
"In appreciation for what she has contributed to Loma Linda University, and in particular the School of Dentistry, it is my honor to present Dr. Zina Johnston the 2019 School of Dentistry Teacher of the Year Award."