By School of Dentistry - January 6, 2010
A number of ugly sweaters, an ornament exchange, and the compelling, Gospel music performing artistry of LLUSD alumnus (and Mt. Rubidoux SDA Church choir director) Alan Woodson, SD'87, and several of his choir members, combined to warm and energize 2009's final (and Christmas) Keeping Connected.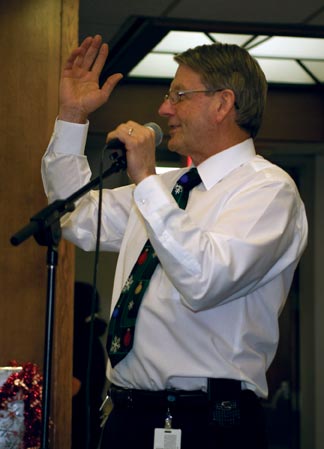 Apologizing for his white shirt and tie, Ugly Sweater contest master of ceremonies Graham Stacy, PhD, associate dean, student affairs, blamed his lack of an ugly sweater on the claim that the other contestants had beaten him to all of the Inland Empire's thrift shops.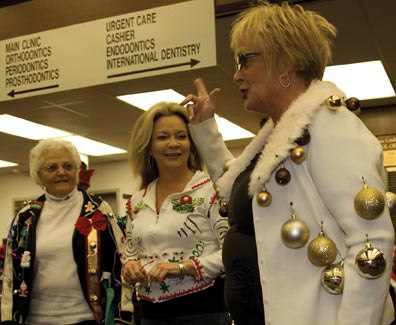 But after the seven contestants had strutted their stuff, it was the guy, Edmundo Murillo, Department of Oral and Maxillofacial Surgery dental assistant, who made off with the Ugly Sweater prize—a large, decorative basket of Christmastime goodies.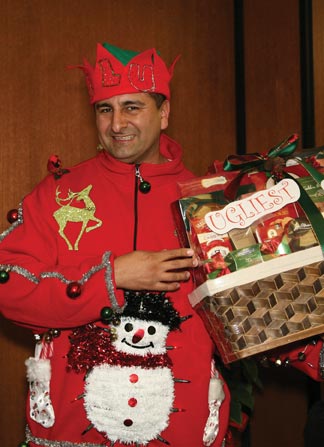 Following a short game of musical ornaments, the real music—and the highlight of the early afternoon—began in the persons of Dr. Woodson and six or seven of his gospel singers from the Mt. Rubidoux SDA Church.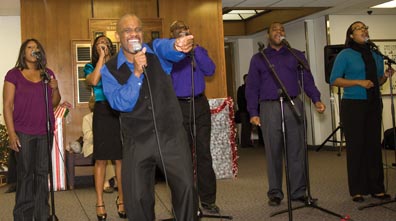 As Mt. Rubidoux minister of creative music and arts, Dr. Woodson took his choir to the October 2008 Verizon Wireless "How Sweet the Sound" gospel choir competition, where they won three regional prizes—"Best Large Choir," "V-Cast People's Choice Award," and "Best Overall Choir"—winnings that included a $10,000 check from Verizon for "L.A. Best Large Choir," and a $5,000 check from the company for the "People's Choice Award."
Dr. Woodson's dynamic group sang several songs that had the Keeping Connected audience on its feet, swaying and clapping to the infectious numbers that included "Joy to the World," "Now Behold the Lamb," and "Hallelujah, You Are Worthy." It was a very fitting introduction to the Christmas season and all that it represents.