By School of Dentistry - July 30, 2012
The Port City Dental Center designed by LLUSD alumnus Tristan Hamilton, SD'09, practicing in Wilmington, North Carolina, received the "Best Overall" honor from among hundreds of nominees for dental office architectural design in the inaugural competition sponsored by Benco Dental's
Incisal Edge
magazine.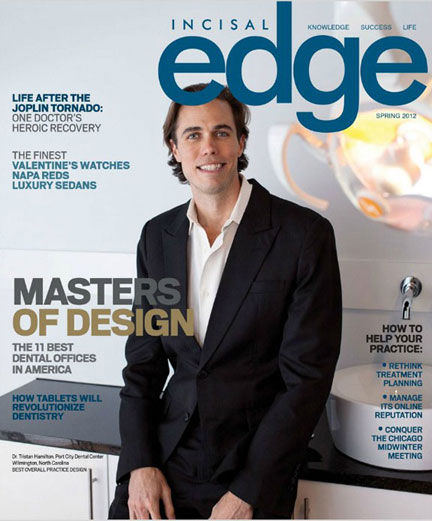 Dr. Hamilton, 33, graduated with a master's degree in 2003 from Andrews University School of Architecture, and practiced in that profession for five years.
During a month's hiatus from architectural work, he participated in a medical mission to Kafue, Zambia. "It really opened my eyes," he told Incisal Edge. "I hadn't even taken a blood pressure before, but, quickly, I was giving injections, doing prenatal exams. It made me realize that I couldn't continue what I was doing."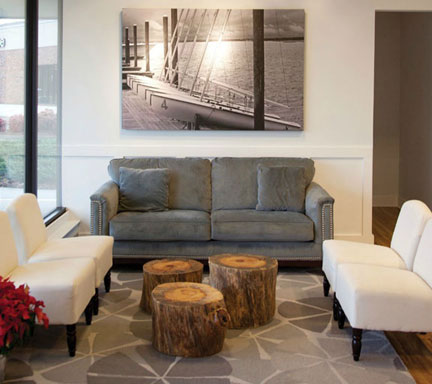 Not long after graduating from LLUSD in 2009, Dr. Hamilton began scouting the Wilmington area for a place to build a practice. He found a 3,600-square-foot building on a busy intersection that formerly was used as a haunted house by the local high schools.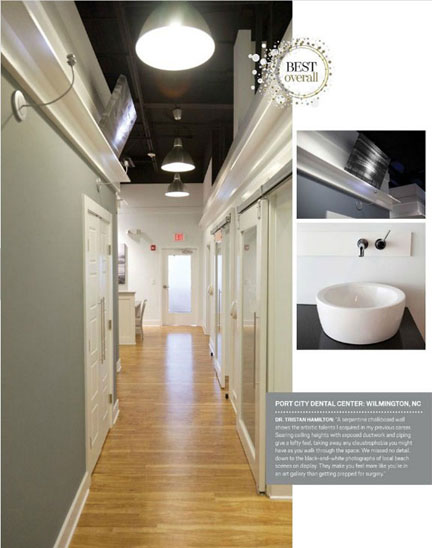 As he considered redoing the building into a dental office, Dr. Hamilton was concerned about [the] impact of spaced design on human homeostasis and metabolism, tied as they are to environment. As a student at LLUSD, "I actually did my dental research on alleviating patient fear through the design of the dental office," he said. "Most students do 'the art of decay' or 'toothpaste that makes teeth white,' but we developed a thesis that by creating key elements within the [office] design, you can eliminate a portion of dental phobia."
So Dr. Hamilton "wanted to make this look nothing like a dental office." Instead, he wanted his practice to feel more like a spa or gallery.
The sensory, physical, and emotional experience is often what impacts people the most in a medical or therapeutic environment, including odors, sounds, lights, and temperature. So, combining research-driven findings for maximizing environmental therapeutic benefits with his architectural vision and expertise, Dr. Hamilton drew up a 'whole building' design concept.
 
The design—smoked 14' ceilings; curvilinear, serpentine walls; soft iridescent blue walls; the use of natural materials, such as woods and fabric rather than tiles and plastic; and soft, full-spectrum lights—was research-supported but driven by Dr. Hamilton's desire to relax his patients, personalize the experience and free it of fear and anxiety.
"The curvilinear walls in the entryway eliminate the harsh feel of angles. Harsh angles make for harsh spaces," he says. "The entryway immediately helps alleviate fear.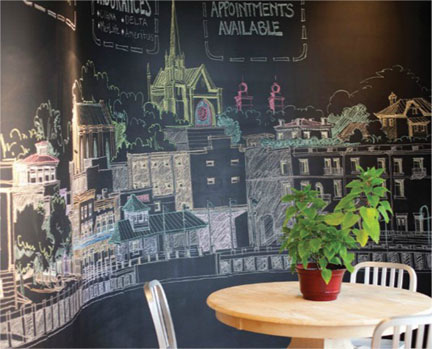 "By using wood, plants, and living room furniture in the entryway, we made the space feel homey rather than like a lobby. We purchased local wood stumps and had them debarked and polyurethaned by a local guy and used them as tables. Kids love to climb on them! And, the warm tones in the wood help create a homey feeling.
"Lighting was an important consideration and has a very profound effect. European and Swedish studies have shown that replacing fluorescent with full-spectrum lights reduces absenteeism by more than 40%," he said.
Another thing that bothered Dr. Hamilton: "People are always told, 'Go to Op 1' or 'Go to Room 2'. Each one of our operatories is about the Port City."
To ameliorate this sterile, formal feel, Dr. Hamilton utilized the streets of Wilmington and named each operatory after a street, in the geographically correct order—so you have Orange, Ann, Nun—to indicate that this is all about the Port City and the people of the Port City.
 "Another special thing—the serpentine chalk wall—is so much fun!" declares Hamilton.
 "Everyone who comes here is in awe of what people can do with chalk. Initially, I envisioned children using the chalk wall, but eventually I depicted the waterfront along Downtown Wilmington. The chalk wall can be seen from the street, so we night-light it and use it for night-time marketing, 'Appointments Available, ' 'We Accept All Insurances,' that sort of thing."
"I really enjoy serving people," says Dr. Hamilton. "We always try to bring more than just dentistry to my office. We always look to see how we can help somebody out, emotionally, physically, spiritually. In this office, our philosophy is, 'We combine soothing aesthetics with gentle care to alleviate patients' fear of visiting the dentist.'"
This article was excerpted from Incisal Edge, Spring 2012, pp. 56-59. Photographs by Forbes Photographer Matthew Furman for Benco Dental Incisal Edge magazine.