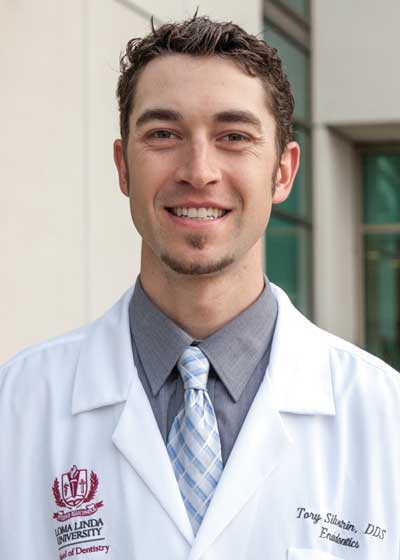 By Douglas Hackleman - September 6, 2017
Even though Tory Silvestrin, DDS, MSD'15 (Endo), MSHPE (2014) associate professor, Department of Endodontics, has been running life's marathon at a sprint, it has been his habit to make very considered life choices. Those decisions—and what he has done with them—have brought him, five years out of dental school, to be named interim chair for LLU School of Dentistry's Department of Endodontics.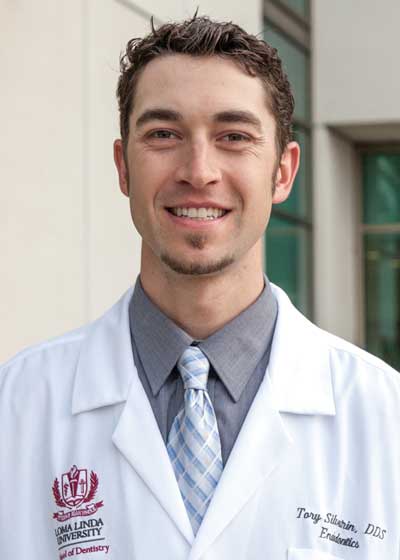 As a University of Washington, Seattle, School of Dentistry senior in 2012, Tory applied to the endodontics advanced training programs of sixteen American dental schools. (Sixteen happened to be the number of his father's football jersey and his own soccer jersey, he recalls with amusement.) After considerable due diligence and a two-hour phone conversation with Mahmoud Torabinejad, DMD, MSD, PhD, professor, Department of Endodontics, he chose LLUSD.
Tory grew up in Fife, a suburb of Tacoma, Washington, in a healthcare-oriented family—his dad is a public health specialist (sex-education) and his mother a nurse practitioner (OBGYN). One of the family's neighbors was a dentist who wasn't called out on weekends to deliver babies. Dentistry, Tory noticed, was a health profession that offered the opportunity to benefit others on a more controlled schedule.
An academic and athletic overachiever, Tory was captain of his high school tennis and golf teams and played for three years on Pacific Lutheran University's varsity tennis team. He worked through high school and college at Lakewood Racket and Sports Club teaching tennis, stringing rackets, scheduling members' appointments, and maintaining the clubhouse.
In college, Tory did what was necessary to qualify for most any healthcare-related degree program, graduating summa cum laude from Pacific Lutheran University (PLU) in 2008 with a BA in biology. His academic excellence was not impeded by the work he did at the University's writing center where for three years he tutored undergraduate, graduate, and ESL students. And among the awards he received at PLU was the Regents Scholarship—a 4-year full-tuition scholarship awarded for leadership, community service, and academic achievement.
Tory studied dentistry at the University of Washington School of Dentistry, Seattle, thirty miles north of home, where he graduated in 2012 first in a class of 63 and with more than a dozen awards for academic, clinical, and research excellence.
But then he chose endodontics for specialty education, despite the need for endodontists to be available weekends (at least by phone) to alleviate pain. Tory actually began to consider endodontics when he and his classmates were introduced to the rather intricate procedures involved in rescuing damaged or endangered teeth. He also noticed that most of his classmates were not particularly drawn to that dental specialty and figured there would always be a need for its services.
Tory took considerable care with perhaps his most important life decision—who to marry—and then plotted the moment of asking to maximize its memorialization. He'd shared a health sciences dental immersion day booth with a dental school classmate named Alexandria Brent during their summer prior to beginning dental school; they enjoyed the occasion's fraternity enough to become study partners. In 2014, they ran together in her first marathon, the Seattle Marathon, on the Sunday after Thanksgiving in 2014. Just before the finish line, Tory stopped the University of Washington student council president, took a knee, and asked her if she would marry him. He wanted it on the record, and he knew that so many cameras (still and video) were focused continually on the finish line. "I knew that she was distracted by the finish line looming ahead, so she'd say yes to anything at that moment, as long as I let her finish and get her hard-earned medal.  She may well have said yes regardless, but I wanted to stack the odds in my favor . . . after all she is the woman I want to spend the rest of my life with." On September 12, 2015, the young dentists married and honeymooned on the Hawaiian island of Maui.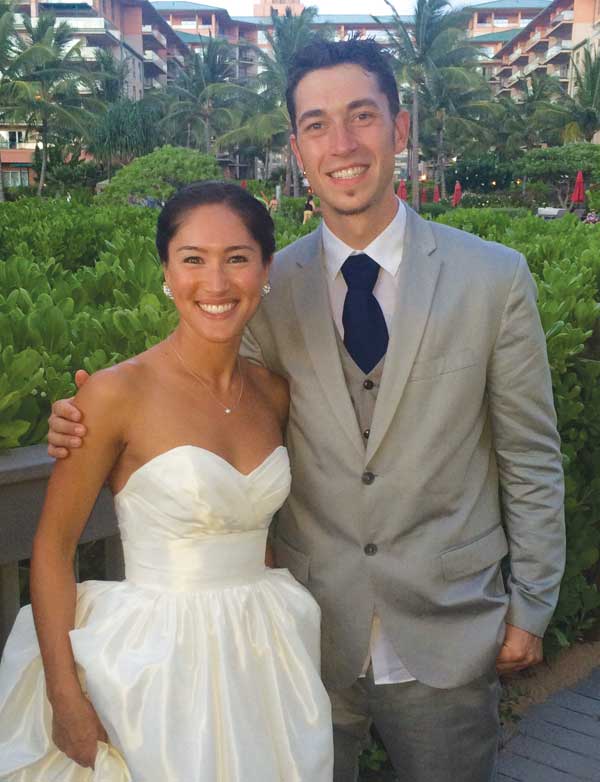 Tory had begun long-distance running during the summer between his junior and senior year of dental school as a way of relieving stress after taking the National Boards Part II. Despite his enjoyment of tennis, with the tighter schedule and greater demands of dental school, he found running an outlet he could exercise at will. He participated in the Portland Marathon, his first, on October 9, 2011.
Now Doctor Silvestrin, he continued distance running during his three-year journey through LLUSD's Advanced Specialty Education Program in Endodontics, not to mention the Master of Science in Health Professions Education that he received from the LLU School of Allied Health in 2014. "I hold the responsibility that rests on an educator's shoulders in high regard and, as such, wanted to ensure that I came to the classroom with every tool available in my teaching toolbox.  The MSHPE program helped ensure that I could stand behind the podium and work with students in the clinic with full assurance of my abilities to be an effective health professions educator."  He began teaching at LLUSD in June 2015, almost immediately after graduation from LLUSD's graduate program in endodontics.
When terrorists marred with horror the conclusion of the 2013 Boston Marathon (three killed, 264 injured), running acquired for Dr. Silvestrin a role beyond stress relief and physical conditioning. He determined to run the 2014 Boston Marathon in solidarity with the victims who were affected by the tragic events and to stand as a member of the running community to show a united desire to seek a lifestyle of fitness undeterred.
He qualified for Boston in August 2013 by running the Surf City Marathon (Huntington Beach, California) in three hours and five minutes—approximately seven minutes per mile. As "a member of the running community I felt the need to run in solidarity with those that were profoundly affected by the events of the 2013 Boston Marathon. It was a unique experience—running the Boston Marathon—and one that I will hold dear forever. Crossing the finish line was enthralling (knowing how many hours I'd dedicated to qualify for and run this iconic event) and saddening (remembering the scenes and tragedy that occurred at that very place one year prior). I found myself nearly in tears with the concomitant pride in my achievement and knowing what this race means to the running community."
Dr. Silvestrin's three hours and one minute completion time at the 2014 Boston Marathon placed him in the top 7 percent of finishers and qualified him to run again in 2015. He has not missed running in a Boston Marathon since—finishing 2015 in 2:54; 2016 in 2:58; and 2017 in 3:04.
Meanwhile he has run several ironman triathlons, including the November 2015 Arizona IRONMAN in Tempe that he competed with first time Ironman racer Brandon Soelberg, DDS'16. Dr. Silvestrin finished 101st out of 2,681 racers.
While Dr. Silvestrin was juggling advanced degree programs, undergraduate instruction, and his running, Dr. Alexandria Brent-Silvestrin joined a team of five other private practitioners at Canyon Crest Dental in Riverside, to which she brings her expertise as an oral conscious sedation provider, DOCS member, and Invisalign provider.
One very meaningful activity the Drs. Silvestrin did together away from dentistry was study the beliefs of their adopted community with a Seventh-day Adventist Church and its pastor, Michael Kelly, as they assessed the biblical support for Adventist Church doctrines. After engaging a number of local SDA congregations, the couple found at the Mt. Rubidoux SDA Church a welcoming community of faith. Following a lot of considered Bible study and a growing conviction that they wanted to become seventh-day Sabbath-keeping Adventists, Tory and Alexandria made the decision to be baptized by Pastor Kelly as Seventh-day Adventist Christians on September 2, 2017, in the company of several dental family members as well as their Mt. Rubidoux friends.
Dr. Silvestrin completed the end of the 2017 academic year with four substantial professional advancements. He was awarded Diplomate status by the American Board of Endodontics; at the recommendation of the LLUSD promotions committee, he was awarded the status of associate professor; and he accepted the position of interim chair, Department of Endodontics. He subsequently was appointed (August 1) associate graduate director of the Advanced Specialty Education Program in Endodontics. "I'm honored to undertake the responsibilities entrusted to me in guiding predoctoral and graduate students through their endodontic curriculum journeys.  I've had great mentors to guide me and provide sage advice through this transition and feel fully capable to succeed and excel in this new capacity."
His sober engagement with the major issues of life illustrates Dr. Silvestrin's profound belief in the interdependence of faith, community, and service that was the foundation of his choice after three years of studying and working at LLUSD to commit himself to the School and its programs as a faculty member and now as an administrative participant as well. Without question, he brings to his academic and professional accomplishments the kind of energy and focus his marathon (and regular daily) running habits imply.
That running remains an important counterpoint to his professional life. With running comes endorphins and with endorphins comes cheer, and in the case of Dr. Silvestrin the rule is borne out. It's a wonderfully vicious cycle.