By Douglas Hackleman - July 13, 2016
Mahmoud Torabinejad, DMD, MSD, PhD, professor and director, Advanced Specialty Education Program in Endodontics, has been recognized by his colleagues at the 2016 American Association of Endodontists (AAE) meetings (April 8 in San Francisco's Moscone Center) with the Edgar D. Coolidge Award—the Association's highest honor reserved for a limited group of individuals who serve as role models for the entire endodontic community.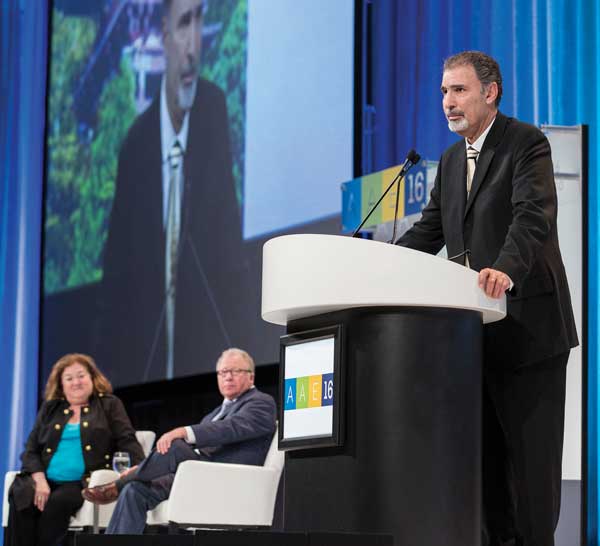 As he accepted the Coolidge Award, Dr. Torabinejad thanked his family, friends, mentors, students, and especially the country to which he immigrated from Iran in 1972.
I was very lucky to be in the best country in the world, this is the United States of America. When people talk about the United States of America being the land of opportunity, I'm a living example of it. If you work hard, you can achieve anything. . . . And this country gave me an opportunity, as an immigrant, to live my dreams. God bless the United States of America, the country of my growth. And God bless the country of my birth, Iran. And I hope one of these days—the process has started—the leaders of these two countries will come together and work out their differences. In my opinion, and this has been my belief, you can solve any problem except death. . . .
Dr. Torabinejad concluded, "If you take a look at what the AAE members are made of, and the friendships between all of us, we are like brothers and sisters. Our specialty is unique, and I'm proud to be a part of this organization."
The Edgar D. Coolidge Award is Dr. Torabinejad's fourth award from the AAE following its earlier recognition of his research and educational contributions with the Ralph F. Sommer Award (1986), the Louis I. Grossman Award (1993), and the Philanthropist Award from the AAE Foundation (1997).
The most frequently cited author in endodontic journals, and the author of four textbooks and more than 300 publications, Dr. Torabinejad is best known for his pioneering research in the development of mineral trioxide aggregate (MTA) formulated from commercial Portland cement and combined with bismuth oxide powder for radiopacity as a dental root repair material.
Dr. Torabinejad joined the faculty at Loma Linda University School of Dentistry in 1977 and has served as the director of its Advanced Specialty Education Program in Endodontics since 1989.
View the American Association of Endodontists' online photos of the event here.