By School of Dentistry - October 28, 2014
Three School of Dentistry faculty members were honored by induction into the American College of Dentistry (ACD) October 9 at the ACD annual meeting held in tandem with the American Dental Association's 2014 annual session in San Antonio, Texas. The new LLUSD ACD Fellows are Kenneth Abramovitch, DDS, MS, professor, Department of Oral Diagnosis, Radiology and Pathology; Neal Johnson, PhD, DDS, associate professor, Dental Education Services; and Ahmed Khocht, DDS, BChD, professor, Department of Periodontics.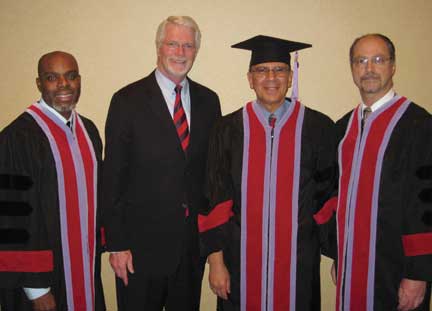 Fellowship in the College is by invitation and is based on a proven, confidential, peer-review system. About 3.5% of dentists in the United States have been granted Fellowship in the ACD.
Clyde Roggenkamp, DDS, MSD, associate professor, Department of Restorative Dentistry, sponsored Dr. Abramovitch (who had been nominated by Leif Bakland, DDS, professor, Department of Endodontics, who was unable to attend); Wayne Tanaka, DDS, associate professor, Department of Oral and Maxillofacial Surgery, sponsored Dr. Johnson; and a former colleague from New Jersey School of Dentistry sponsored Dr. Khocht.
Founded in 1920, the American College of Dentists is the oldest major honorary organization for dentists. Fellows of the College have records of leadership, excellence, and meritorious achievement in dentistry or public service. For dentistry, these credentials may be reflected in professional organizational involvement, dental education, dental research, dental journalism, or other areas. Additionally, candidates must be members of the American Dental Association or an equivalent foreign organization if applicable.
There is also an ethical component to Fellowship as specified in early College records, "The candidate … must be of good moral character, and have a reputation for ethical conduct and professional standing that is unquestioned. Personality, integrity, education, unselfishness, and high professional ideals as well as freedom from mercenary tendencies shall be considered."
Gerald R. Winslow, PhD, LLUH vice president for Spiritual Life & Wholeness, is member at large of the American Society for Dental Ethics, a section of the ACD, frequently teaches a course for the College entitled, "An Introduction to Dental Ethics," and appears in the first minute of the
ACD's video overview
.