By School of Dentistry - April 18, 2011
           By James Ponder
Thor Bakland, DDS, MBA, a retired professor from the Loma Linda University School of Dentistry (LLUSD), was honored recently for his work in establishing a dental clinic at Sir Run Run Shaw Hospital (SRRSH) of Hangzhou, China. Dr. Bakland was feted at a special appreciation luncheon on Monday, February 7, in the Wong Kerlee International Conference Center of Loma Linda University.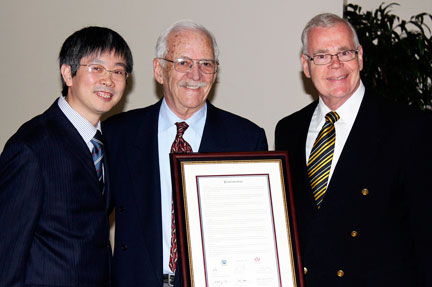 In welcoming guests to the event Jan Zumwalt, MBA, MS, RN, associate director of the Global Health Institute, noted that Dr. Baklund served as dental program coordinator and liaison for the LLU China Project before turning the reins over to his brother Leif Bakland, DDS, professor and recent former chair of the Department of Endodontics at LLUSD.
After an invocation by Gerald R. Winslow, PhD, vice president for mission and culture, guests were treated during lunch to reflections on Dr. Bakland's contributions to the practice of dentistry in China. Larry Wu, DDS, director of the dental clinic at SRRSH, and Dr. Leif Bakland, the LLUSD professor who took over from his brother as dental coordinator for the LLU China project, shared a number of career highlights and personal anecdotes of Dr. Thor Bakland.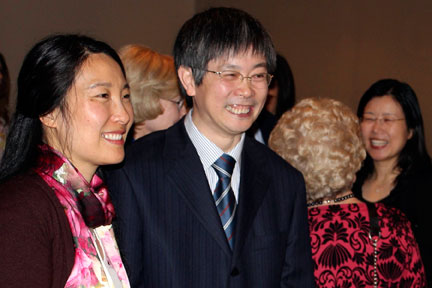 In his speech, Dr. Wu noted that the SRRSH dental clinic is unique in China for three reasons.
"One," he said, "we see patients by appointment. Two, we have a dental hygiene program—the first in China. Three, we pay attention to pain control. Because of these special factors, we have become a model in China."
Dr. Wu also pointed out that, "Through the history of the SRRSH dental clinic, there has been a very consistent teacher and mentor to us, and this is Dr. Bakland. He has helped us build processes and policies to manage the clinic, to provide quality and advanced treatments to our patients, and … design our new state-of-the-art clinic. He helped us grow to become the model clinic that we are today. He has also inspired us to continue to improve our practice. We thank him very much from our hearts for his deep interest in our clinic, and also in our staff who work there."
In his conclusion, Dr. Wu cited a cultural difference between China and the United States. "In China," he said, "the retirement age is 60. Dr. Bakland is 82, and so we understand his desire to retire. But we want him to know that we will welcome him anytime."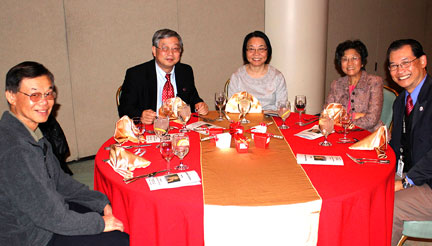 Following Dr. Wu's remarks, Charles Goodacre, DDS, MSD, dean of LLUSD, stepped forward to offer some observations of his own.
"Dr. Thor Bakland made many enduring contributions to the School of Dentistry as a teacher and administrator for many years," the dean noted. "Innovation and involvement have always characterized his professional career. In his 'retirement,' he continued this excellence and has played a key role in the Loma Linda/Sir Run Run Shaw dental interactions by frequent visits, organization, education, and advice. I have really valued all that he has done for this special relationship."
Drs. Goodacre and Wu read the official proclamation from SRRSH that noted Dr. Bakland's achievements in positioning the hospital to serve as a model dental clinic for all of China.
"We extend heartfelt appreciation to Dr. Thor C. Bakland for nearly 20 years of dedicated volunteer service given to the SRRSH Dental Clinic and LLU China Project and we wish him God's many blessings in his future endeavors," the proclamation concluded. It was signed by He Chao, MD, president of SRRSH; Dr. Wu, Andy Sheng, DDS, assistant director of the dental clinic; Ruthita J. Fike, MA, CEO and administrator of Loma Linda University Medical Center; Dr. Goodacre; and Ms. Zumwalt.
Although Dr. He Chao was not able to attend the occasion, he sent a letter to Dr. Bakland, outlining his personal thoughts and expressing his appreciation.
"We still remember your first visit to the hospital and your attentiveness in designing the new dental clinic," Dr. Chao wrote. "Your careful revisions of the dental construction proposal and your thoughtful vision and suggestions have motivated, and continue to motivate us toward further development and progress. Thank you again for all of your many years of contribution. We certainly still welcome your continued attention and support in the future."
According to a commemorative flyer printed for the occasion, Dr. Bakland emigrated from Norway to the United States in 1948 hoping to find that the streets of America were paved with gold. But after more than 60 years of working in the profession of dentistry in this country, what he found were "teeth of gold" instead of roads made from the precious metal.
Following an active career spanning more than 32 years of private practice, teaching, and clinical practice, Dr. Bakland retired from LLUSD in 1994. But rather than confine himself to a life of ease, he threw himself into the task of designing a new six-chair dental clinic at SRRHS. In 2004, Dr. Bakland and his wife, the former Alyce Jean Quimby, visited Hangzhou for the first time, admiring the impressive hospital and dental clinic as well as the unsurpassed scenic beauty of the place Marco Polo described in the 13th century as "the City of Heaven." 
Dr. and Mrs. Bakland returned to Hangzhou a total of seven times over the next six years. In 2007, he designed a 27-station dental operatory for the clinic, and in 2009, the couple attended the ribbon-cutting ceremony for the new facility. Seeing it for the first time, Dr. Bakland reported that, "It almost made me feel like I'd given birth!"
At 82 years of age, Dr. Bakland has finally "retired" to a life of painting houses and smoking salmon. But he hasn't entirely ruled out a return trip to Hangzhou, "just to check in."
"Thor served as the dental program coordinator and liaison for the LLU China Project, and for this we are very grateful," Ms. Zumwalt observes. "I very much enjoyed working with Thor. He would always say, 'Just call my cell phone.' I can remember catching him at Cape Cod and out in the backyard! Wherever I found him, he was happy to help."