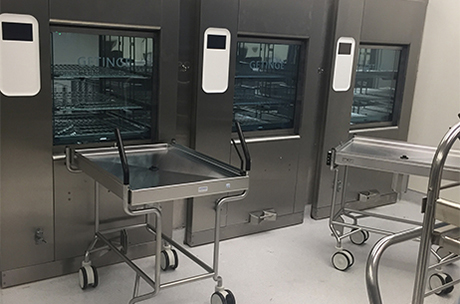 By Douglas Hackleman - January 31, 2019
It's one thing to purchase and install a new dishwasher in a home kitchen. A guy comes in with a hand truck and a new dishwasher, spends a few minutes unhooking and unplugging the old unit and installs the new model. Within the hour he's gone along with the old machine and a $600 check.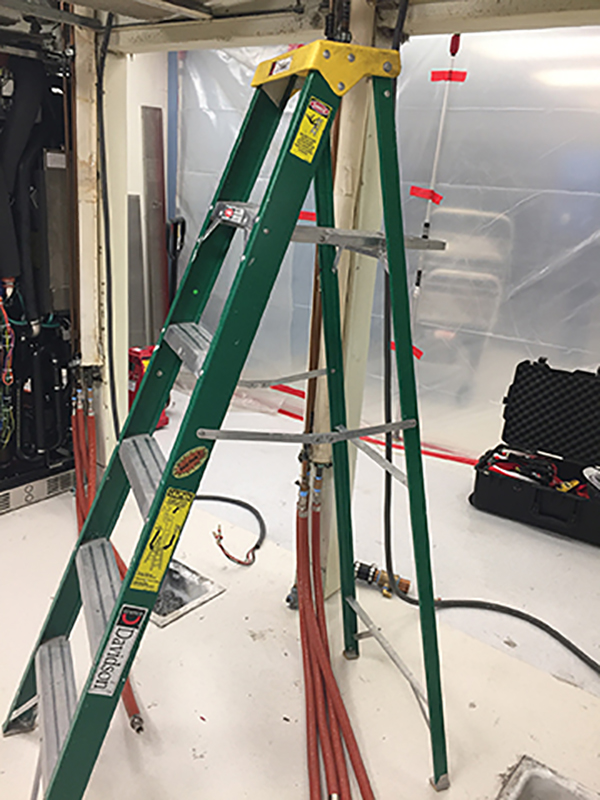 But when the School of Dentistry's central services sterilization department swaps out its fourteen-year-old dental instrument washing machines, the guy with a dolly becomes a team with a forklift—University Engineering, LLUSD Maintenance, and representatives from the manufacturer—with complimentary expertise, determination, and a three-day restoration collaboration across a long weekend to replace all three superannuated machines in time for the start of a new clinic week.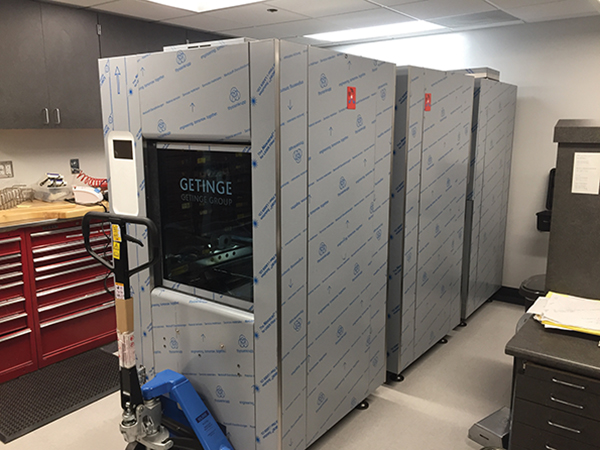 In August, one of the three instrument washing machines used by Central Sterilization (aka Team Steam) to prewash all the School's dental instruments before they are autoclaved, went down and could not be resuscitated.
Josonjia Haynes, supervisor, leads Team Steam's 12 sterilization technicians who work rotating shifts to process 45 dirty instrument loads per day through the three industrial washers that, along with the subsequent autoclaving, ensure clean instruments for the 20,000 patients treated at the School's clinics each month. With its washing machine capacity cut by one third, Team Steam faced a crisis.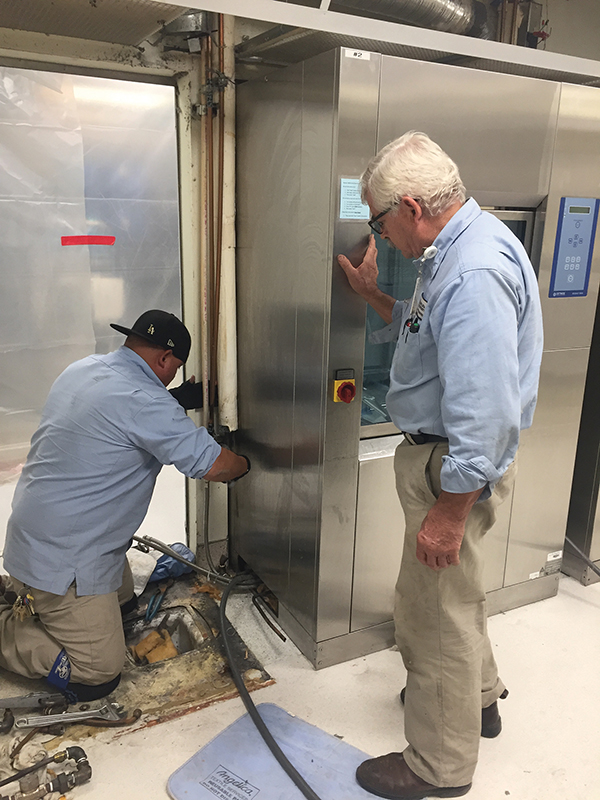 Fortunately, the right people occupied the positions that had to collaborate to bring about the complicated but necessary renovations and replacements without negative consequences for student clinicians, patients or revenue.
LLUSD administration acted quickly to approve the replacement of all three washers realizing that it would be less expensive to make the complicated install simultaneously, rather than wait for the remaining old machines to fail at unpredictable moments.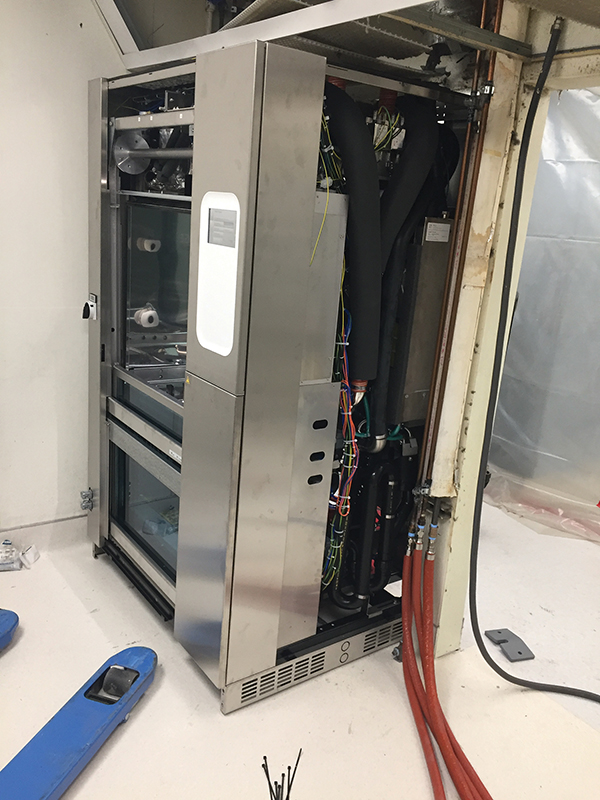 Nevertheless, the Steam Team had to work for two months with two old model washers, before the approval and the plan to remove the old and insert the new could be implemented.
With the continuous assistance of LLU engineering and the LLUSD facilities team led by Stan Lillard, long-time Getinge service representatives and their engineers oversaw the installation of the new digital machines with their ten percent larger capacity replacements. The collaborators worked tirelessly Thursday night (October 11), Friday, and Saturday night through Sunday night (October 14), and the Getinge representatives stayed on Monday to provide the Steam Team's initial training and utilization of the latest technology available to dental instrument prewashing.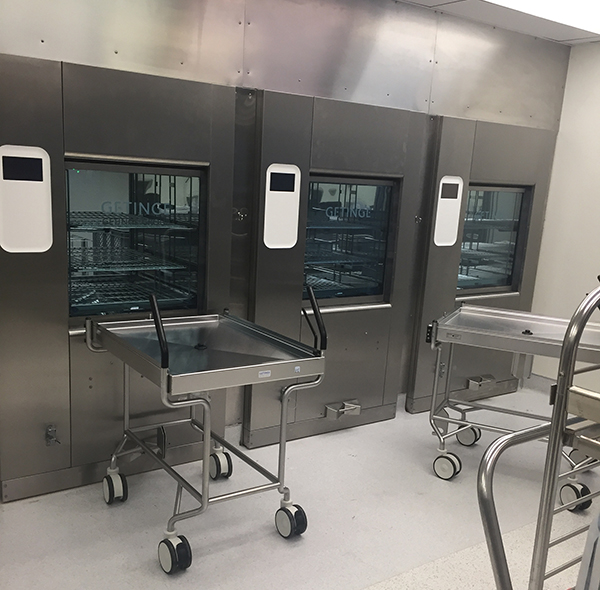 The new machines cost somewhat more than a typical kitchen appliance. Actually, each Getinge Clean Detergent Range 86 Series Sterilizer Air Glide System washer-disinfector is $99,400 more than the average home dishwasher. But with a decade and a half worth of advances in electronics, controller software, and materials, the new 86-series machines have, beyond increased capacity, several advantages: reduced cycle time, ease of operation, and minimized ergonomic strain that combine to make them 25 percent more efficient/economical to operate.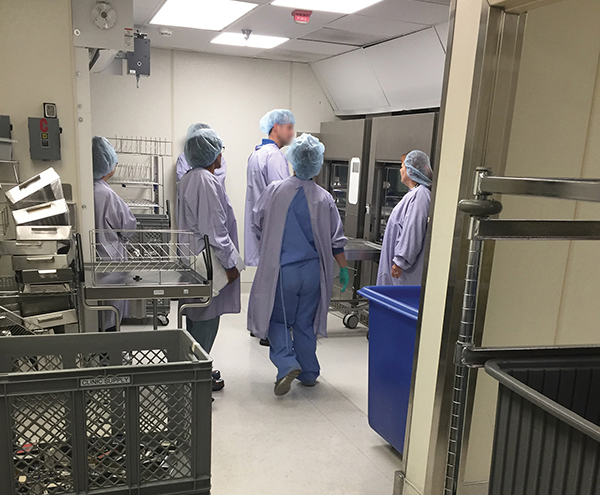 The teams that pulled off this large, necessary exchange are justifiably proud of the complex collaboration that enabled this tricky trade-out to take place without even a temporary degradation of service to the School's clinics, care providers, or patients.