By School of Dentistry - July 25, 2013
John Won, DDS'05, MS'13, assistant professor, Department of Restorative Dentistry, sat in the graduate student section during the May 26 commencement service waiting to receive a diploma for the Master of Science degree in prosthodontics. But first, recent past Dean Charles Goodacre, DDS'71, MSD, offered the following remarks and presented Dr. Won with the School of Dentistry's Teacher of the Year Award.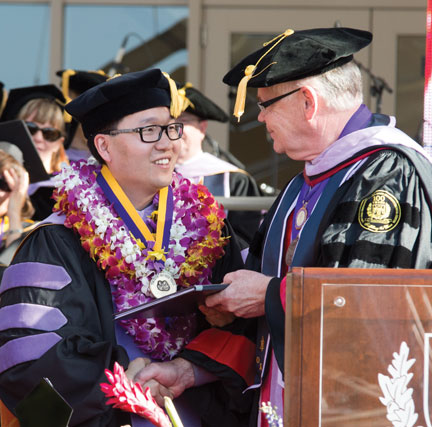 "The Teacher of the Year Award was established to recognize and honor School of Dentistry faculty whose accomplishments have made an extraordinary impact. Each year a full-time faculty member is chosen for this award based upon an excellent reputation as a teacher and having made significant contributions to the dental education program. The individual is selected based upon votes from both the students and the faculty.
"Dr. Won is a 2005 graduate of our School of Dentistry and in 2009 he completed the four-year Dual Major Advanced Specialty Education Program in Prosthodontics and Implant Dentistry. He is a diplomate of the American Board of Prosthodontics. He directs the course in occlusion for first-year students, implant dentistry for third-year students, and fixed prosthodontics and occlusion for third-year students.
"I took the liberty of reading the anonymous student comments about his teaching and they were overwhelmingly positive, describing characteristics such as 'very thorough in explaining concepts,' 'easy to understand,' 'very approachable,' 'actively circulates around in the laboratory to interact with students and answer questions,' 'caring and personable,' and 'awesome.' His quizzes and examinations have been judged as being very fair but also very challenging, both being desirable characteristics.
"John enjoys playing sports, singing, cooking and entertaining friends; and he enjoys Porsche cars. He always has a winning smile and a positive attitude.
"John, I'm pleased to present you with the 2013 Teacher of the Year Award."