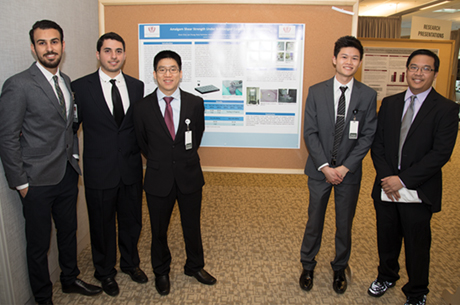 By Douglas Hackleman - August 1, 2019
Five LLUSD undergraduate students collaborated for two years on an investigation regarding the strength of dental amalgam following extreme contamination during condensation. The study was published online March 15 in peer-reviewed Operative Dentistry, under the title, "Amalgam Strength Resistance to Various Contaminants."
Amalgam Study Group (L-R): Reza Parhizkar, DDS'18, Rodrigo Robles-Cardenas, DDS'18, Jae Chung, D4, Brian Choi, DDS'18, D4, and Anthony Pham, D4
Mentored by Clyde Roggenkamp, DDS'70, MA, MSD, MPH, associate professor, Division of General Dentistry, and calling themselves the Amalgam Study Group, Brian Choi, DDS'18, Jae Chung, D4, Reza Parhizkar, DDS'18, Anthony Pham, D4, and Rodrigo Robles-Cardenas, DDS'18, set out to determine the shear-strength degradation effects on the dental amalgam currently used in the LLUSD main clinic from gross contamination during condensation under water, saliva, blood, and handpiece lubrication oil.
These Research Design students worked frequently beyond regular hours in the Biomaterials Research Laboratory on first floor of Prince Hall and in the Orthopedics Research laboratory located at the Loma Linda University East Campus.
The shear strength testing of their amalgam samples was awarded 2nd place in the Scientific category at the LLUSD Alumni-Student convention in March 2017 and went on to earn 2nd place at the CDA Convention in May 2017.  One member of the group, Rodrigo Robles-Cardenas, presented an abstract of the shear strength part of this research at the March 2018 American Association for Dental Research meeting in Ft. Lauderdale, Florida.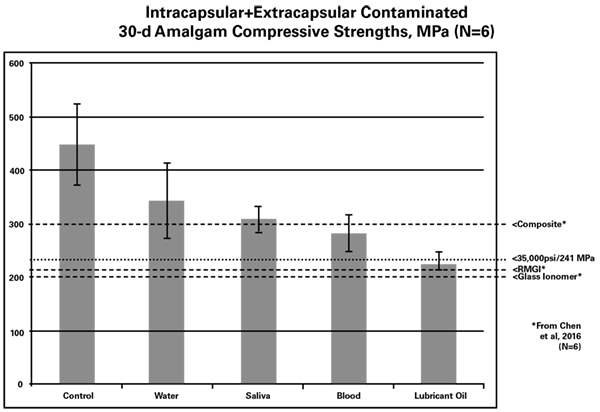 A more extended presentation including compressive strengths of amalgam after exposure to the same liquid contaminants won 3rd place at the CDA Convention in May 2018.
Results showed that water contamination did not reduce amalgam strength to a statistically significant extent (p=0.05), and saliva reduced strength midway between that of water- and blood-contaminated amalgam. In each contaminated sample the remaining final strength of the amalgam equaled or exceeded the uncontaminated strengths reported in the literature for other available restorative materials including composite resin, resin-modified glass ionomer, and glass ionomer (see graph).
The greatest degradation of amalgam strength (nearly 50%) resulted from total inundation with handpiece lubrication oil during condensation.  This source of contamination is least likely in actual practice; nevertheless, the remaining final amalgam strengths equaled or exceeded the uncontaminated strengths of the other available restorative materials including resin-modified glass ionomer and glass ionomer. Also, it equaled or exceeded the minimum compressive strength of 35,000 pounds per square inch historically recommended by the American Dental Association for a permanent restorative material.
Dr. Roggenkamp summarizes, "This published study, conducted in the Loma Linda University School of Dentistry Biomaterials Research Laboratory, appears to be the first that quantitatively measures amalgam's considerable forgiveness to even worst-case-scenario contaminant exposures, and compares its average remaining strength to that of other commonly used unexposed direct filling materials."
Research funding was sponsored by a seed grant from the Loma Linda University Center for Dental Research.  The School of Medicine's Orthopedics Research Laboratory shared use of its Instron E10000 testing machine for compression testing.  Udo Oyoyo, MPH, assistant professor, Dental Educational Services, was consulted extensively for statistical insight and accuracy.  The approved compressive testing specimen mold for the amalgam was generously loaned to the Biomaterials Research Lab for this study by Henry Lukic, BS, engineering research associate, Research and Laboratories, Science Institute, American Dental Association, and Max Gruber, engineering researcher, American Dental Association research laboratory in Chicago.  Interestingly this collaboration of LLUSD students represented five diverse national backgrounds—China, Iran, Korea, Peru, and Vietnam.
*Seed Grant:
The Dental Research Committee (DRC) of the School of Dentistry invites seed grant proposals from faculty for original scholarly research projects that contribute to the body of knowledge related to dentistry. Both new and experienced investigators may apply for the seed grant. For more information please email Cindy Edwards, senior administrative assistant, Center for Dental Research: cedwards@llu.edu