By School of Dentistry - March 13, 2011
Three amphitheaters in Loma Linda University's Centennial Center were the site of 45 School of Dentistry student research presentations Friday afternoon March 4. The authors of the studies were third-year dental and senior dental hygiene students. Their audiences were overflow crowds of peers and faculty.

Almost exclusively in teams of three, the students presented digital slide shows that provided an overview of their projects in one of three categories: clinical, educational, laboratory.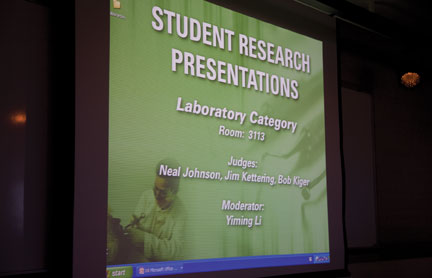 In each of the amphitheaters a moderator facilitated the process and three School faculty members served as judges who asked probing questions at the conclusion of each presentation.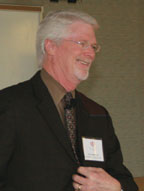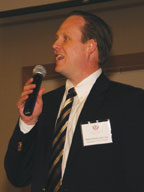 When the three-and-a-half hours of presentations concluded, the judges caucused to assess the relative merits of the presentations and arrived at first, second, and third place winners in each category. This year's winners are pictured within categories below.
 
CLINICAL CATEGORY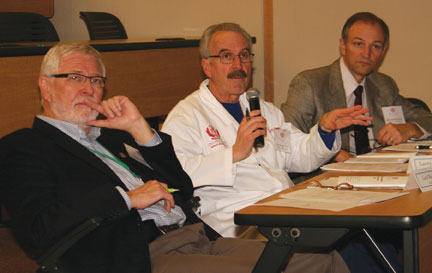 Dental Students 1st Place (Clinical)
Sterilization of Used and Contaminated Implant Healing Abutments and Impression Copings: A Cost benefit analysis.
STUDENTS: Vanessa Browne, Mike Flewelling and Mark Wierenga with MENTORS: Drs. Neal Johnson, Raydolfo Aprecio, Paul Richardson, Nikola Angelov, and Ms. Alisa Wilson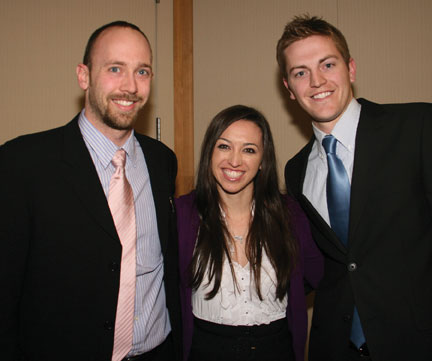 Dental Students 2nd place (Clinical)
Gender Differences of Multiple Canals in Mandibular Incisors Using CBCT
STUDENTS: Yehoon Ahn and Soon Rye Kwon
MENTOR: Dr. David Jaramillo
Dental Students 3rd place (Clinical)
The Effects of Arginine Prophy Paste on Tooth Sensitivity Following Tooth Whitening
STUDENTS: Andrew Elmasri, Sarah Hopps, and Thy Nguyen
MENTOR: Dr. Sean Lee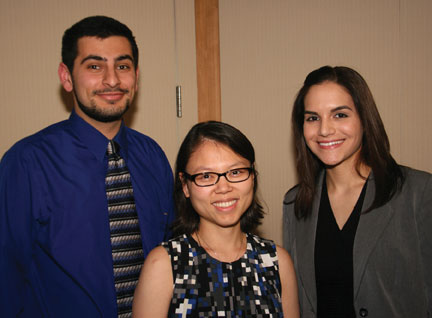 Dental Hygiene Students 1st place
 (Clinical)
Case Study of a Patient with Post-Polio Syndrome
STUDENTS: Trisha Aprecio, Chris Chu, and Danae Davis
MENTORS: Dr. Adrian Mobilia and Ms. Darlene Armstrong  
LABORATORY CATEGORY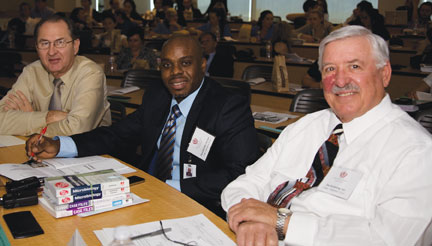 Dental Students 1st place
(Laboratory)
A Comparison Study: The Sealing Properties of Mineral Trioxide Aggregate and Root Repair Material
STUDENTS: Jung Yoon Chang, Dongjin Sah, and Michelle Shin
MENTOR: Dr. David Jaramillo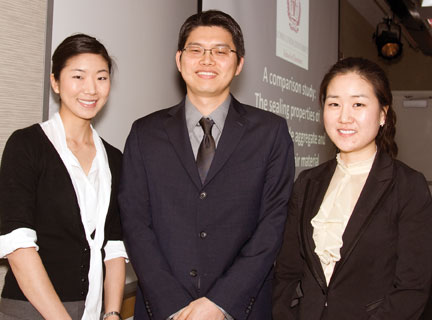 Dental Students 2nd place
(Laboratory)
Comparing Marginal Accuracy of Metal Copings and All Ceramic IPS e.max Copings
STUDENTS: James Mashni, Artin Meserkhani, and Quinn Montgomery
MENTOR: Dr. Nadim Baba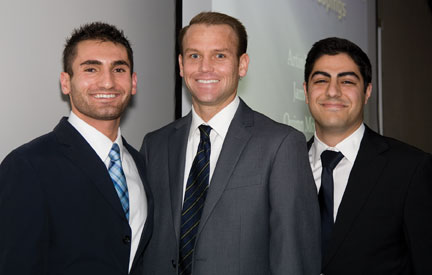 Dental Students 3rd place (Laboratory)
Evaluation of Caries Risk Diagnostic Tools
STUDENTS: John Chae, Alex Matosian, and Allan Reeder
MENTOR: Dr. Brian Novy and Mr. Raydolfo Aprecio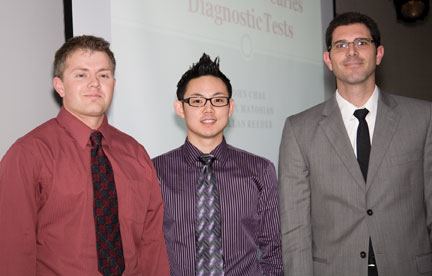 Dental Hygiene Students 1st place (Laboratory)
Measuring the Concentration Effect of Xylitol
STUDENTS: Erika Nelson, Angela Wakefield, and Dulce Zavala
MENTOR: Mr. Raydolfo Aprecio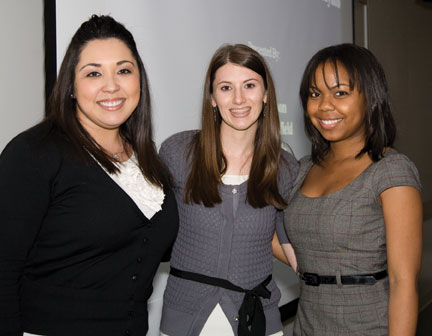 Dental Hygiene students 2nd place (Laboratory)
Antimicrobial Potential of Fluoride, Arginine and Triclosan on Three Oral Microorganisms
STUDENTS: Ashley Eggeter, Suzanne Finch, and Cynthia Gutierrez
MENTORS: Dr. Wu Zhang and Mr. Raydolfo Aprecio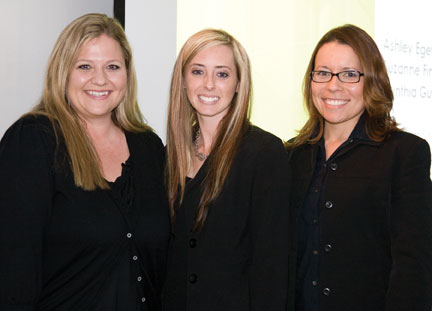 Dental Hygiene students 3rd place (Laboratory)
The Antimicrobial Effects of a Novel Cranberry Extract Dentifrice
STUDENTS: Julianne Asbury, Rebecca-Ann Roquiz, and Caroline Schneider
MENTORS: Dr. Brian Novy and Mr. Raydolfo Aprecio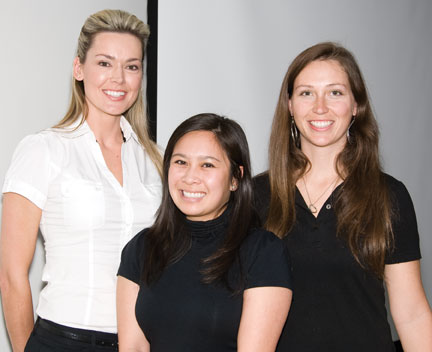 EDUCATIONAL CATEGORY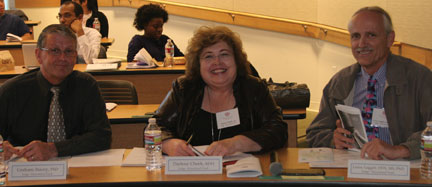 Dental Students 1st place (Educational)
Learning axiUm: Facilitating the Transition from Classroom to Clinic
STUDENTS: Josh Renk, Nyeland Newel, David Westerhaus
MENTOR: Dr. Heidi Christensen
 
Dental Students 2nd place (Educational)
Ergonomics and the Administration of Local Anesthesia in Dentistry
STUDENTS: Chad Nosek, Geoff Robinson, Andrew Taylor
MENTOR: Dr. Barry Krall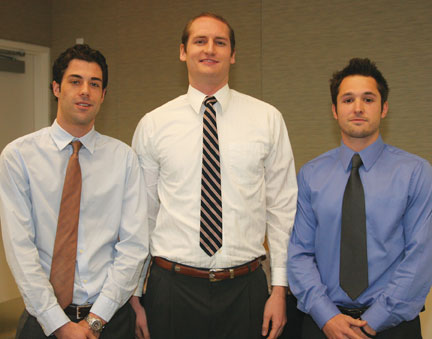 Dental Students 3rd place (Educational)
Educational Materials on PNAM Appliance for Parents of Children with Orofacial Cleft
STUDENTS: Brian kang, Kiddee Poomprakobsri, and Dave Srikureja
MENTORS: Drs. Wesley Okumura and Jung-Wei Chen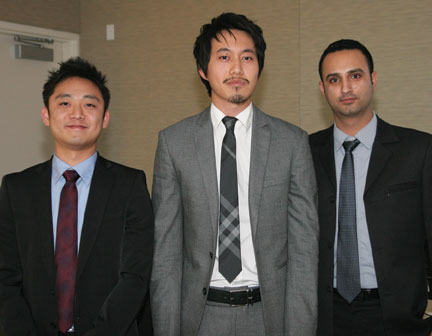 Dental Hygiene Students 1st place (Educational)
Oral Health Instructions for Implant Patients
STUDENTS: Shirin AghaMirkarimi, Rachel Morris, and Jinwoo Pak
MENTORS: Dr. Jaime Losada and Ms. Kristi Wilkins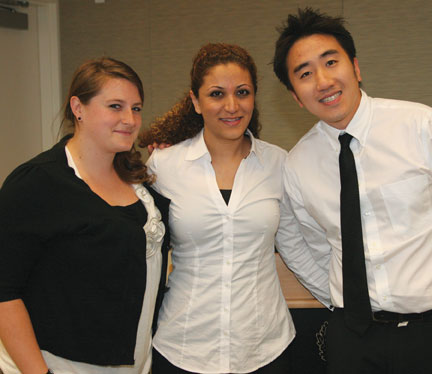 Dental Hygiene Students 2nd place (Educational)
Oral Care Instructions for the Care Provider of a Patient with Alzheimer's
STUDENTS: Yasaman Aryaee, Heather Dunn, and Jessica Szutz
MENTOR: Dr. Ann Steiner