By School of Dentistry - September 16, 2014
Ronald Dailey, PhD, Dean, LLU School of Dentistry, is pleased to announce the appointment of Steven Morrow, DDS'60, MS'85, as assistant dean for Advanced Dental Education.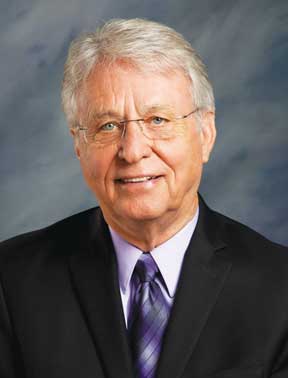 Having taught future oral healthcare professionals at LLUSD since 1965, Dr. Morrow is currently a professor in the Department of Endodontics that he chaired from 1987 to 1990. He maintains responsibilities he accepted in 2000 as director of Patient Care Services and Clinical Quality Assurance.
A leader in the field of Endodontics, Dr. Morrow was director, District VI, of the American Association of Endodontists from 1990 to 1993. He has also served as president of the Southern California Academy of Endodontics and as president of the California State Association of Endodontists. In 1997, he earned diplomate status from the American Board of Endodontics. Since 1998, he has been a fellow of the American College of Dentists; and since 2003, he has served on the editorial review board of the Journal of Endodontics.
A life member of the American Dental Association, the American Association of Endodontists, and the California State Association of Endodontists, he is currently serving his second term as a member of the Dental Board of California.
Dr. Morrow was presented the Distinguished Faculty Service Award from Loma Linda University School of Dentistry in 2009 and the Distinguished Alumnus Award from LLUSD Alumni Association in 2013.