By School of Dentistry - July 19, 2011
Service Learning trips enhance LLUSD students' spring break
While many American students were going wild on the beaches of warm latitudes, seven service learning groups from LLU School of Dentistry (81 team members) provided oral healthcare to underserved people around the globe—in Bangladesh, Brazil, Guatemala, Honduras (two teams), Los Angeles, and New Mexico. A brief overview of the teams' activities follows.
Bangladesh
Bolstered by fellow faculty leaders Paul Yoo, DDS, assistant clinical professor, Dental Education Services; Kenneth Lim, DDS, assistant clinical professor, Dental Education Services; and Carlos Moretta, SD'01, assistant professor, Oral and Maxillofacial Surgery, led 14 LLUSD students (four DHs, one D1, four D2s, and five D3s)—what Dr. Moretta called a "world class wrecking crew"—halfway around the world for a week at the 22-acre SDA Kellogg-Mookerjee Memorial Seminary (school and orphanage) at Gopalgini, in the People's Republic of Bangladesh, bordered on three sides by India and a small border with Myanmar.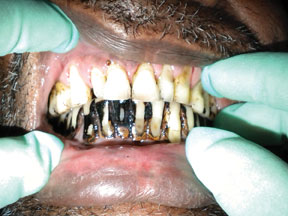 The 26-hour trip included a several-hour layover in Dubai, and the contrast between the decadence of the glittering capital of the United Arab Emirates (where stands the world's tallest building) and Dhaka, the third-world capital of Bangladesh, was jarring. From the airport with no air conditioning, a six-hour ride in what students termed "a rickety old bus" conveyed the dental team to the Adventist campus where they treated approximately 1,500 patients in four-and-a-half days. (People would assemble at midnight, waiting without food or water, in hopes of receiving care when the day arrived.)
Four hygiene students were limited to ten minutes per patient, patients who presented immense calculus and beetle nut stains. They mostly cleaned just the upper and lower anteriors—work that without the Cavitrons would hardly have been possible.
The ten dental students found themselves pulling teeth, doing oral surgery, restorations, and cleanings. Twenty volunteers from the Adventist college served as translators and facilitated communication.
Despite bathrooms that were little more than holes in the ground, and sharing the river with the "bloated and dead floating carcasses of a cow and several goats," participants raved about the "irreplaceable dental education obtained on this trip," the gain of "enormous confidence" in performing a variety of clinical procedures, and the encouragement of "awesome" faculty leaders.
Brazil
A service learning trip to Brazil led by Greg Mitchell, SD'84, director, International Dentist Program, Michael Fitzpatrick, SD'87, professor, Restorative Dentistry, and Michael Potts, SD'75A, adjunct assistant professor, Restorative Dentistry, launched seven IDP (and one D4) students on a trip that included eight days on the Amazon River.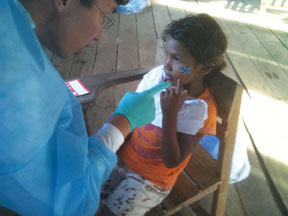 This team of comparatively experienced dental students saw 275 patients and performed at least 770 procedures that included more than 400 extractions. As Dr. Mitchell explained, "The remote villagers have adopted a Western diet, but no Western oral hygiene. We saw 24-year-olds with bombed out molars. Every hut has a satellite dish," he reported, "all of them positioned straight up. Gasoline generators run two to three hours, and villagers run to huts to watch television. And as a result of watching TV, the villagers (even with just a few teeth) want bleaching and acne medication."
Team members reported unusual difficulty performing tooth extractions, due to the bone density of the villagers' teeth. One student fainted in the equatorial heat and humidity after trying for more than an hour and a half to remove a recalcitrant tooth.
The sleeping in hammocks, the sight of dolphins jumping in the river, the alligators lurking, and monkeys jumping from tree to tree made the LLUSD team feel as if it was in a National Geographic special. Alligator hunting was a highlight of the trip for some students.
Guatemala
One School of Dentistry faculty member, Kim Nordberg, DDS, PG'80, PG'82, an adjunct assistant professor, Dental Education Services, joined Mike Roberts, DDS, a Simi Valley private practitioner, three LLUSD dental students (two D2s and a D3) and a group of 12 UCLA students on an eight-day service learning spring break to Guatemala organized by the non-profit agency, Help the Children.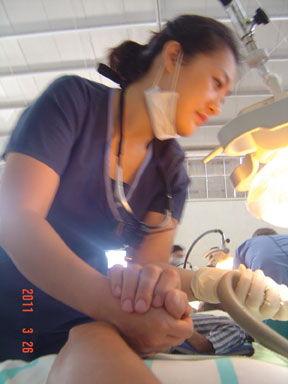 Dr. Nordberg oversaw two chairs assigned to three LLU students. Two would be doing procedures while one assisted. Meanwhile, Dr. Nordberg was floating between students answering questions and giving start checks. The other eight or nine chairs were taken by the dozen UCLA students, and supervised by the general dentists, oral surgeon, periodontist, or pediatric dentist who accompanied them.
One Wednesday the group was excused from duty to visit Antigua, the ancient capital of Guatemala. Local dignitaries not only arranged transportation and security for the visiting oral healthcare teams, but honored the group Saturday morning at the Guatemalan Museum of Antiquities.
Honduras
 (Valle de Los Angelos)
Residents in two areas of Honduras received oral healthcare from disparate teams of LLUSD faculty and students.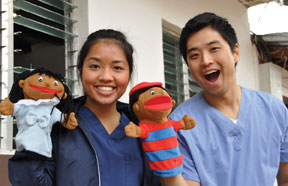 Last year LLU medical students adopted a clinic and invited nursing students and first year dental students to join them. As a consequence of that experience, the dentistry class of 2013 adopted the Hospital Adventista de Valle de Los Angelos about 15 miles northwest of Tegucigalpa, the Honduran capital with, as one student described, "its many gift shops and endless supply of stray dogs."
This year ten second-year students went to Valle de Angeles with Neal Johnson, SD'10, PhD, assistant professor, Oral Diagnosis, Radiology, and Pathology, and, with the assistance of two indigenous dentist and interpreters, treated 300 to 400 patients who had severe tooth decay and periodontal disease with extractions, cleanings, and fillings.
They provided fluoride treatments and education in oral care by way of a puppet show to hundreds of children at schools in Valle de Angeles and in nearby Tegucigalpa. The opportunity to teach young children to care for their teeth led one student to mention his motto, "It's better to prevent than to lament."
This service trip enabled second year dental students to do Class 1 amalgam and Class 1 composites and a variety of anesthetic injections.
Honduras (Roatan)
At this service-learning venue, communication was easy, because Honduras was once a British colony.
Four School of Dentistry clinical faculty, Drs. Bonnie Nelson, SD'88, chair, Department of Pediatric Dentistry; Steven Morrow, SD'60, MS, professor, Department of Endodontics; V. Leroy Leggitt, SD'84, MS'92, PhD, professor, Department of Orthodontics and Dentofacial Orthopedics; Richard Parker, SD'68, MS, associate clinical professor, Dental Education Services; a dental hygienist; a dental manager; and three D3 dental students comprised the team that provided dental services to the residents of Roatan, Honduras. The mission is organized by the Calimesa Seventh-day Adventist Church to share God's love through health education, dentistry, children's ministries, and facility development in the Roatan communities of Camp Bay and Diamond Rock.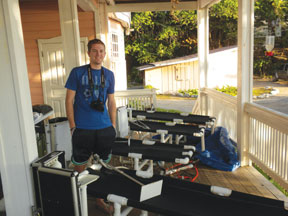 At Roatan the LLUSD team worked Monday through Thursday and treated 129 patients, performed 203 restorations, 83 extractions, 65 cleanings, and 13 root canal procedures. Friday was a relaxation day at the seaside retreat, where tourism is the major source of employment. Using chairs made of PVC pipe and canvas (constructed in the LLU area), the team's temporary "office" was assembled on the beach-facing veranda of a delightful seaside structure. Dr. Morrow reported seeing "sooooo many Coca Cola signs everywhere. Because the water is hardly potable," he said, "soft drinks are a major thirst quencher that leads to high decay rates." Consequently, extractions outpaced endodontics. But the LLUSD team did save a lot of teeth, he noted, including the front teeth of a 20-year-old woman.
La Vida
James Padgett, DDS, assistant professor, Restorative Dentistry and Barry Krall, DDS, assistant professor, Dental Anesthesiology, led a dozen LLUSD dental students (a D1, four D2s, and seven D3s) on a 700-mile drive to La Vida Mission, a boarding school for 75 Navajo children at an elevation of 5,000 feet in the northwest New Mexico desert near Farmington. The spare landscape includes an Adventist church built some years ago by a Maranatha team.  
At the end of a 14-hour drive in two vans and two cars, thirteen team members and all their dental supplies decamped into one house. With the exception of two legitimate units, lounge chairs elevated on milk crates served as dental chairs along with one modified weight bench. Most of the chairs had lights fashioned from microphone stands and flashlights.
This was not just an extraction trip, said Dr. Padgett; "the team performed amalgams, composites and cleanings for over 100 patients, a little bit of everything," One student celebrated getting to perform "a root canal that turned out amazing." Dr. Padgett's concluding comment on the needs of the population: "These people need so much work you could work on them all day."
Because the widely scattered Navajo population lacked transportation, team members went into the surrounding area in a van to screen patients and bring them back to La Vida.
MEND (Meeting Each Need with Dignity)
MEND provides a unique venue among the spring service learning trips. Evan Lemley, SD'07, assistant clinical professor, Dental Education Services, and Scott Smith, SD'09, assistant professor, Restorative Dentistry, were the supervising clinicians who oversaw the work of two dental hygiene and eight dentistry students (five D2s and three D3s).
Located in the San Fernando Valley just north of Los Angeles, Pacoima, California, MEND is a non-profit organization with a huge modern building that helps meet the fundamental needs of impoverished Angelenos. MEND provides food, job search assistance, and medical and dental services.
The students who participated at this service learning venue stayed at the Sheraton Hotel in Universal City and worked in a modern, well-stocked dental care facility, with seven chairs, a sterilization area and an x-ray room. As in a private practice, the budding clinicians were provided assistants.
Second-year dental students were able to begin doing procedures they had performed only on typodonts—preps, injections and fillings on people. Because many of the patients spoke little or no English, some of the students got to practice or brush up on their Spanish language skills.
Several team members began to feel like real dentists and became acutely aware of the needs of so many people in the greater Los Angeles area. 
Conclusion
The School of Dentistry's motto was proliferated throughout the 2011 spring break by what the volunteerism of 59 students and 22 faculty accomplished for disadvantaged people around the globe.