By Douglas Hackleman - July 7, 2016
So Ran Kwon, DDS, MS, PhD, MS, associate professor, Dental Education Services, has been appointed director of LLUSD's student research. Dr. Kwon, who previously worked with LLUSD research students (August 2011 to May 2013), recently completed a three-year program at the University of Iowa's College of dentistry and Dental Clinics, where she earned American Board Certification in Operative Dentistry. Serving as an associate professor on the UI operative dentistry faculty, Dr. Kwon became the 2015 recipient of the UI College of Dentistry and Dental Clinics' first-year students' Dental Faculty of the Year award.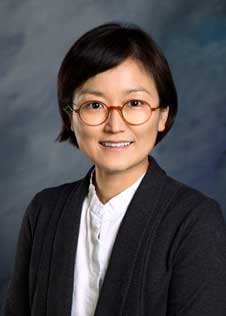 She will be reinvigorating Loma Linda's student research curriculum—DNES 806/806L and DNHY 421/422—and actively encouraging faculty-mentored student research. Dr. Kwon has enjoyed mentoring students' research projects at predoctoral and postgraduate levels and will strive to establish a nurturing environment for student research that ultimately will foster critical thinking, evidence-based dentistry, and the virtue of life-long learning. She envisions that LLUSD students will have the opportunity to participate at national meetings to interact with fellow students and also assume leading roles to promote research activities that will benefit the advancement of oral health care. She will continue to work together with Udo Oyoyo, MPH, assistant professor, Dental Education Services, and invite LLUSD faculty members to actively participate in sharing their expertise and to guide and mentor students throughout this program.
Dr. Kwon's main research interest is in esthetic dentistry with a special emphasis on minimally invasive dentistry and tooth whitening. She is an internationally recognized expert in tooth whitening and the author of the two volume Tooth Whitening In Esthetic Dentistry, published by Quintessence in 2008. She has contributed to three book chapters on tooth whitening and published more than 50 articles in peer reviewed journals. She was the recipient of the 2012 VITA Award for excellence in research related to color and appearance in dentistry.
Dr. Kwon actively serves the scientific community as reviewer on numerous journals including the Journal of Dental Research, Journal of Dentistry, Journal of Prosthetic Dentistry, and others. In 2015, Dr. Kwon was appointed as an associate editor for the Operative Dentistry journal, a refereed professional publication that is sponsored by three academies: Academy of Operative Dentistry, American Academy of Gold Foil Operators, and Academy of R.V. Tucker Clubs.
Dr. Kwon returned with her husband Seok Hoon Ko, DDS, MS, MS, and their two children, Julia (12 years) and Joseph (8 years), and feels blessed to be welcomed back at Loma Linda University.