By School of Dentistry - March 6, 2013
After three evenings (February 19-21) of Student Research presentations digitally displayed by small teams of Loma Linda University dental students from the class of 2014 and dental hygiene students from the class of 2013 on the large screens of the Centennial Center's Damazo Amphitheater, sixteen teams emerged as winners.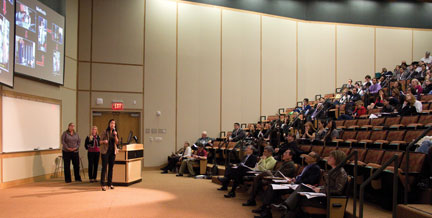 The evenings were devoted, one each, to presentations of student research in Clinical, Laboratory, and Educational categories. Joseph Caruso, DDS, MS, MPH, associate dean, Strategic Initiatives and Faculty Practices, Yiming Li, DDS, PhD, MS, director, Center for Dental Research, and Ronald Dailey, PhD, executive associate dean, moderated on successive evenings to keep the presentations moving, and three different panels of four faculty judges evaluated the presentations.
The sixteen winning teams (listed below) awarded first, second, or third-place in a category will compete later this spring (April 11-13) against research project winners from California's four other dental schools at the California Dental Association's annual meetings in Anaheim.
Clinical Category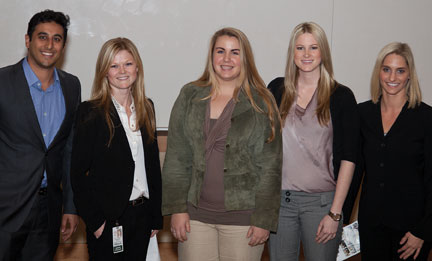 Dentistry, Clinical Category, First Place
Andre Soumekh, BreeAnn Christiansen, Ruthanna Lee, Katie Waldron, Fallon Livingston
Micro-bursting to Depress the Bacterial Load
Mentor: Dr. Brian Novy
---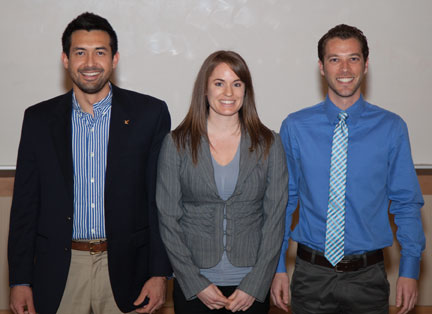 Dentistry, Clinical Category, Second Place
Charles Toews, Jillian Carlton, Skyler Liatti
The Diagnostic Quality of CBCT Images in the Presence of Common Orthodontic Brackets
Mentor: Dr. Leroy Leggit
---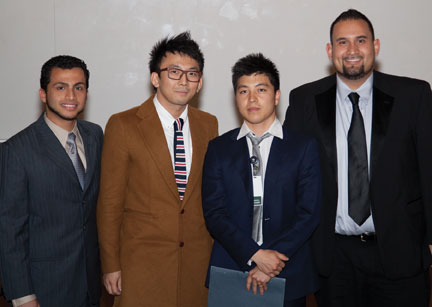 Dentistry, Clinical Category, Third Place
Wael Bekhit, Won Joon Lee, Paul Jang, Roberto Espinoza
Effects of Increased BMI on Dental Development
Mentor: Dr. Samar Omar
---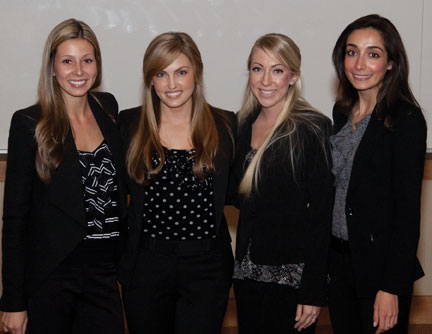 Dental Hygiene, Clinical Category, First Place
Jacquelyn Jefferies, Lindsey Rusk, Danielle Molnar, Nadia Moubayed
Comparison of Dental Caries Risk Between Supertasters and Non-Tasters
Mentors: Dr. Brian Novy & Ms. Michelle Hurlbutt
---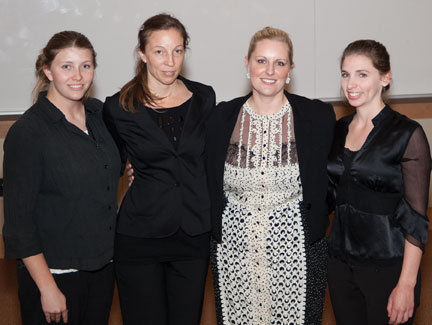 Dental Hygiene, Clinical Category, Second Place
Valrie Johnson, Karrie White, Krista Gavira, Andrea Kort
The Substantivity of Oil-Pulling on Oral Bacteria
Mentors: Dr. Brian Novy & Ms. Michelle Hurlbutt
---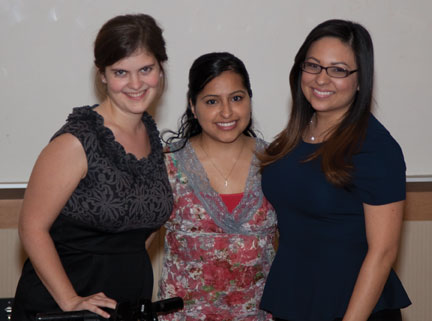 Dental Hygiene, Clinical Category, Third Place
Sara Cheek, Jasmin Gomez, Tiana Baioa
The Effects of Musculoskeletal Stretches on the Cervical Range of Motion in Dental Students
Mentor: Ms. Shirley A. Lee
 
Laboratory Category
---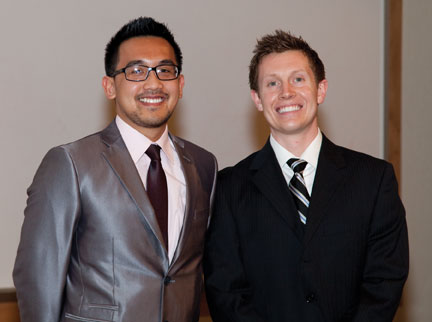 Dentistry, Laboratory Category, First Place
Eric Chen, Matt Enns
Effects of Radiation Therapy on Oral Mucosa
Mentor: Dr. Mei Lu
---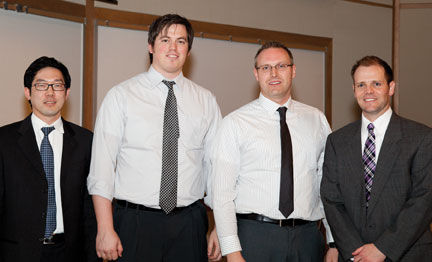 Dentistry, Laboratory, Second Place
John Kim, Troy Reichert, Kris Falk, Todd Brewer
Micromechanical Hardness of Glass Ionomer with Protective Coatings
Mentor: Dr. Brian Novy
---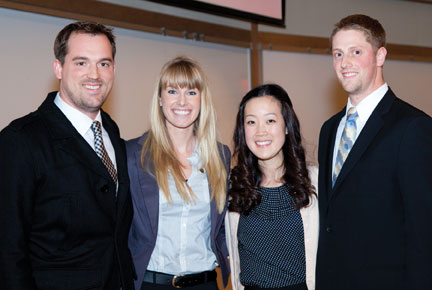 Dentistry, Laboratory Category, Third Place
Luke Czer, Janelle Bedford, Stephanie Shin, Jeremy Haines
Effects of Repeated Sterilization on the Integrity of Dental Implant Components
Mentor: Dr. Neal Johnson
---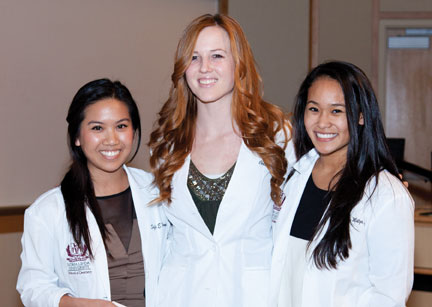 Dental Hygiene, Laboratory Category, First Place
Sofia Hoang, Christine Palluth, May Mutya
Substantivity Effect of Toothpaste Against Common Oral Pathogens Found on Toothbrushes
Mentors: Mr. Ray Apprecio & Dr. Brian Novy
---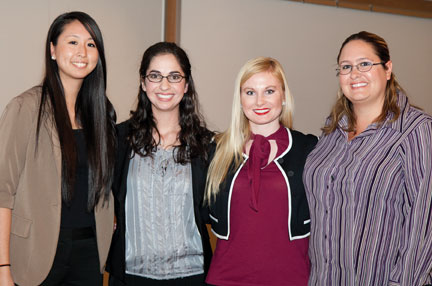 Dental Hygiene, Laboratory Category, Second Place
Janelle Junn, Leah Regan, Nicole Black, Kimberly Swanson
The Effects of Mineral Oil-Based Products on Latex Gloves
Mentor: Dr. Brian Novy
---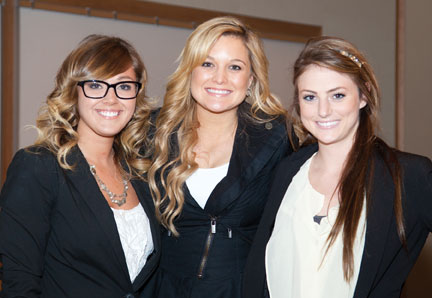 Dental Hygiene, Laboratory Category, Third Place
Meaghan Patrick, Paige Reynolds Michelle Soucier
Identifying a Non-toxic, Anti-fog, Water Resistant Application for Intraoral Dental Mirrors
Mentor: Ms. Marilynn Heyde
 
Educational Category
---
Dentistry, Educational Category, First Place
Elijah Wang, Daniel Yang, Douglas Baasch
Evaluation of a Novel Interactive Model for Educating Dental Students on the Basic Principles of Exodontia
Mentor: Dr. Mei Lu
---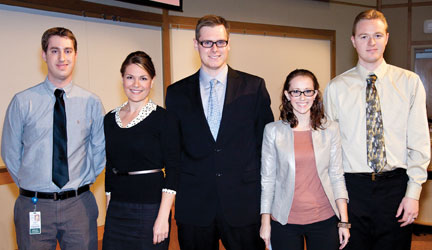 Dentistry, Educational Category, Second Place
Clint Walker, Amanda Zenthoefer, Zachary Mursic, Caprice Hunter, Crismon Goude
Comparing Variability Among Graders Using Traditional and Digital Grading Methods: A Pilot Study
Mentor: Dr. John Won
---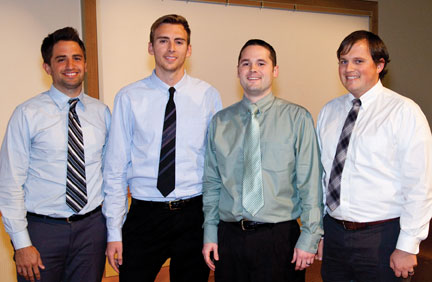 Dentistry, Educational Category, Third Place
Marcus Baker, Kevin Stanworth, Jeff Johnson, Jason Carlson
Analysis of Dental Implant Measurements from CBCT Scans Using 3D Imaging Software: A Pilot Study
Mentor: Dr. John Won
---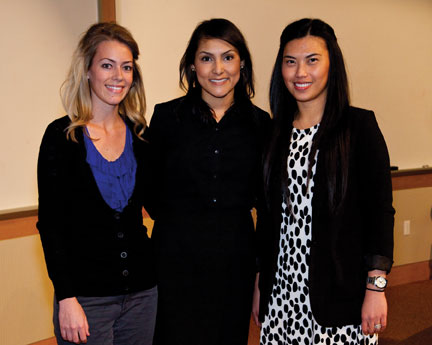 Dental Hygiene, Educational Category, First Place
Janelle Petty, Angela Hemenway, Naska Stephens
California Dental Hygienists' Knowledge in Identifying and Treating Common Oral Ulcerative Lesions
Mentors: Ms. Michelle Hurlbutt & Ms. Patricia Lennan