By School of Dentistry - June 29, 2010
According to Ron Dailey, PhD, executive associate dean, Loma Linda University School of Dentistry, it was his concerns about increasing crime in Loma Linda and growing polarization on the City Council over issues that included residential development, red-light cameras, increased traffic congestion, and safety projects (including a redesign for Stewart Street) that prompted his recent successful run for Loma Linda City Council.
A first-time candidate for public office, Dailey received the most votes, 1,067, of all candidates. With two seats on the Loma Linda City Council up for election, it was Dr. Dailey and Phillip Dupper, a San Bernardino County sheriff's sergeant who were victorious, against three other candidates who included incumbent Robert Ziprick, former councilman Robert Christman, and Verne Miller, a senior account executive for a collection agency.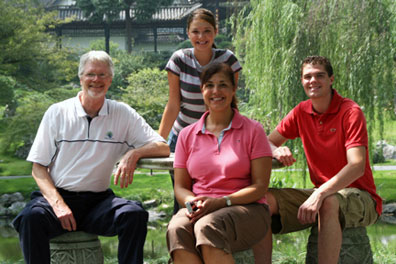 A 34-year resident of Loma Linda, Dailey came to the community in 1975 as a graduate student from Walla Walla College and took the position of instructor in the Department of Preventive and Community Dentistry where he was part of the School's DAU-TEAM program (1971-1985). In July of 1978 Dr. Dailey was promoted to assistant professor, and became director of Admissions and Student Affairs. In 1986 he was appointed assistant dean for admissions and student affairs. Beginning the next year, and until 1993, Dr. Dailey spent much of his time at the University of Southern California earning a doctoral degree in Higher and Professional Education. In 1988, Dr. Dailey married Karen Winston, MD, who completed a pediatric residency at Loma Linda University Medical Center that same year.
After receiving his doctorate in 1993, Dr. Dailey was appointed that September associate dean for academic affairs, a position he held until June of 2009 when he was named executive associate dean of the School, a title that justified the accumulating duties he was already performing.
Dr. Dailey is the father of three children, Casey, Colin, and Katie, and author (with Dr. Jay S. Kim) of the groundbreaking textbook, Biostatistics for Oral Healthcare, published by Blackwell Munksgaard in 2008 (344 pp.), that M. E. Munn calls the "first solid biostatistical text completely devoted to oral health research."
Among the honors Dr. Dailey has received is his honorary membership in Omicron Kappa Upsilon—a society that was established in 1914 at Northwestern University Dental School in Lincoln, Nebraska, to promote and recognize scholarship and character among students of dentistry. He has also been selected for Teaching Excellence awards in 1986 and 1987; and the School of Dentistry's Distinguished Service Award in 2001.
As a leader and consensus builder in a professional school, Dailey intends to bring "a more positive tone and collegial spirit on the [Loma Linda] Council."