By School of Dentistry - January 11, 2012
A School of Dentistry program for international dentists under assignment to mission clinics has attracted a diverse corps of dentists. Arriving early in 2011 to the School's International Dentist Program (IDP), Dr. Sarah Gill was following in the footsteps of her Pakistani father who received advanced training from Dr. Quint Nicola, first in Pakistan and later (1991) during a six-month certification program at LLUSD.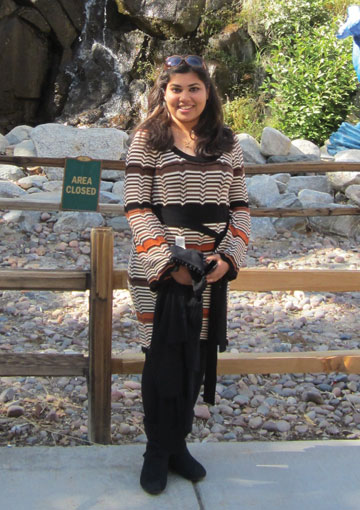 Dr. Gill's Sikh great-grandparents converted to Christianity. Her father, Victor Gill, a dentist, met Dr. Quint Nicola and joined the Seventh-day Adventist church. He now operates the mission clinic in Peshawar. Her mother has a mission too. For ten years she operated a sewing center for uneducated women who can work from home. She then opened a school for Christians that began with 10 to 15 students and has expanded to 300 pupils pursuing K-10 studies.
Assigned to a patient in IDP, wearing the program's royal blue scrubs, Dr. Sarah Gill appeared thoroughly Western, visually merging with her colleagues during her stay at LLUSD, March through September 2011. Today Dr. Gill has returned to her native Pakistan, having doffed her America style garb for a chador. "We don't have freedom here," she says. "We can't go out alone. We have to totally cover ourselves, wearing the national dress."
Because no dental hygiene or dental assistant courses are available in Pakistan, Dr. Gill is training her own assistant/hygienist, having chosen a male so that her office can serve men as well as women. Dr. Gill admits that Peshawar, on the border of Pakistan and Afghanistan, where she grew up and studied dentistry, and where her father practices, has been since 9-11 a very scary place. Driving to dental school at Gandhara University in Peshawar each day, she would be stopped at as many as ten check points. She recalls roadblocks requiring her to go to another part of the city to stay with friends after events such as the bombing of the U.S. embassy. Bomb blasts occurred every day while she attended dental school.
It's scary in Rawalpindi too, Dr. Gill admits, adding that she accepted an appointment in that district precisely because nobody wants to go there. "Being local," she says, "I can be helpful. It's a place where you don't trust anybody. You don't know if the person sitting next to you is a terrorist."
Dr. Gill agreed to open a dental mission clinic in Rawalpindi after treating a patient with cellulitis in her father's clinic. The woman had arrived with pus draining from her cheek. The woman's family had opposed her going to a doctor until they learned that a female dentist was working in the mission clinic. Treating the woman, Dr. Gill did some extractions, put her on antibiotics, monitored her recovery—and knew she needed to open a practice that would include women.
Studying dentistry at LLUSD was rigorous but peaceful for Dr. Gill. She recalls the day government agents stormed her father's dental office, looking for contraband Bibles. Automatically suspect as a Christian dentist operating the Peshawar mission dental clinic, he avoided dire consequences when they found no Bibles.
Dr. Gill is one of many IDP students whose return to their native place, often in dangerous environments, helps to  spread the good news and promotes oral health where the need is the greatest.