By School of Dentistry - June 4, 2013
Robert Handysides, SD'93, associate professor and chair, Department of Endodontics, has accepted an appointment to associate dean for academic affairs in the Loma Linda University School of Dentistry.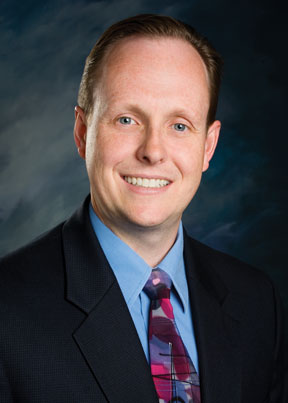 With the installment of Ronald Dailey, PhD, as School of Dentistry dean, a void was left in the School's academic administration that Dr. Dailey had filled for nineteen years, first as associate dean for academic affairs and then as executive associate dean.
     
A native of Canada, Dr. Handysides participated in a nomadic lifestyle through his early years, living in various continents and countries with his missionary family until he returned to North America for higher education. He arrived at LLUSD in 1989 with a Bachelor of Science degree in zoology from Andrews University, and earned his Doctor of Dental Surgery degree with the School of Dentistry's class of 1993.
Remaining at the School for a short period of time following graduation in the Department of Oral Surgery, it wasn't long before different goals surfaced and he returned to his homeland to establish a solo practice in Kingston, Ontario that he maintained for five years.
     
Dr. Handysides returned to Loma Linda in 1999 to earn a certificate in endodontics that he completed in 2001 from the School's Advanced Specialty Education Program in Endodontics. The return to an academic way of life resurrected a passion in education for Dr. Handysides, and under the mentorship of Leif K. Bakland, DDS, Mahmoud Torabinejad, DMD, MSD, PhD, and others he embraced the role of full time educator.
     
Commencing immediately upon completion of his specialty program in 2001, Dr. Handysides served the Department of Endodontics in a variety of roles: course director, lecturer, clinical educator, and researcher. In 2003 he became the director of the LLU Faculty Endodontics practice where he maintains a busy practice.
     
In 2007 Dr. Handysides was added to the LLU Faculty of Graduate Studies as associate professor, and in 2008 was promoted to associate professor status with the Department of Endodontics. One of his capstone moments in endodontics came in November of 2008 when he completed his board certification to become a Diplomate of the American Board of Endodontists.
     
In 2009, when Dr. Bakland announced he was relinquishing the Department of Endodontics chair, Dr. Handysides was selected to assume the position of his mentor and friend. He found it very beneficial to have Dr. Bakland remain in the department, just a few doors down the hall, to give guidance in the early days of his new role, and he anticipates the same collaborative relationship he fostered with Dr. Bakland to continue with Dr. Dailey in this most recent transition.
     
Based on the long list of committees and boards on which he has served, Dr. Handysides appears to enjoy direct involvement in the decision-making and implementation of both clinical and academic activities essential to the maintenance, integrity, and growth of the School.
     
He has authored or coauthored a number of peer reviewed articles and textbook chapters in endodontics and dental education. He has also presented numerous continuing education seminars both nationally and internationally, enjoying the various cultures and customs of the places he has visited.
     
In his pursuit of lifelong learning, and to deepen his educational background, Dr. Handysides embarked on the pursuit of an EdD in Higher Education at the University of Southern California in 2011.
     
Dr. Handysides and his wife, Minnie, have three daughters: Alison, Carina, and Nicole. He has his family's support as he assumes this new position but understands there is a heavy learning curve in the transition.
     
The office Dr. Handysides will move into has a panoramic view of the San Bernardino Mountains that remind him of a favorite text: "I will lift mine eyes unto the hills, from whence cometh my help" (Psalms 121:1). With the new responsibilities and challenges the position brings, he appreciates the Psalmist's reflections now more than ever and also will be seeking help from the same source.