By School of Dentistry - July 22, 2011
          April 16, 1926 - December 5, 2010
Ellis Jones, director of LLUSD's graphic arts studio, 1968 to 2000, applied a deft hand—and unmistakable wit—in executing his tasks. A compatible fit in the School, he was at home in the creative environment. He, too, was making impressions.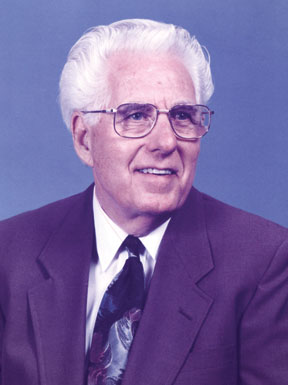 Born April 16, 1921, in Oakland, California, Mr. Jones worked at an oil refinery for two years after graduation from Oakland High School. Then on a three-year tour of duty with the navy, he survived with all his crew after their ship was struck and sunk by enemy fire in Japanese waters.
At Redlands University and then at Choinards Art Institute in Los Angeles he honed his graphic arts skills, with particular emphasis on cartooning. Initially pursuing a sign painting career, he easily moved into graphic design, creating posters and illustrations with a characteristic flair.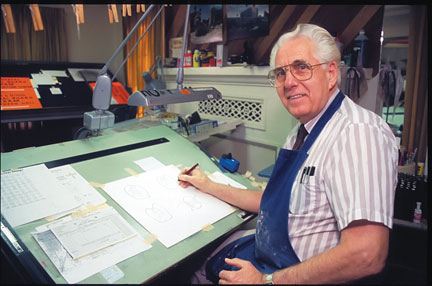 Introduced to Adventism at Orange Show meetings conducted by an evangelist, Fordyce Detamore, Mr. Jones became a member of the Mountain View Adventist Church, and of its successor, the Arden Hills Church, where he frequently served as head elder. He credited his Welsh heritage with his ability as a vocalist. With a fellow vocalist, he performed duet concerts in more than 25 Southern California churches.
Invited in 1968 by Dean Judson Klooster to use his skills at the School of Dentistry, he became a valued colleague of faculty members, providing enhancement to the students' learning process. He would do "cartoon kinds of things" that would "get things across," says Dr. Doug Roberts, SD'66, professor and chair of restorative dentistry, who engaged Jones's services.
Colleagues recall the sign he prepared for the late Dr. Robert Kinzer's door after being commissioned to create a do not disturb sign. Jones's football figures appeared on the sign with the words, "I'm tackling today. Please intercept later." He continued his work at the School until shortly before his 80th birthday.
Active in the community, Jones joined eight friends to found Loma Linda Lopers. Today more than 1,000 members are eligible to wear the Loper shirts bearing a coyote logo designed by Jones. At the age of 60 he went on the first of eight Honolulu marathons in which he participated. He also championed the cause of Alcoholics Anonymous, lecturing in various venues with a personal testimony of his commitment to remain a "dry" alcoholic. Hans Diehl, DHSc, MPH, clinical professor, Preventive Medicine, recalls Jones's drawings for health publications, with the comment, "He did so much free gratis illustrating for the CHIP (Coronary Health Improvement Project) program's publications." He also provided drawings, posters, and signs for Glendale Adventist Hospital, White Memorial Medical Center, and Simi Valley Hospital.
A current display of his cartoons and drawings in the School's lobby commemorates the artistic and meticulous works of this man who died on December 5, 2010. And examples of his humor in art can be seen below.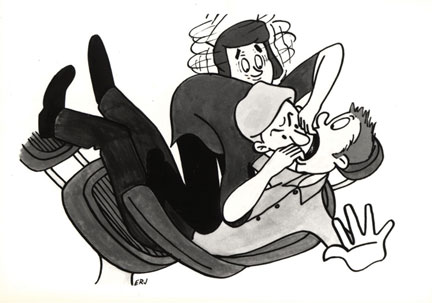 Remembered for his sense of humor and his easy manner of making friends, Mr. Jones will be missed by those friends and by his wife of 38 years, Marian Christine; his two children, Gordon of Redlands and Shari Baylus of Cherry Valley; two stepchildren, Diane Gardner of San Bernardino and Richard Newton of Dallas, Texas; two grandchildren and two step grandchildren.