By W. Patrick Naylor - July 7, 2010
Dean Goodacre Hosts Delegation from
the Democratic People's Republic of Korea
       W. Patrick Naylor, DDS, MPH, MS
In February of this year Dean Charles J. Goodacre quietly hosted an historic visit by a four-person dental delegation from the Democratic People's Republic of Korea (DPRK), referred to in some parts of the world as North Korea, arranged in conjunction with North Carolina-based Samaritan's Purse. This initiative began with a telephone call to Dean Goodacre from Dr. Mel Cheatham, a retired neurosurgeon, on behalf of the Reverend Franklin Graham, president and CEO of Samaritan's Purse and the Billy Graham Evangelical Association. Dr. Cheatham is a member of Samaritan's Purse board of directors and a key advisor to Reverend Graham. 
What people may not know is that the Graham family has maintained a relationship with the DPRK for quite some time. Mrs. Ruth Bell Graham, Franklin Graham's mother, attended high school in Pyongyang, North Korea, in the 1930s before she met and married famed evangelical minister, Reverend Billy Graham. It is the Reverend Franklin Graham who now carries on the Graham legacy, making several visits to the DPRK in recent years. So when the DPRK government wanted to arrange an exchange with the United States to explore contemporary dental education and clinical practices, officials turned to Franklin Graham. That is when Dean Goodacre was asked if the Loma Linda University School of Dentistry would be willing to partner with Samaritan's Purse and host dentists and other officials from the DPRK. Dean Goodacre readily agreed and what transpired was a behind-the-scenes diplomatic effort to open the doors of the School of Dentistry (Figure 1).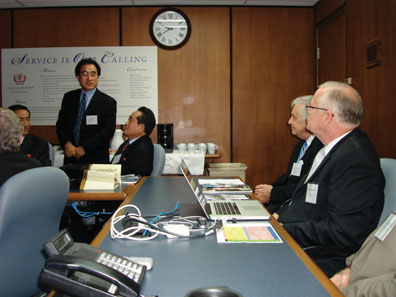 All photographs are copyrighted by Dr. W. Patrick Naylor and may not be reproduced or used  without his expressed written permission.
Over the course of eight days, the two dentists, one physician, and one government official/interpreter attended presentations by the dean and lectures by faculty translated into Korean. On the clinic side, they observed predoctoral students (as well as graduate students and residents) treating patients in our various clinics (Figures 2 and 3).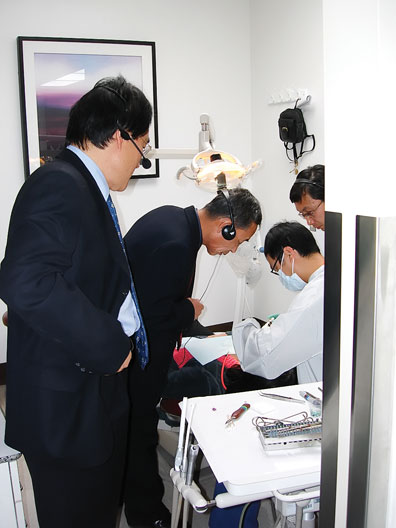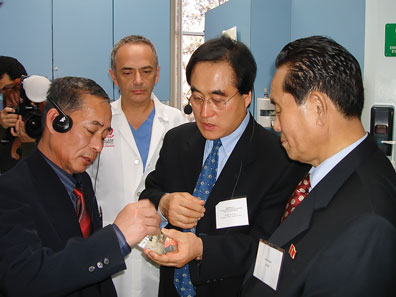 The delegates also scrubbed in on two implant surgeries performed in the operating rooms of the implant dentistry clinic and observed several surgical procedures performed in the oral surgery clinic. The delegates were even given a tour of the Loma Linda University Medical Center. The purpose of the DPRK visit was for its dentists to better understand how dental education is provided in the United States, and see how we integrate technology into our curriculum.
As part of the tour, Dean Goodacre took the four-member DPRK team to the Good Samaritan statue on the Loma Linda campus (Figure 4). Dr. Ryu is deputy president of the Pyongyang Medical University Hospital, Dr. Won is chief of the hospital's dental department, Dr. Pak is a member of the dental department, while Mr. Ri is a member of the Korean-American Private Exchange Society (KAPES) and served as the interpreter.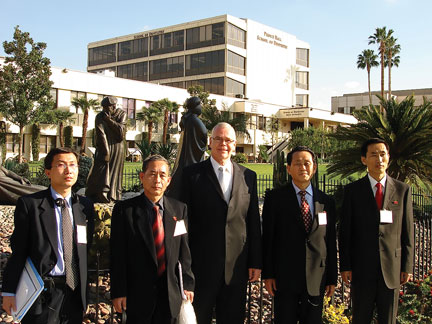 Dr. Sean Lee, associate professor, Restorative Dentistry, and a member of the Center for Dental Research, was instrumental in translating questions during clinic tours and presentations dealing with dental issues (Figures 2 and 3).
Dean Goodacre hosted a farewell banquet at the Mission Inn in Riverside, California, that included the DPRK delegates, members of Samaritan's Purse, and the School of Dentistry administrators and faculty who helped to arrange the week-long visit (Figure 5). The dean presented each delegate with signed copies of textbooks written by School of Dentistry faculty, copies of his electronic educational programs, and several Loma Linda University memorabilia.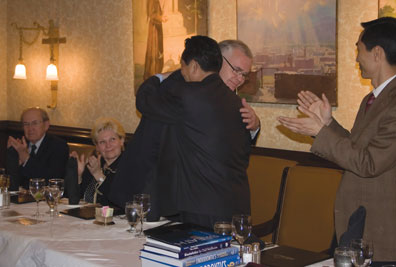 LLUSD participants included Dr. Ronald Dailey, executive associate dean; Dr. Paul Richardson, associate dean, Clinic Administration; Dr. W. Patrick Naylor, associate dean, Advanced Education; Dr. D. Graham Stacey, associate dean, Student Affairs; Dr. Joseph Caruso, associate dean, Strategic Initiatives and Faculty Practices; Mr. Ron Secor, associate dean, Financial Administration; Dr. Fred Kasischke, associate dean, Admissions and Service Learning; Ms. Kathleen Moore, associate dean, Educational Support Services; and Dr. Yiming Li, director, Center for Dental Research. Dr. Lane Thomsen, chair, Department of Oral Diagnosis, Radiology, and Pathology, worked with Dr. Lee to have his oral pathology lectures translated into Korean for the benefit of the delegation. Drs. Naylor and Thomsen represented the School of Dentistry in a reciprocal visit to the DPRK that took placed between March 26 and April 9, 2010.
LLUSD Delegation Visits the Democratic People's Republic of Korea 
On the heels of the historic visit to the School of Dentistry by guests from the Democratic People's Republic of Korea, the School of Dentistry collaborated with Samaritan's Purse to arrange a reciprocal trip to the DPRK.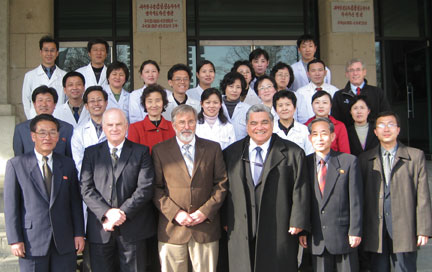 Because of long-standing prior commitments, Dean Goodacre was unable to make the journey himself, so he invited Dr. W. Patrick Naylor, associate dean for advanced dental education, to represent him and to be joined by Dr. Lane Thomsen, chair of the Department of Oral Diagnosis, Radiology, and Pathology (ODRP). In the six weeks preceding their visit Drs. Naylor and Thomsen contacted dental manufacturers and suppliers to solicit donations of equipment and materials to take with them to North Korea. By the time of their departure, they had collected enough donated items to fill three footlockers, two large boxes, four suitcases, and a duffle bag, including everything from cotton rolls to a programmable porcelain furnace, along with two complete metal-ceramic porcelain kits.
Joining the Loma Linda contingency were Mr. Edward Morrow, director of World Medical Missions for Samaritan's Purse and Dr. Felix Martin del Campo, a private practitioner with a dental practice in Visalia, California, and member of Samaritan's Purse's board of directors. Dr. Martin del Campo joined Drs. Naylor and Thomsen at Los Angeles International Airport (LAX) for the trip to the DPRK with a brief stopover in Beijing, China, where they were joined by Mr. Morrow (Figure 1). Following a short visit to the North Korean embassy in Beijing to obtain entry visas, the team headed to the Beijing Airport for the two-hour and 40-minute Air China flight to Pyongyang, the capital of the DPRK.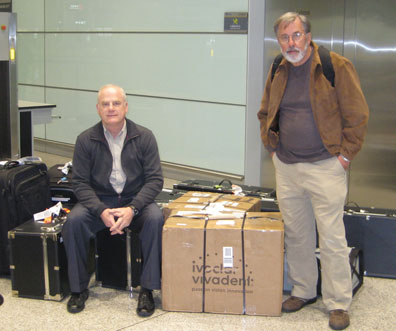 At the airport in Pyongyang, the group was met by representatives from the Korean-American Private Exchange Society and later treated to a welcome dinner at the Potonggang Hotel, where they were housed for the first part of their stay (Figure 2).
 
The following morning they left for their ultimate destination, the dental department of the Pyongyang Medical University Hospital, located on the top floor of a five-story building (Figure 3).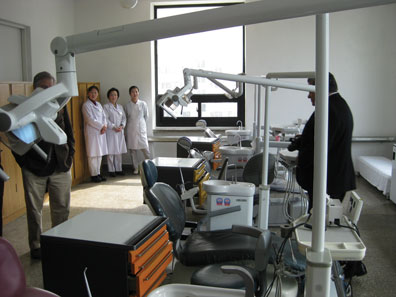 Their DRPK hosts included Dr. Ryu Hwan Su, deputy president of the Pyongyang Medical University Hospital, Dr. Won Hae Nam, chief of the dental department, and Mr. Ri Yong Phil of the Korean-American Private Exchange Society. Over the course of the next two weeks the team members gave formal lectures on a wide variety of topics, and provided dental diagnostic and treatment procedures on a number of patients. 
Dr. Naylor set up and calibrated the operation of a Programat P100 programmable porcelain furnace, donated by Ivoclar Vivadent, Inc. (Amherst, NY). He then trained two DPRK dentists to operate the furnace and use two porcelain systems, In-Line (Ivoclar Vivadent) and Ceramco 3 (Dentsply Ceramco, Burlington, New Jersey) to fabricate metal-ceramic restorations (Figures 4, 5, 6).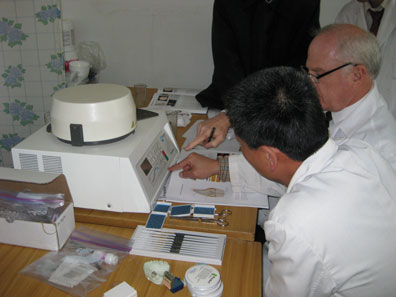 Dr. Thomsen took what is believed to be the first digital dental radiograph in the DPRK, using a portable Nomad® unit (Aribex, Inc., Orem, Utah) on loan from the School of Dentistry (Figure 7).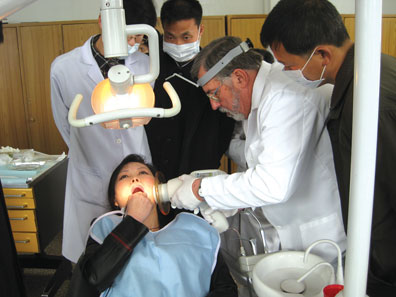 He also gave demonstrations on the recommended technique to perform an oral cancer screening (Figure 8).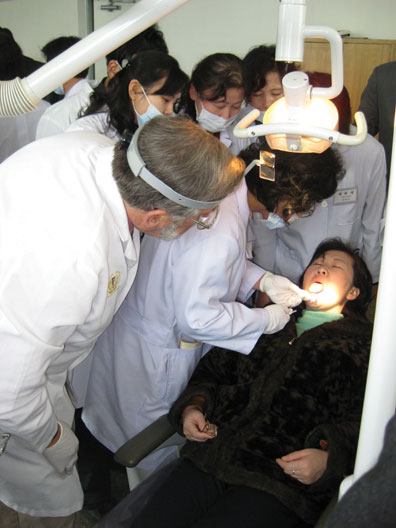 Although Dr. Martin del Campo had visited the DPRK on five previous occasions, this was the first time he had the opportunity to actually treat patients (Figure 9).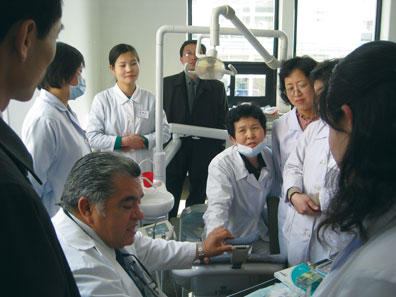 Dr. Thomsen also provided many hours of formal lecture presentations to the dental department faculty, staff, and students (Figure 10).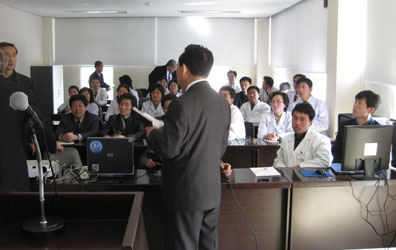 Mr. Morrow moved from classroom to clinic to the laboratory to oversee the team's activities throughout the week (Figure 10).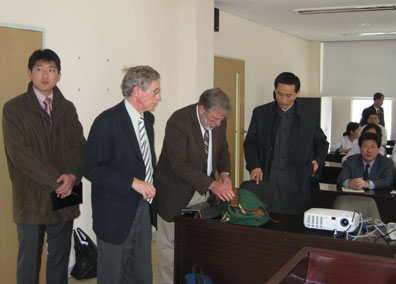 Part of the visitors' scheduled activities included visits to national landmarks and exhibit halls in Pyongyang, attendance at cultural events, and a Sunday trip to Mt. Myohyang, some 150 kilometers north of the capital. Scenes from Pyongyang and Mt. Myohhyang are depicted in Figures 15-21.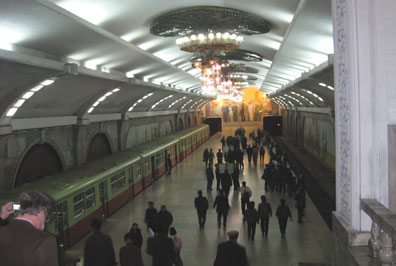 The visit ended with a formal farewell event, as the DPRK hosts presented certificates and farewell gifts to each of the departing LLUSD-Samaritan's Purse guests (Figures 12-14).