By School of Dentistry - July 19, 2013
W. Patrick Naylor, DDS, MPH, MS, associate dean for Advanced Education, retired from his position, effective July 1, following seventeen years of distinguished service on the faculty of the School of Dentistry.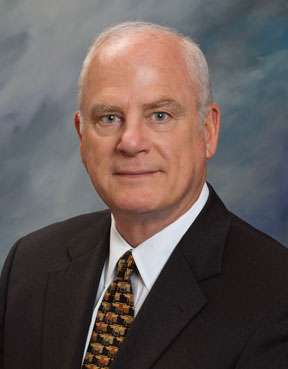 Family commitments on the east coast were such that for the past year Dr. Naylor has been commuting for monthly, one-week administrative stints while the School searched for a replacement.
With postdoctoral degrees from Harvard University School of Dental Medicine (MPH, 1981) and Indiana University (MS, 1988, in Dental Materials), Dr. Naylor taught for three years at the School of Dentistry, University of Texas Health Sciences Center, San Antonio, and four years at the Indiana University School of Dentistry before joining LLUSD in 1996 as adjunct associate professor, Department of Restorative Dentistry. In 2006 Dr. Naylor was appointed associate dean for Advanced Education as well as to membership of the Graduate Council Faculty of Graduate Studies.
His 20-page curriculum vitae includes 26 peer reviewed publications, five textbook chapters, one textbook authored (an introduction to dental materials), three books on financial management topics, and 100 presentations on subjects related to his dental specialty and dental practice finance and management. Many LLUSD graduates have benefited from his mentoring of the School's Investment Study Club.
Dr. Naylor has been instrumental in preparing self-study reports for the School's accredited graduate programs and in editing sections of the LLUSD self-study reports for the predoctoral program in preparation for the Commission on Dental Accreditation site visits of 2002 and 2009.
More recently (March 26-April 9, 2010), Dr. Naylor represented the School by teaching a basic course in metal-ceramic technology and treating patients at the Dental Department of the Pyongyang Medical University Hospital (now part of Kim Il Sung University), in the Democratic People's Republic of Korea, where he lectured again in November of 2011.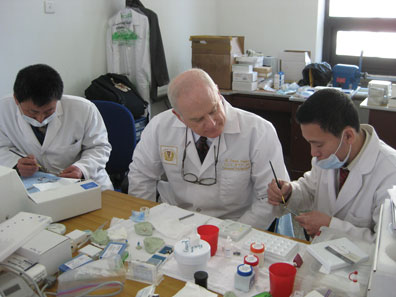 Dr. Naylor also spent three weeks in April 2012 at the University of Dammam, College of Dentistry, in Saudi Arabia, where he lectured and taught several one-day courses in Metal-Ceramic Technology and where he signed on behalf of LLUSD a contract between the School and the University of Dammam for a program under which LLUSD faculty subsequently have begun teaching periodically at that university's College of Dentistry.
His departure elicited regret from outgoing School of Dentistry Dean Charles Goodacre: "Dr. Naylor is one of the finest individuals and professionals I have ever had the privilege of working with during my career. His combinations of organization, attention to detail, integrity, and skill have been of immeasurable benefit to the School of Dentistry. I will miss his special expertise and the opportunity to regularly work with him."