By School of Dentistry - November 15, 2015
Five-year-old Noah Thronson wanted to do something special for his mother Margaret's birthday. Being a bright and creative youngster, he turned to the World Wide Web for possibilities.
He determined on cookies with an icing face. What made Noah's cookies unique was that he drew the icing faces with a cleft smile. He revised the smiles on his cookies that way because he was born with a cleft lip/palate that was repaired by specialists at the Loma Linda University School of Dentistry's Department of Pediatric Dentistry Pre-surgical Nasal Alveolar Molding (PNAM) program under the direction of Jung-Wei Chen, DDS, MS, PhD.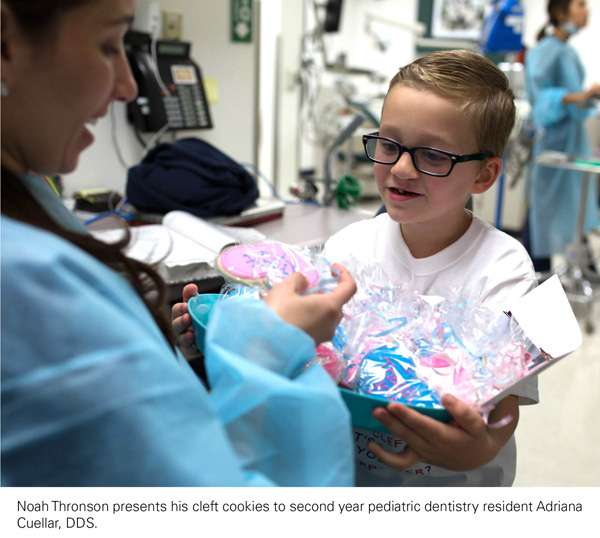 Noah wanted to extend the surprise for his mother to show appreciation for his oral health care professionals as well. So on October 8, 2015, he and his mother delivered a basket of cleft smile cookies to Dr. Chen, his second-year pediatric dentistry resident, Ryan Baker, DMD, and the LLUSD Pediatric Dentistry Clinic team.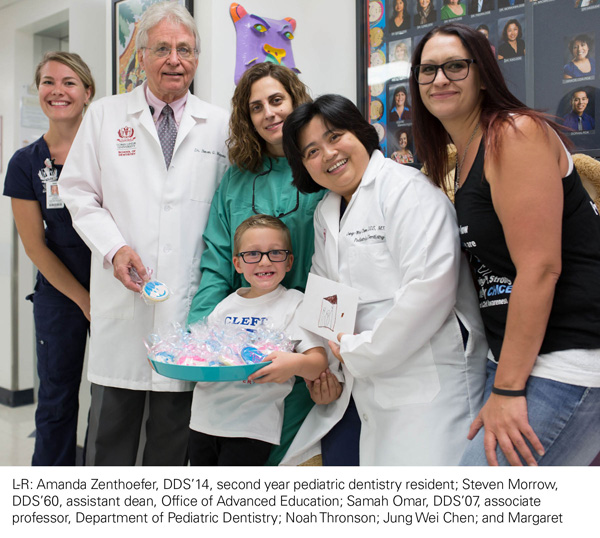 As an LLUSD PNAM alumnus, Noah is one of many youngsters whose cleft lip/palate repairs have been greatly enhanced and attenuated by the relatively new procedure that the School's Advanced Education Program in Pediatric Dentistry residents are taught to perform.
 PNAM utilizes a device reminiscent of retainers used by orthodontists to maintain the appropriate positioning of properly aligned teeth to mold the particularly soft oral and maxilla tissues of infants and toddlers that help to minimize the number of surgeries required in cleft palate/lip repairs to achieve an esthetically pleasing and properly functioning mouth.
Noah was one of 84 PNAM alumni who gathered for a five-year reunion at the LLUH Centennial Complex in October of 2014.
During last year's PNAM reunion, Noah shared a moment with LLUH president Richard Hart (see photo), and has since gotten a haircut and glasses that, along with his creative cookies, make one think of a budding entrepreneur.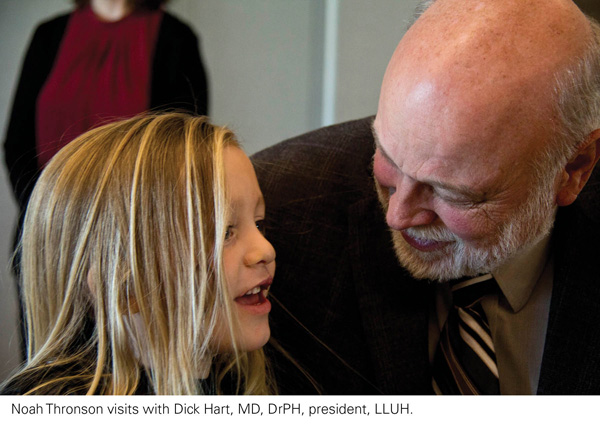 The delivery of Noah's cookies is the Thronson's way of thanking Dr. Chen and her residents for their tender loving PNAM procedures and care.
It is easy to see why Dr. Chen and her residents find their work so rewarding.