By School of Dentistry - February 7, 2011
School of Dentistry alumnus Michael Steele, SD'72, saw his last dental patient in 1987. And although he no longer practices dentistry, the San Marino, California, native's second career as a city manager provides him with endless opportunities to fulfill his alma mater's motto: "Service is our calling."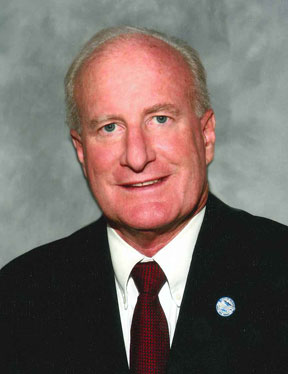 After practicing dentistry for fifteen years in Fountain Valley and then South Lake Tahoe, California, Dr. Steele worked for a year as a high-altitude, underwater salvage diver in Lake Tahoe, Nevada. Then he found out "what it's like to be on the front lines," by joining a fire truck rescue company in Sparks, Nevada.
While working for the Sparks Fire Department, Dr. Steele earned an Associate of Science degree in Fire Science and Technology from Truckee Meadows Community College in Reno, Nevada, and a Master of Public Administration from the University of Nevada, Reno.
In 1995 he took up the management profession as senior administrative analyst and emergency management coordinator for the city of Sparks, in which capacity he coordinated emergency management for numerous disasters, including a presidentially declared natural disaster that did $868 million in damage. At the suggestion of the Sparks city manager, Dr. Steele began applying for city manager positions and was hired by the City of Croswell, Michigan, on the eastern shore of Lake Huron.
While serving as city manager for Croswell, he and his wife, Conny, were intrigued by a television special about Central Texas. After exploring the area, they were convinced they wanted to live there; and Dr. Steele was hired in 2005 to manage the City of Burnet, Texas, 100 miles north of San Antonio. While working as the city manager of the City of Burnet, Dr. Steele was elected president of the Highland Lakes Health Partnership (H.L.H.P.). During his tenure, the H.L.H.P. raised the funds for, built, and staffed a dental clinic to provide no (or low) cost dental care to indigent individuals in the Highland Lakes area northwest of Austin.
In 2011, the Steeles moved 90 miles south to Castle Hills, a suburb of San Antonio that hired Dr. Steele as its city manager. A bit of a kidder, when he retired from his Burnet city management position, Dr. Steele turned in his municipal keys and cell phone, but forgot to relinquish his city credit cards. When the Burnet finance director called to ask if he had turned in his credit cards to human resources, he deadpanned: "I'm not quite done shopping yet."
Dr. Steele and Conny, a Marriage and Family Therapist, have been married for 21 years. Conny has worked in Child Protective Services in two states and is currently the program director for a domestic violence shelter.
The animal loving couple has been rescuing Dalmatians for 23 years and has established a rescue foundation. They currently have four rescued and deaf Dalmatians. With so little to do, Dr. Steele fills his extracurricular time with weight lifting, running, and travel. Both he and his wife are active in service and professional organizations.
Despite his retirement from the dental profession, Dr. Steele has maintained friendship with some of his classmates, especially Dr. Ron Fritz, Dr. Gerald "Door Gunner" Krater, and Dr. Mark Miller, and expects to attend the class of 1972's fortieth reunion in 2012.