By Anonymous - December 21, 2010
Trained as a social worker, Beth Bernotas brought a unique set of skills to her job interview with Dr. Leif Bakland 32 years ago. She was working as secretary for the endodontic academic department at the time. The faculty endodontic clinic was opening its doors with Drs. Bakland, Donald Peters, and Arthur Spenst on the staff. Becoming an immediate hire, she would combine her people skills and administrative know-how as office manager for the next three decades.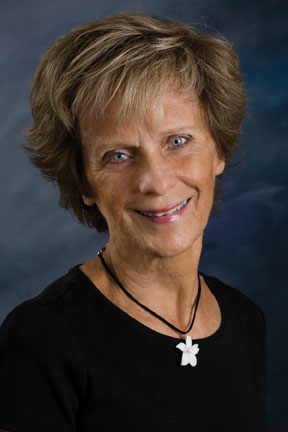 Reviewing her years at LLUSD, Beth admits that when she arrived in Loma Linda, a new graduate from Union College, Lincoln, Nebraska, she had no idea she would end up employed at the School of Dentistry for her entire working life. Dr. Robert Handysides, current director of the practice, says, "We'll miss her. She's the best thing that has happened since sliced bread."
One contribution to her distinctive performance came with Beth's initial resolve. "I decided," she says, "that I wanted to make this office the best endodontics office. I wanted patients to be treated as though they were very special individuals. I would try to be a positive influence to my co-workers and patients. My goal: I wanted them to see God in this office."
Her people skills flourished. Patients became Beth's personal friends. She was going out to eat with them. She became involved with their children—and grandchildren. She was a guest at their wedding showers and weddings. She sums it up, "I made this job more than clocking in and out."
Beth had the opportunity to work with many endodontists and employees during her tenure as the office manager. Her broad interests that enhanced her interaction with patients and co-workers varied. Beth's love for children shines in many ways. She sponsors a child, David, in India. She and her husband are godparents to five children. She has given 'coupons' to people at church for babysitting—and received responses from many grateful parents. Maintaining the skills she developed in college, Beth has volunteered in juvenile hall and drug abuse facilities.
Participating on many mission trips, Beth cites one junket to Borneo with a church group during which she helped build a church. In Kenya she and her husband were the cooks for a group building a house for a local pastor. Accommodating to the local scene, the Bernotas couple managed without electricity or running water, cooking over an open fire. Challenging? "Yes," she says, "but fun."
On a singularly rewarding trip to Malamulo Hospital in Malawi, Beth took on a two-week receptionist job at the missionary doctor's office when his receptionist fell ill. The highlight of that trip was meeting for the first time her pen pal Flora, daughter of Pastor Samuel. The two girls had been pen pals since they were eight years old. Later Beth made sure to fly to Southwestern Adventist College in Texas when Flora's daughters, sponsored by a mission-oriented Texan, were graduating from that school. There the two friends had a happy reunion.
It's no surprise that Beth admits she likes adventure. At retirement she was ticking off the Bernotas travel itinerary: Smoky Mountains, Tennessee, in August; an alumni meeting at Minnesota's Maplewood Academy in October; and the Marine Ball in San Francisco in November. At the latter event, they were to be guests of Beth's brother-in-law. She would be returning, of course, to lead the women's Bible study group Wednesday evenings at her Azure Hills, Grand Terrace church; and she's likely to be playing her clarinet again in the Valley College band, where non-students are admitted. Whether cooking for a team of workers, managing a clinic, or serving as spiritual advisor, the petite, unassuming Beth is likely to surprise and encourage you, as she did so many patients and co-workers at the School of Dentistry.