By School of Dentistry - November 9, 2012
The School of Dentistry had a significant presence—including its Mobile Clinic and a booth representing the Center for Dentistry and Orthodontics (CDO)—at Loma Linda University's annual Family Health Fair held this year at the Drayson Center, Sunday, October 28, 2012, from 7:00 am to 2:00 pm.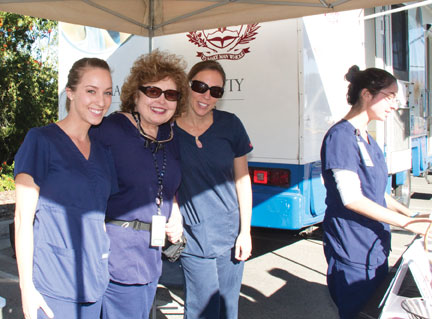 Darlene Cheek, DH'71, MPH, assistant professor, Department of Dental Hygiene, reports that 16 senior dental hygiene students, under the supervision of Gary Kerstetter, SD'82, assistant professor, Service Learning, provided oral health education to 500 people in the LLUSD Mobile Clinic.
Krista Juhl, MBA, director of marketing, and Tina Malmberg, CDO manager, running the CDO booth, interacted with roughly 1,500 fair attendees giving away a comparable number of oral health care products: floss, toothpaste, lip balm, and promotional materials for faculty practices at CDO.
The availability of free flu shots, health education, basic dental hygiene screenings, food, games, food samples from event sponsors (such as Jamba Juice and The Old Spaghetti Factory), drawings for prizes (including a chance to win a Disneyland Family Package for four with a two-night stay at a nearby hotel), and the first annual Family Health Fair Community 5K Walk/Run, drew around 2,000 people to the annual event.