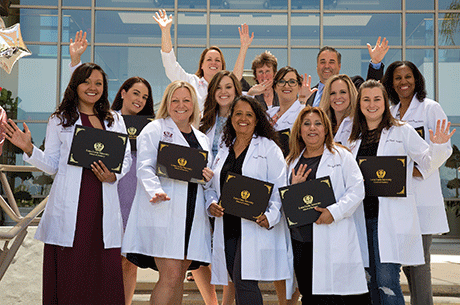 By Douglas Hackleman - July 11, 2018
The Loma Linda University School of Dentistry Registered Dental Assistant Expanded Functions (RDAEF2) program celebrated its first graduating class of ten students on April 22, 2018, with the presentation of certificates of completion and embroidered lab coats.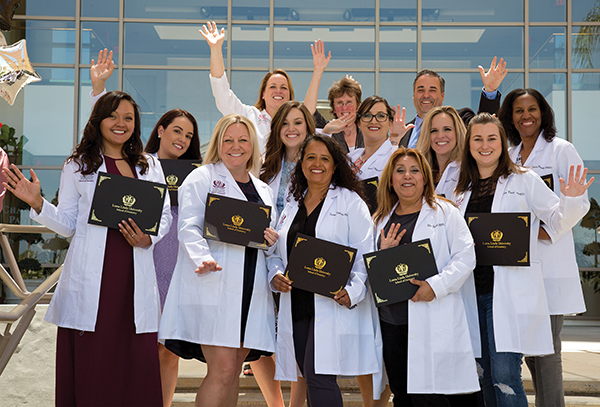 The program began June 4, 2017 and finished on April 22, 2018. It was a day of ambivalent feelings that mixed the excitement of graduating from the rigorous RDAEF2 program coupled with the looming anxiety of state board licensure practical exams three weeks later (May 12, 2018). Instructors, Jeri Fowler, CDA, RDAEF2, OA, assistant director, Continuing Dental Education and Alumni Affairs; Holli Riter, DDS'98, associate professor, Division of General Dentistry; and Mark Estey, DDS'98, assistant dean, Office of Academic Affairs, hosted the celebration and expressed pride and admiration for the class accomplishments.
The Registered Dental Assistant in Expanded Functions was established in 1986 with Hazel Torres (author of the textbook Modern Dental Assisting, the most widely known dental assisting textbook) becoming in that year the first licensed RDAEF. Then in 2010, legislation was passed by the State of California approving additional restorative functions for RDAEFs, which precipitated the establishment of RDAEF2. These expanded functions include the placement of direct restorations, permanent cementation or indirect restorations, and the obturating of root canals. RDAEFs are also trained to place retraction cord and to take final impressions, which formerly were the exclusive duties of the RDAEF1.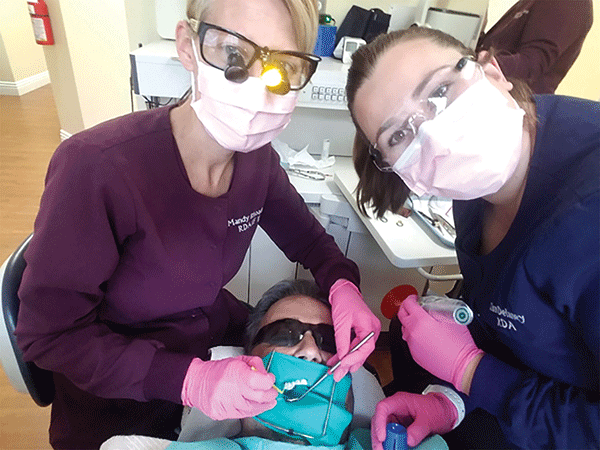 "I cannot overstate the beneficial impact that RDAEF2s can have on a dental practice," says Dr. Estey. "The two 'best things' I've have done over the past few years to greatly improve my dental practice are the incorporation of digital impressions and RDAEF2s. But most important has been the addition of two RDAEF2s and an RDAEF."
In his practice, Dr. Estey says, "We have six operatories and two dentists. Our office supports two chairs dedicated for hygiene and four operatories for the two dentists. This level of staffing allows us to see patients in a comfortable, timely manner.  We always want to be able to spend the time we need with each one of our patients to ensure they not only get but feel they get proper care." He sees only advantages to the utilization of RDAEFs and RDAEF2s, which enable "one dentist to work out of three or four operatories and still have the time to appropriately treat each patient. The utilization of RDAEFs and RDAEF2s enables us to move from one patient to another and apply the dentist's time most efficiently," he explains. "This ability to 'hand off' the treatment of patients earlier in the treatment process permits the dentist to see more patients, without any compromise in the quality of patient care."
"I cannot overstate the beneficial impact that RDAEF2s can have
on a dental practice," says Dr. Estey.
Dr. Estey says, "RDAEF2s are able to place restorations for patients as well as I can; otherwise I would not feel comfortable with them performing these procedures. I have such confidence in my staff that when I underwent a restoration, my wife prepared the tooth and one of our RDAEF2s placed the restoration."
Evidence that there is considerable demand for this upgrade in certification may be deduced by the fact that half of the LLUSD graduates had been hired as RDAEF2s before they completed the program. "Currently there are approximately 35,000 dentists practicing in California, and there are only around 300 RDAEF2s," says Dr. Estey. "The dentists in California that are utilizing those few RDAEF2s are noticing how much they positively impact their dental practices. I wonder," he asks, "how long it will be until the rest of those 35,000 realize what they are missing?"
Duties that are permitted under RDAEF2 certification:
Conduct preliminary evaluation of the patient's oral health, including (but not limited to) charting, intraoral and extra-oral evaluation of soft tissue, classifying occlusion, and myofunctional evaluation.
Perform oral health assessments in school-based, community health project settings under the direction of a dentist, registered dental hygienist, or registered dental hygienist in alternative practice.
Size and fit endodontic master points and accessory points.
Cement endodontic master points and accessory points.
Take final impressions for tooth-borne removable prosthesis.
Place, contour, finish, and adjust all direct restorations.
Polish and contour existing amalgam restorations.
Adjust and cement permanent indirect restorations.
Perform cord retraction of gingiva for impression procedures.
Take final impressions for permanent indirect restorations.
LLUSD's most recent RDAEF program began June 3, 2018 and will conclude May 5, 2019.
For additional information call Jeri Fowler, director of the RDAEF program at (909) 558-4399 or surf to the program's web page