By School of Dentistry - July 2, 2010
To paraphrase Oliver Wendell Holmes, the greatest teacher makes others believe in greatness… and leaves a lasting mark on their lives.
The Teacher of the Year Award was established to recognize and honor School of Dentistry faculty whose accomplishments have had an extraordinary impact on students, faculty peers, and the School family.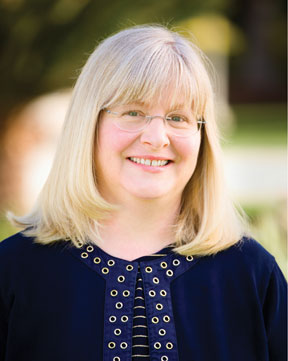 For those who regularly work with Dr. Susan Richards as a colleague or have her as a mentor, it is easy to see how this characterization of the exemplary teacher fits her.
The selection process for this honor involves the input of School of Dentistry students, staff, and faculty who represent her with a variety of accolades:
She has a facility for taking pathology, a topic usually considered intimidating and difficult by students—and presenting the material in an interesting, well-organized, and effective style.
As evidence of the students' support of Dr. Richards' approach to teaching, just read the consistently excellent evaluations submitted by students over the past several years:
"Dr. Richards is the best professor I have ever had. Very organized, very fair, a great lecturer, and she uses interesting pictures. I love the notebook she gives us. She is wonderful."
"Dr. Richards is a very thorough and detailed all-around teacher, something I haven't seen in such capacity before."
"Love your organization, love the notes! Expectations are very clear and that make this an EXCELLENT course. Thank you!"
"Best teacher in the school!"
The SCHOOL TEACHER OF THE YEAR AWARD was presented to Dr. Richards at the Conferring of Degrees for the School of Dentistry.