By Anonymous - May 21, 2012
Friday, May 4, 2012, was another great day for LLUSD student researchers at the annual California Dental Association meetings in Anaheim, California.
Of the sixteen LLUSD dental and dental hygiene student research teams that were awarded prizes during the School's March 15 student research presentations, half were awarded prizes by the CDA for their table clinics. Most notably, the School's dental student research teams swept first, second, and third prizes in the Clinical Category. LLUSD dental student researchers also took first and third prizes in the Scientific Category. And LLUSD dental hygiene students were awarded first and second prizes in the Research Category, with an Honorable Mention for the Community/Education Category. 
In viewing the winning Loma Linda student research teams pictured below, it is helpful to note that the CDA categorized some of the research team winners differently than did the School of Dentistry.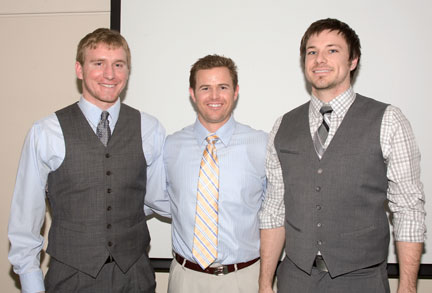 Dentistry, Clinical, first place
Robert Judd, Kevin Murray, Timothy Matthews
Comparative Analysis of Root Length Using MRI and CBCT
MENTOR: Dr. V. Leroy Leggitt
CDA Scientific Category, 1st place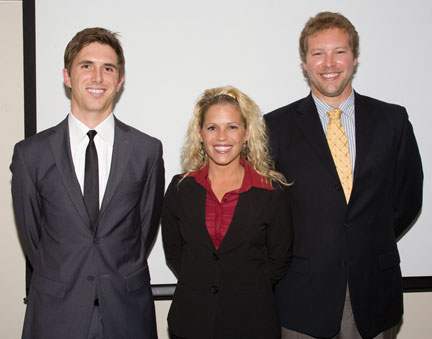 Dentistry, Clinical, second place
Gregory Wright, Nicole Morris, Todd Wentland
Rotational Force Required in Uncomplicated Exodontia
MENTORS: Dr. Neal Johnson, Dr. Wayne Tanaka
CDA Clinical Category, 2nd place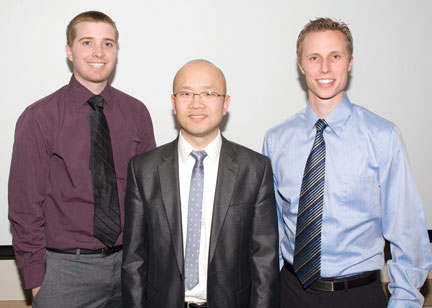 Dentistry, Clinical, third place
Michael Hann, Tae (Adam) Yang, Joel Davis
Oral Diagnosis for the iPhone
MENTOR: Dr. Heidi Christensen
Dental Hygiene, Clinical, merit recognition
Laurissa Ward, Joselyn Garcia, Brianna Pickens, Chanise Bragg
The Effect of In-office Tooth Whitening Treatment on Oral Health Care
MENTOR: Dr. Sean Lee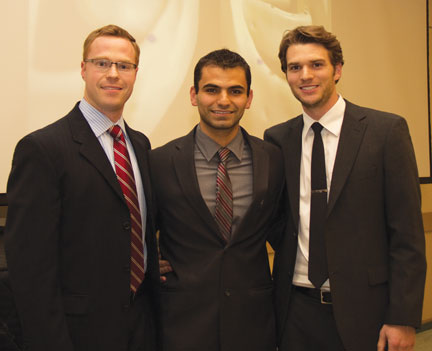 Dentistry, Laboratory, first place
Brian Goodacre, Jason Mashni, John Yankee
Effect of a Computer-Assisted Angulation Sensor in the Placement of Dental Implants
MENTORS: Drs. Charles Goodacre, Jaime Lozada, and John Won
CDA Clinical Category, 1st place
Dentistry, Laboratory, second place
Rachel Tambunan, Eric Mee, Jayna Sekijima
Comparative Study of Effectiveness of Three Plant Extracts in Inducing Cell Death in Tumorigenic Cells
MENTOR: Dr. Neal Johnson
CDA Clinical Category, 3rd place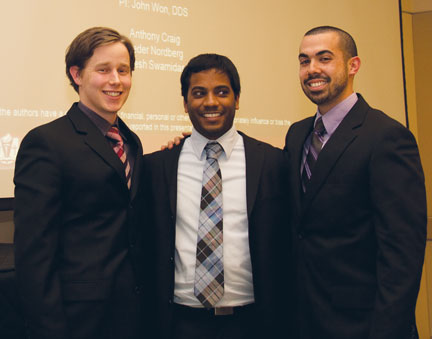 Dentistry, Laboratory, third place
Peder Nordberg, Rajesh Swamidass, Anthony Craig
Measuring the Parallelism of Dental Implants Placed by Clinicians with Varying Degrees of Experience
MENTOR: Dr. John Won
CDA Clinical Category, 3rd place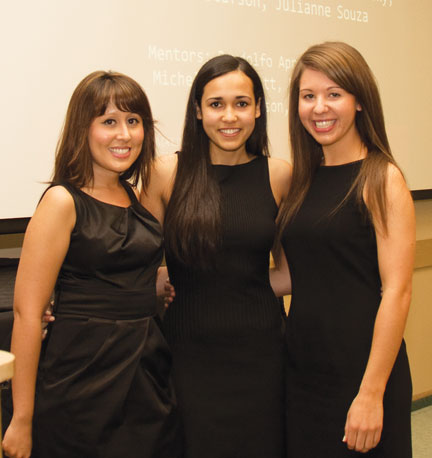 Dental Hygiene, Laboratory, first place
Jeanne Gustafson, Julianne Souza, Debra Gruzensky
Comparison of Three Surface Disinfectants
MENTORS: Ms. Michelle Hurlbutt, Dr. Raydolfo Aprecio, and Ms. Alisa Wilson
CDA Research Category, 1st place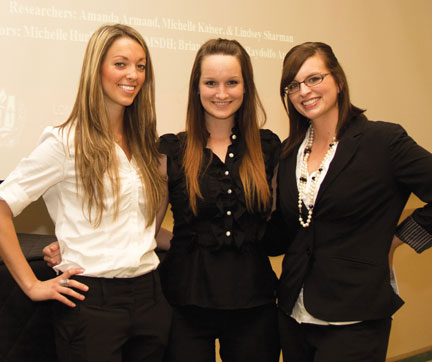 Dental Hygiene, Laboratory, second place
Amanda Armand, Lindsey Sharman, Michelle Kaiser
Effects of Magnolia Bark Extract on Oral Bacterial Growth
MENTORS: Ms. Michelle Hurlbutt, Dr. Brian Novy, Dr. Raydolfo Aprecio
CDA Research Category, 2nd place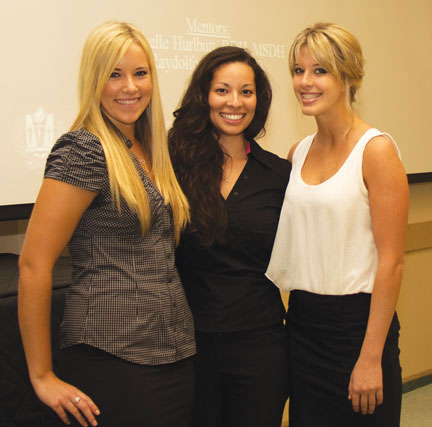 Dental Hygiene, Laboratory, third place
Meghan McGee, Yatziri Ortega, Magdiel Stone
Effects of Manuka Honey Lozenge on Oral Bacterial Growth
MENTORS: Ms. Michelle Hurlbutt, Dr. Raydolfo Aprecio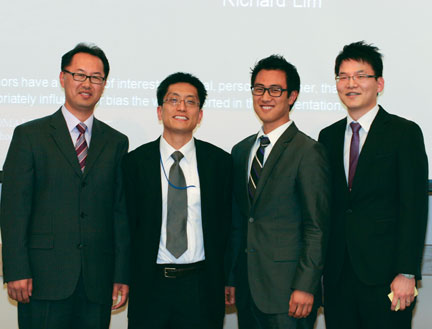 Dentistry, Educational, first place
Kwang Kee Han, O Kwon, Richard Lim, John Han
Facts About Mini Dental Implants
MENTORS: Drs. Wendy Gregorius and Jaime Lozada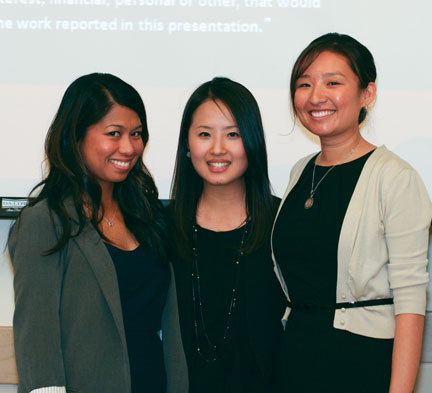 Dentistry, Educational, second place
Rhodelia (Jane) Gumangan, Soo Park, Andrea Sivavajchaipong
Art of Expression: What Dentists Should Know about Oral Piercings
MENTOR: Dr. Jung-Wei Chen
CDA Community/Education Category, honorable mention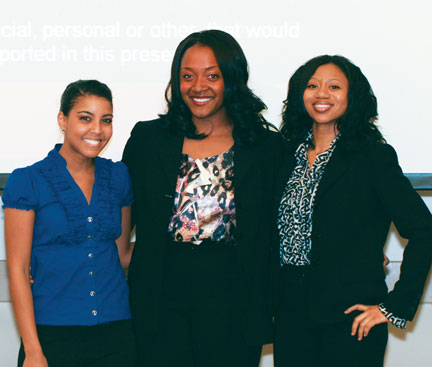 Dentistry, Educational, third place
Tiffany Beale, April Buckins, Joy Richardson
Correlation Between PAT scores on DAT and Performance in Single Casting Technique
MENTOR: Dr. Graham Stacey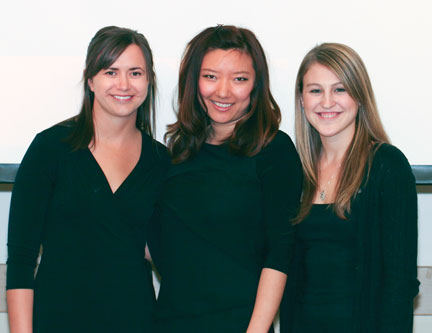 Dental Hygiene, Educational, first place
Marisa Keightley, Lindsay Liu, Grace Culp
XEROSTOMIA: Getting the Information Out There
MENTOR: Ms. Darlene Cheek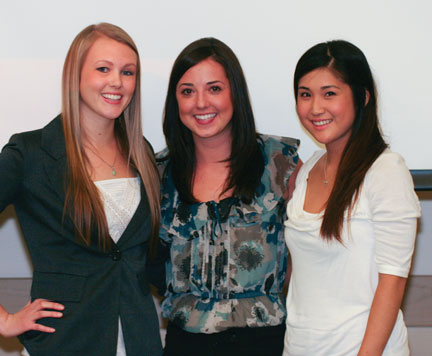 Dental Hygiene, Educational, second place
Kristy Glenn, Caroline Jones, Christine Kang
Arginine-rich Snack Foods for Dental Caries Management
MENTORS: Ms. Michelle Hurlbutt and Dr. Brian Novy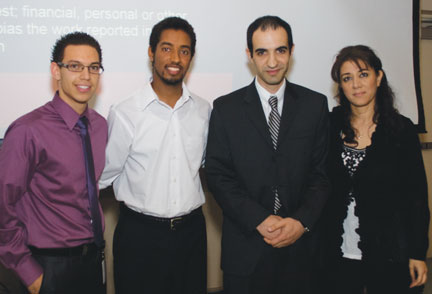 Dental Hygiene, Educational, first place
Robert Aviles, Solomon Iyesusab, Sergey Arakelyan, Sima Azimi
Motivational Effect of an Educational Tool that Shows the Correlation between Oral and System Health
MENTOR: Dr. Barry Krall