By School of Dentistry - January 10, 2013
Gracing the north wall of Prince Hall's dental clinic patient waiting area are new LED lit panels featuring the Wall of Honor recognizing lifetime cumulative giving by generous donors to School of Dentistry funds in giving categories established by Loma Linda University Health (LLUH). A similar display gracing the walls of Magan Hall recognizes donors to any LLUH fund, including dentistry.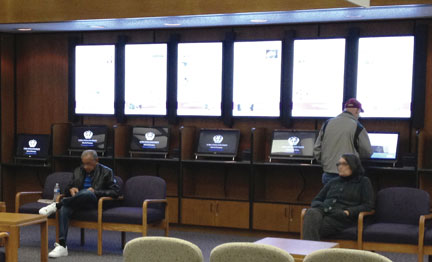 School of Dentistry donors are recognized in the following categories:
                Donor Categories                No. of Donors      $ Totals
•    Benefactor ($1,000,000 – $4,999,999)        (5)          $11,616,564
•    Founder ($500,000 – $999,999)                (10)          $  6,214,153
•    Ambassador ($100,000 – $499,999)          (50)          $10,802,632
•    Pacesetter ($50,000 - $99,999)                  (73)          $ 4,965,388
•    Patron ($25,000 — $49,999)                     (123)         $ 4,275,789
In addition, there are Associate, Friend, Supporter, and Contributor categories with total giving to date of $13,638,626 in those categories by 6,299 donors.  Support by donors for all School of Dentistry funds in all categories by 6,560 donors is over $51 million dollars.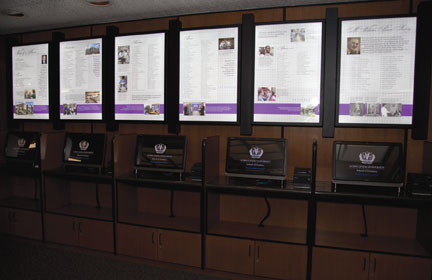 Recognition is also given to members of the M. Webster Prince Society who have indicated to the Office of Development that they have remembered the School of Dentistry in an estate or lifetime income plan.  The details of such plan and amount are not required.  An encouraging number of alumni families have indicated they have a plan or distribution has occurred from an estate plan.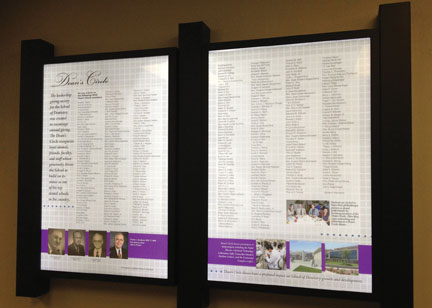 On the east wall, donors who make an annual gift of a minimum of $1,500 to any School of Dentistry fund are recognized as members of the Dean's Circle.  Qualifying gifts were made in calendar year 2012 for 2013 membership.  For 2013 there are more than 300 members, including students and new alumni.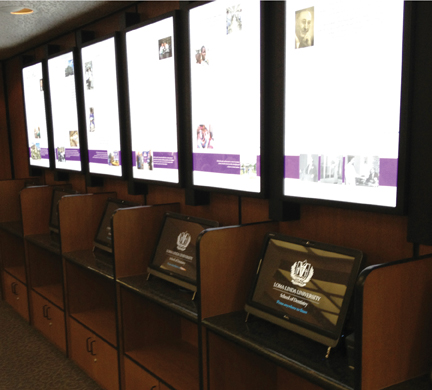 Other annual giving displays will include gifts to the Alumni Association Century Club, and the dental hygiene Ivory Society.  Donors on these displays are recognized at the following levels:  Bronze: $100 – $499, Silver: $500 – $999, and Gold: $1000-plus.
"These attractive panels are just one small way we can recognize and thank those who so loyally demonstrate their support for the School of Dentistry," stated Dean Charles Goodacre.
"The panels comprise a stunning display of alumni generosity. Please take some time to examine them when you are visiting the School of Dentistry."