By School of Dentistry - September 15, 2014
For its cooperation with the Centers for Medicare and Medicaid (CMS) Electronic Health Record (EHR) Incentive Program, Loma Linda University School of Dentistry received a substantial grant for using, adopting, and implementing axiUm Certified Electronic Health Record and for meeting the criteria set by the State of California to provide patient care to 30 percent Medicaid patients based on overall 2012 dental school patient volume.
The check for $680,000 was presented to Dean Ronald Dailey, PhD, on July 3, 2014.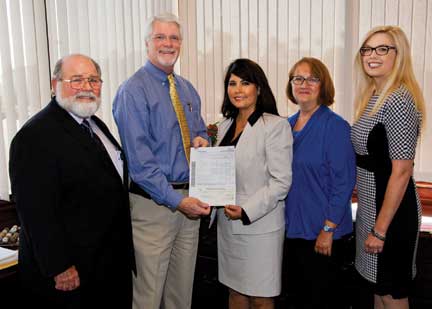 Congratulated by Dean Dailey for this accomplishment are Dr. Paul Richardson, DDS'72, associate dean for Clinic Administration; Marina Moore, director, Clinical IS and Financial Operations; Ramon Enachescu, senior systems administrator; Tammy Earnest, manager, Patient Business Office; Lisa Dennett, senior administrative secretary; and Jodi Staff, senior administrative assistant.
The CMS - EHR Incentive Program will continue for six years during which the School of Dentistry will be eligible to receive additional funding from the State of California.