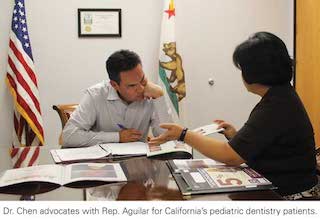 By School of Dentistry - November 13, 2015
Jung-Wei Chen, DDS, MS, PhD, Program Director, Advanced Education Program in Pediatric Dentistry, along with four of her pediatric dentistry residents, Xuan Lam, DMD (2nd year); Linda Ngo, DDS (1st year); Jessica Machado, DMD (1st year); and Ryan Baker, DMD (2nd year); met with Congressman Peter Rey Aguilar, U.S. Representative for California's 31st congressional district at his office on August 13, 2015.
To facilitate the fulfillment of a CODA mandate that requires pediatric dental residents to engage in the fundamental domain of child advocacy, Gregory Olson, DDS'96, MS'11, Associate Professor, Department of Orthodontics and Dentofacial Orthopedics and Department of Pediatric Dentistry, along with Dr. Chen helped to arrange the meeting with Congressman Aguilar.
Dr. Chen and her residents shared with Representative Aguilar their experiences treating patients in San Bernardino County—the challenges of access to care, the need for pediatric dentists, the complicating changes in oral health care that arrived with the Affordable Care Act, and the inadequate reimbursement rates allotted by Denti-Cal.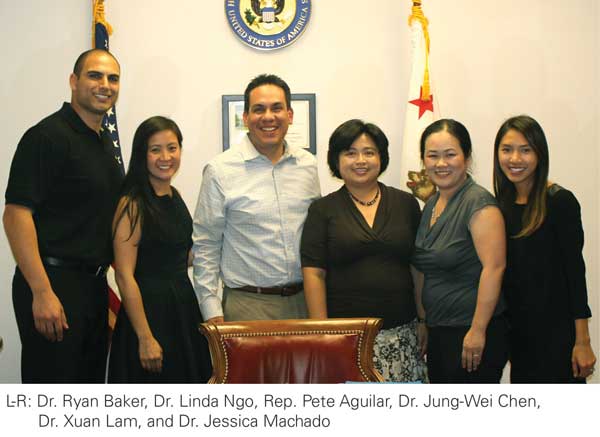 Dr. Chen and her residents spoke to Congressman Aguilar about the Section 748 HRSA Title VII Pediatric Dentistry Appropriations Grant.  The grant has helped pediatric dental residency programs to expand in various ways that have ultimately increased the number of underserved children treated.
The LLUSD quintet encouraged Representative Aguilar to persuade the Health Resources and Services Administration to initiate a new grant cycle, based on $10 million that Congress has designated under Title VII's dental component Sec. 748, for pediatric dentistry programs to provide funding for faculty loan repayment programs that will help to increase the number of pediatric dentists available to care for newly insured children.
Congressman Aguilar assured Dr. Chen and her residents that he will do what he can to help increase grant funds so that these pediatric dental programs can continue to grow and treat children in need of dental care.