By School of Dentistry - July 23, 2010
1,311 youngsters, mostly from Inland-area schools, attended Loma Linda University's 25th annual Children's Day Wednesday, May 19, coordinated by LLU Children's Hospital representative Dorothy Brooks on the University's North Lawn next to the Good Samaritan sculpture.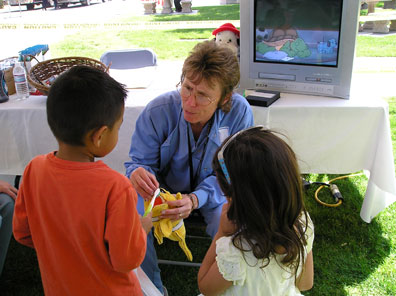 The School of Dentistry had an unusually visible presence at Children's Day, because its Mobile Dental Clinic provided an interesting tour opportunity as well as a northern border to the event. The School also provided oral hygiene instruction (and a variety of oral hygiene freebies) to a continuous parade of children at a booth directed by Jeri Fowler, assistant director, Dental Alumni Association, who enjoyed the assistance of Stella Suba, RDA, CDA; Marie Worcester, volunteer from Continuing Dental Education; and Heidi Toppenberg, student worker, Continuing Dental Education.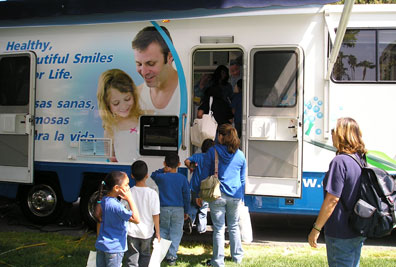 Participating children were provided a lunch provided by Farmer Boys, and a refreshing drink as a gift from Jamba Juice.