By School of Dentistry - July 8, 2015
2015 LLU School of Dentistry doctor of dental surgery graduate Laura Sherwin is one of three annual recipients of the Charles E. Weniger Society Scholarship Award.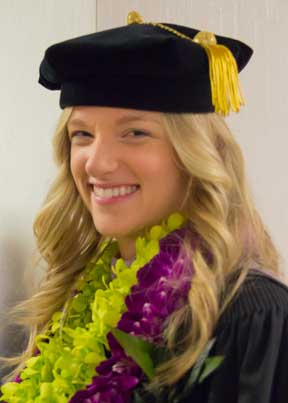 The Society awards annual Weniger Student Scholarships to attendees of accredited North American Seventh-day Adventist colleges and universities who have demonstrated excellence in spirituality, academics, civic service, and leadership. The scholarship is matched or exceeded by the recipient's school.
Before receiving her DDS degree in May this year, Dr. Sherwin graduated Magna Cum Laude from Southern Adventist University (SAU) and continued her academic excellence by making the dean's list each quarter at the School of Dentistry.
As early as the summer of 2002, Dr. Sherwin, as an early teen, experienced the joys of service as a Maranatha volunteer, helping to build a church in the Dominican Republic and assisting with Vacation Bible School. While at SAU, she served as a student missionary in Peru with Ambassadors Medical Outreach & Relief (AMOR), and she preached a two-week evangelistic series while on a mission trip to Managua, Nicaragua, in July of 2009, sponsored by SAU's Evangelism Resource Center, the Carolina Conference's ShareHim program, and Quiet Hour Ministries.
With the accumulating skills of a dental student, Dr. Sherwin continued her volunteerism in South America with the support of the LLUSD Class of 2015 Outreach Project to Valle De Angeles, Honduras, in 2013, and again on a mission trip to Roatán, Honduras, in 2014, with the Calimesa SDA Church where she also served as pianist for children's Sabbath School from November 2012 until completing her dental education in May of 2015.
Her local mission service experience included four years' participation in the School of Dentistry's annual Clinic With A Heart, volunteer dentistry at the Redlands, California, Compassion Clinic (November of 2011 and May of 2013), and work in 2011 and 2012 with the Healthy Neighborhoods Project, Kids Rock, in Loma Linda.
Dr. Sherwin's leadership tendencies were first exhibited in college during which she was for one year editor of the Student Missions Club Publication (2008-2009), secretary and president of her college Pre-Dental Club (2009 and 2010), and in dental school where she was for four years Class of 2015 representative to the National Association of Seventh-day Adventist Dentists, her class representative to the School's Professional Standards Committee (2012-2015), and dental student representative to the LLU Mission Interest Group (2013-2015).
Dr. Sherwin currently is a deferred mission appointee, in Columbus, Ohio, along with her husband, Brent, who will complete a surgery residency there in 2020.
The Charles E. Weniger Society was established in 1974 by the late Congressman Jerry Pettis, Clinton Emmerson, DDS (father of Bill Emmerson, DDS'80, MS'82), and John Osborn to preserve and project the qualities of inspiration, motivation, and excellence that were paramount in the life and service of Charles Elliott Weniger, PhD, a beloved Seventh-day Adventist educator. Dr. Weniger, who served as an English professor and briefly as dean of the Seventh-day Adventist Theological Seminary (1959), was known for his kindness, expertise, broad professional influence and dedication to excellence.