By School of Dentistry - April 18, 2011
Professional research endeavors by Nikola Angelov, DDS, MS, PhD, director, Pre-doctoral Program, Periodontics, recently have been published in Human Immunology (March 5, 201l) and Lasers in Medical Science (February 25, 2011).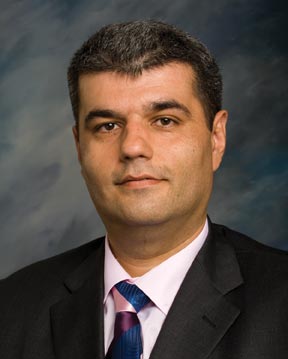 Dr. Angelov and his co-authors in Human Immunology "were aware that genetic polymorphisms in the interleukin-4 (IL4) gene have been reported to influence the host response to microbial challenge by altering levels of cytokine expression."
"We analyzed nucleotide polymorphisms in the promoter region of the IL4 gene and its relation with periodontal disease in a Macedonian population," Angelov et al reported, and found that "Cytokine polymorphism on the IL4 gene appears to be associated with susceptibility to chronic periodontitis in Macedonians."
In their Lasers in Medical Science article, Dr. Angelov and associates "sought to evaluate the effect of low-level laser treatment combined with scaling and root planing (SRP) on gingival tissue levels of TNF-alpha in subjects with periodontal disease."
"The results of this study show suppression of TNF-alpha in gingival tissue after low-level laser treatment as adjunct to SRP. Data may suggest beneficial anti-inflammatory effects of the laser treatment when used as adjunctive periodontal treatment."
"Dr. Angelov's publications provide new scientific information not only on periodontal diseases but also regarding the interrelationship between periodontal diseases and systemic health, which is one of the research emphases of LLUSD," said Yiming Li, DDS, PhD, MS, director, Center for Dental Research. "These publications are also outstanding examples of the international research collaboration by our faculty."