By School of Dentistry - May 27, 2015
Sunday, May 24, 2015, was a stellar day for 206 students from 34 countries who graduated during the LLU School of Dentistry's 55th commencement.
But at the beginning of the ceremony, four faculty who have played pivotal roles in the success of so many oral healthcare professionals received awards for their dedicated service as educators, researchers, and practitioners. The words (and some images) that accompanied the presentation of their honors appear immediately below.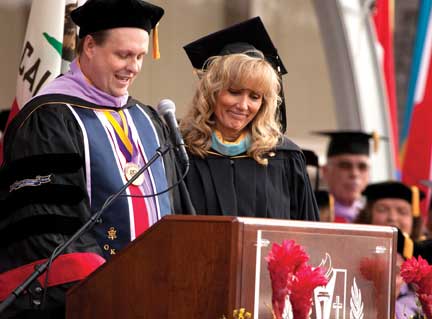 The Teacher of the Year Award was established to recognize and honor School of Dentistry faculty members whose accomplishments have made an extraordinary impact on students, peers, and the School family. Each year a full-time faculty member is chosen for this award based on having an outstanding reputation as a teacher, and on having contributed to the quality of the School, the community, and the church.
It is a distinct honor to have this opportunity to present Shelley Hayton as the recipient of the 2015 SCHOOL TEACHER OF THE YEAR AWARD. The significance of this award comes in large measure from the extensive process by which she was chosen. This selection process involves all School of Dentistry students and faculty in all departments in Prince Hall. They all have input into choosing the award recipient, making the recommendation to the Dean a most universal and fair process.
Shelley Hayton is a 1982 graduate from the dental hygiene program at Loma Linda University School of Dentistry. Continuing her education, she received an SDA teaching credential for grades K-8 from La Sierra University in 2009, and continued on to receive a Master of Arts in Teaching from La Sierra University in August 2010. Ms. Hayton joined the faculty at LLUSD in October 2009 as a part-time faculty member in the Department of Dental Hygiene, changing to full-time status in March 2013. She has become an invaluable asset to the Department of Dental Hygiene and is well respected by both colleagues and students.
It has been said, "The mediocre teacher tells, the good teacher explains, the superior teacher demonstrates, and the great teacher inspires." It is clear to me today that we are in the presence of greatness. As evidence of the students' respect for Shelley Hayton's approach to teaching, one has only to look at the consistently outstanding evaluations submitted by students over the past several years.
Let me share a few examples:
"She is the most amazing instructor ever! She is always straight to the point and very helpful. She will find time to help students individually, even if she does not really have time to spare."
"Couldn't have had a better, more understanding, or kinder instructor. Best instructor by far.
"Ms. Hayton is an excellent instructor! She is very clear about what she wants, and is helpful when there is confusion!"
"You are one of the nicest and most caring teachers I have had, and you are always open and smiling, making it easy for us to reach you. I hope to have you as my instructor until I have completed school at LLU!"
"Ms. Hayton is not only a great teacher but a wonderful person to have in the dental hygiene department. She is always going above and beyond what she is expected to do here at our School."
"Ms. Hayton, you are amazing! There is nothing I would change about you or your class."
"Thank you for making your classroom a delight and a wonderful learning atmosphere, and for always encouraging us. You are one in a million and one of the best teachers I have ever had!"
To all of the educators here this afternoon I would like to honor and thank you for inspiring and influencing us all. Great teachers are the soul of an enlightened society. We can all name a great teacher who changed our lives—a teacher who inspired us. Today reading these comments we clearly see why our recipient today is deserving of the honor.
Ms. Shelley Hayton has been teaching since 2012, a relative short term in a teaching career. Based on what she has already accomplished, we predict a long successful career devoted to the high calling of mentoring our future colleagues in both the art and the science of dental health and hygiene.
It is now my honor to present Ms. Shelley Hayton the 2015, SCHOOL TEACHER OF THE YEAR AWARD.
Dr. Bakland is a member of a small, elite group of endodontists who are recognized internationally for their accomplishments. After completing the Doctor of Dental Surgery degree at Loma Linda University, he opened a general dentistry practice in Massachusetts. In 1971, Dr. Bakland was accepted to the Harvard University School of Dental Medicine where he completed a residency in endodontics. While in Massachusetts, he joined the United States Army Reserves in which he served for over three decades, retiring as a full colonel.
In 1976, Dr. Bakland accepted an invitation to return to Loma Linda University and within a short time was asked to serve as the first chair of the new Department of Endodontics, a position he ultimately held for 32 years. Over his 39-year tenure in the School of Dentistry, Dr. Bakland has held numerous administrative appointments that include associate dean for Clinic Administration and associate dean for Advanced Education Programs.
Dental trauma has long been Dr. Bakland's passion. While he would hesitate to say so, he is arguably the foremost authority on the topic in the United States and is regularly sought after by the international community for his expertise.
He is also an outstanding editor, as can be noted by reading his textbook, Endodontics, the 6th edition, often affectionately referred to as the "Bible of Endodontics." Dr. Bakland has been author and co-author of more than 80 publications, and is acknowledged for his research in dental trauma and endodontics.
In 2008, Dr. Bakland became the first Ronald E. Buell Professor of Endodontics, an endowed professorship that he held through 2014. Dr. Bakland has touched the lives of countless pre-doctoral and graduate students as he mentored them in their research and clinical education.
For his contributions as a researcher, teacher, and mentor—and for exceptional competence demonstrated in serving his profession—the School of Dentistry is pleased to honor Dr. Leif K. Bakland as the recipient of the SCHOOL DISTINGUISHED RESEARCH AWARD.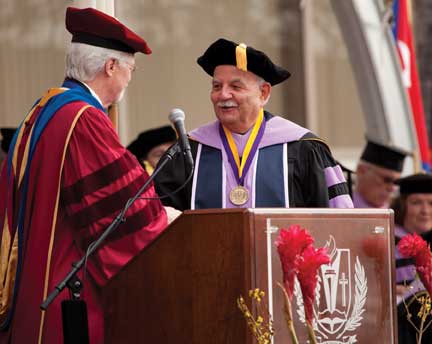 After completing his DDS degree, Dr. Gary J. Golden commenced a 22-year military career that culminated in the rank of colonel. Through the years, he served in positions of increasing responsibility—including general dental officer, dental laboratory officer, chief of prosthodontics, assistant chair and then chair of departments of prosthodontics at bases in Texas, Alaska, and California.
In 1992, Dr. Golden was appointed assistant clinical professor in the Department of Restorative Dentistry at the University of California, San Francisco, where he served until 1995. In 1996, Dr. Golden retired from the U.S. Air Force and was recruited to join the faculty of Loma Linda University where he was appointed director of fixed prosthodontics.
Dr. Golden has been the course director and principle instructor in fixed prosthodontics courses at Loma Linda for over 19 years. He enjoys a reputation as an excellent dental educator who is highly respected and valued by students and faculty alike for his rigorous, thorough, and fair assessment of students. Students especially appreciate the personal and generous attention he extends to them when they seek his help.
In recognition of, and appreciation for, his contributions to the dental profession and for his commitment to the education of students, the School of Dentistry is pleased to present to Dr. Gary J. Golden the SCHOOL DISTINGUISHED SERVICE AWARD.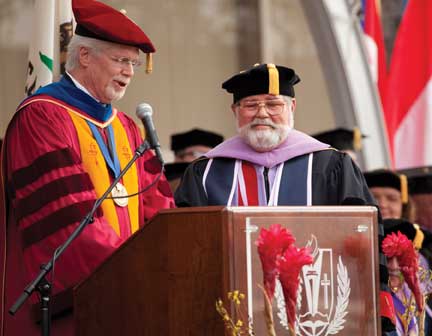 Paul L. Richardson earned his Doctor of Dental Surgery degree from Loma Linda University in 1972. After completion of his DDS, he continued his education at the University of Southern California, earning a certificate in prosthodontics and a Master's in Education degree in 1974.
Dr. Richardson then became the principle architect of the general practice residency in 1976 at the School of Dentistry.
In 1996, Dr. Richardson was named program director for the Clinical Services Division; and, in 1999, he was appointed associate dean for Clinic Administration, a title he continues to hold. His innovations and effective leadership in managing the many School of Dentistry clinics have resulted in ongoing improvements that enable students to experience an effective learning environment, and become clinically competent.
Dr. Richardson is distinguished for his extensive educational and clinical background. His knowledge and vast experience in prosthodontics, diagnosis, treatment planning, practice and business administration, as well as organizational management and leadership, continue to strengthen the programs in the school.
In recognition of, and appreciation for, his many years of excellent teaching and effective leadership and contributions to this University and the community, the School of Dentistry honors Dr. Paul L. Richardson as recipient of the SCHOOL DISTINGUISHED SERVICE AWARD.