By School of Dentistry - October 5, 2011
An article describing the recent educational encounter in Sacramento at the State Capitol between California dental students (including nine from Loma Linda) and Senator Bill Emmerson, DDS, SD'80, MS'82, appeared in Update, the monthly newsmagazine of the California Dental Association (Vol. 23, Issue 5, May 2011) and is reprinted here with permission.
Students learn how Legislature affects dentistry
Student representatives from four California dental schools visited Sacramento last month to gain an understanding of how legislative advocacy impacts dentistry.
As part of the CDA-sponsored Student Advocacy Conference on April 5, 40 students from Loma Linda School of Dentistry, Herman Ostrow School of Dentistry at USC, UCLA School of Dentistry and UCSF School of dentistry visited CDA offices and the State Capitol, where they met with assembly members and state senators.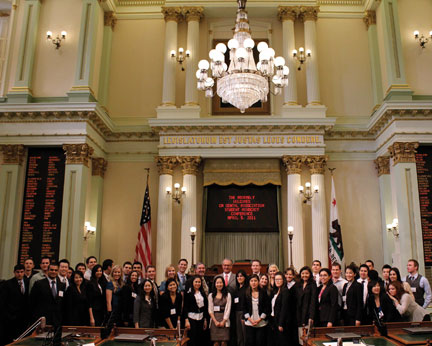 "Student advocacy day is a remarkable thing because it lets first-year and second-year students see that the goal of CDA is not just to regulate dentistry, but it's to organize it and to go to the Capitol and make sure that proposed bills or legislation are justified and fair in the eyes of the dentist," said Ryan Abelowitz, fourth-year student at UCLA.
During the morning session, CDA President Andrew Soderstrom, DDS, and CDA legislative staff led several presentations on topics including how a political action committee works, the process CDA takes to get state legislation passed, and workforce and access to care.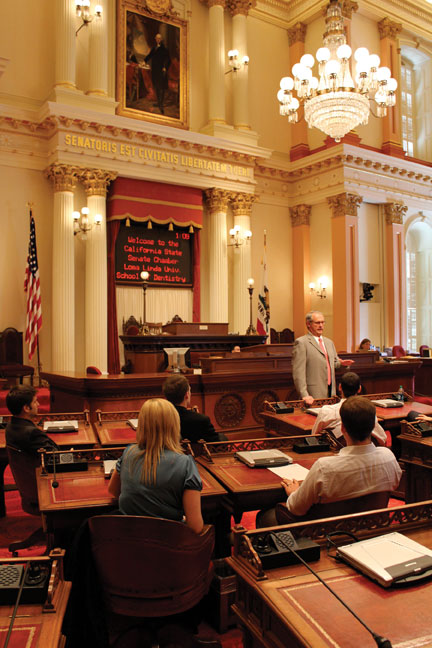 Following the morning session, students walked from the CDA offices to the State Capitol, where they met with Sen. Bill Emmerson, DDS. CDA endorsed and helped elect Emmerson to the Assembly in 2004. He was elected to the 37th Senate District in 2010.
Emmerson offered the students insight into the state legislative process, showed them the Senate and Assembly floors, and posed for pictures. He encouraged the students to continue to be involved in grassroots efforts through CDA.
"The best thing you can do when you practice is to join the California Dental Association; it does a remarkable job here in this town of representing dentistry," said Emmerson, who practiced orthodontics for 26 years in Hemet. "When any crisis ever comes up, the California Dental Association certainly steps up and does the right thing."
Third-year student at UCLA Lindley Zerbe said he joined CDA in hopes that he would some day have the chance to meet a senator or assembly member.
"As a CDA member and a student member even, it was great to get direct access to Bill Emmerson… . He is an orthodontist; he's a fellow dentist who is taking the time to speak to us and get our ideas—it's just a real vote of confidence for the future of dentistry," Zerbe said. "For me, it was amazing."
Students would later hear from other legislators such as Sen. Jean Fuller and Assemblywoman Fiona Ma.
Fuller stressed that things get accomplished in Sacramento when enough people get together and tell legislators that something is wrong and needs to be fixed, and they don't "quit yelling about it until it gets done."
"There's never the best anything in politics, but at that moment there is enough pressure from enough people who agree on the need—at that point things begin to happen," Fuller said.
Students asked Ma questions about topics including infection control, how a bill is introduced, student loan funding and term limits.
Diana Torres, first-year student at Loma Linda School of Dentistry, said the conference was informative and motivated her to get involved.
"I had an amazing experience while visiting the CDA building and attending their conference. I think it is important to get involved now as D-1s… . Getting involved, knowing what to do and how to support all of these [dental-related] bills is very important," Torres said.
Abelowitz said he believes advocacy is the biggest benefit of CDA membership.
"Your profession is your life; and if you have control over your profession, you have control over your livelihood," Abelowitz said. "By being a part of the political aspect—the legislative arm of CDA—you have an input on what is going to happen in your profession; and by doing so, you rule your profession."