By School of Dentistry - May 6, 2011
 Dr. Charles Thomas Smith was born March 22, 1914, to a San Diego couple—Sydney A. and Lydia Ellen Smith. His dentist father had been president of the San Diego County Dental Society (founded in 1887) in the early 1900s, and would pass on the love of dentistry and leadership to his son, Charles.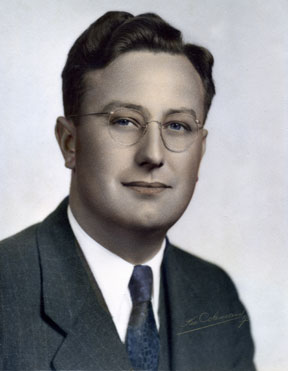 La Sierra College and Pacific Union College were the sites of Dr. Smith's undergraduate education. After graduating in 1940 from the College of Physicians and Surgeons School of Dentistry in San Francisco (now the University of the Pacific School of Dentistry), he returned to San Diego to join a small group practice with his father and Dr. Charles G. Giddings.
Following in his father's footsteps, in 1949 young Dr. Smith became president of the San Diego County Dental Society—after only eight years in the profession. He served on several SDCDS committees, and subsequently was appointed to Council membership on the Education Advisory Committee (later becoming its chair) of the Southern California Dental Association.
Dr. Smith was one of the three founders (with Drs. Damon Vanasen and James Vernetti) of the Children's Dental Health Center in San Diego, which still provides dental services and education to the underprivileged children of that metropolis.
Having replaced his father, Dr. Sydney Smith, when he retired from the chairmanship of the county dental society's dental public health committee, Dr. Charles Smith was a prominent advocate in dentistry's effort to secure legislation to fluoridate the San Diego water supply as a preventive dentistry public health measure.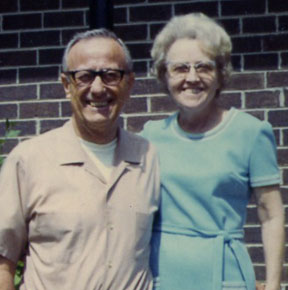 Dr. Smith married Ruth Anita Anderson in May 1935. Two children joined this union—Charles Thomas, Jr. (Tom) and Charlyn Ruth Smith. Ruth Anita Smith died in December 1978; and in July 1979, Dr. Smith married Mary Lou Sessums. He now has a total of eleven grandchildren and nine great grandchildren.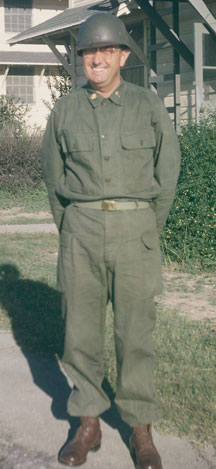 Because during World War II he had been designated vital to the San Diego community's health, Dr. Smith was exempt from military service. However, during the Korean War he became a major in the U.S. Army Reserve Dental Corps and served with the Army's dental clinics at Fort Bliss in El Paso, Texas. He said that was the first time in his professional career that he could work from 7 a.m. to 3 p.m. and then be home with his children in their after-school and evening hours.
Dr. Smith's first faculty appointment as a part-time assistant professor of restorative dentistry began two months after the School of Dentistry's first class graduated in 1957. Dr. Smith drove from San Diego each week to contribute a full day of instruction in clinical dentistry, often carpooling with future dean Judson Klooster of Escondido who was then also part-time LLUSD faculty.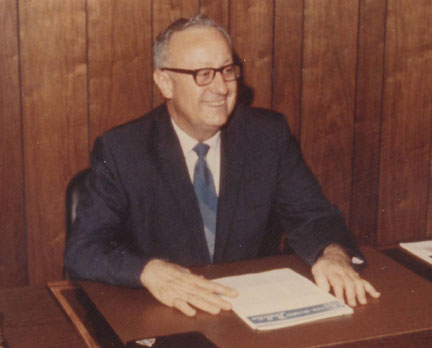 When Dr. Smith was appointed dean-elect in 1959, he obtained post-doctoral education by visiting and spending time with administrators of various dental schools around the country, including Michigan, Maryland, North Carolina, Tennessee, and UCSF. These were some of the most respected dental institutions in the country. From them he learned many skills in the administrative areas of running a dental school—skills that would be valuable in the deanship of a relatively new school, such as Loma Linda University School of Dentistry.
Appointed dean in July 1960, Dr. Smith began immediately to build on the foundation established by Dr. Prince. The sponsoring of clinical faculty for advanced training and post-doctoral master's degrees was continued and enhanced. The nascent advanced education program in orthodontics was provided a broader administrative base. Over the next few years, new graduate programs were established in oral and maxillofacial surgery, endodontics, periodontics, oral pathology, and pediatric dentistry.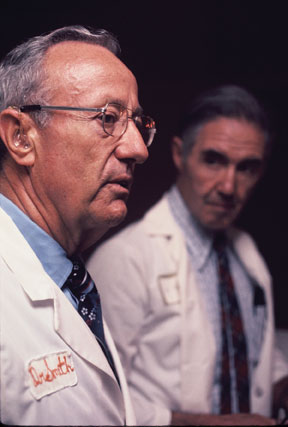 In 1959, at the very beginning of Dr. Smith's administrative leadership, the baccalaureate-level program in dental hygiene was launched, grew, and thrived with Dr. Gerald Mitchell as its director; and in 1968, a dental assisting program was born.
Under Dr. Smith's leadership, the first off-campus clinical service program was established in Monument Valley, Utah. Resident faculty supervised the students who experienced rotations of clinical clerkship in this unique setting on the Navajo Indian reservation as a part of their pre-doctoral dental education. Opportunities for service learning in domestic and international settings at a wide variety of locations around the world multiplied.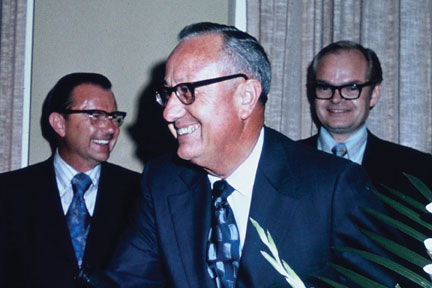 To ensure his personal acquaintance with the opportunities and experiences LLUSD graduates and other mission dentist appointees would encounter, Dean Smith and his wife circled the world in 1965 visiting Adventist mission dental clinics. In most of these settings, Dr. Smith participated with missionary dentists to provide dental services to people in remote locations where no dental care was otherwise available.
With the support of College of Medical Evangelists (now Loma Linda University) president G. T. Anderson, Dr. Smith and his colleagues designed the expansion of Prince Hall to provide additional space for clinical, research, and teaching activities that had been promised Dr. Prince when the building was first erected.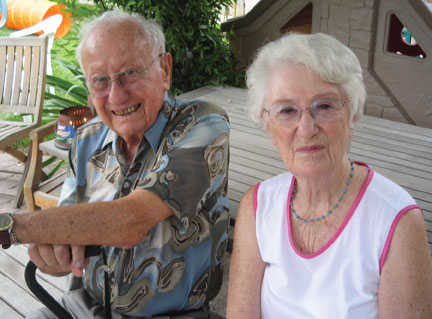 After retiring as dean of the School of Dentistry in June 1971, Dr. Smith worked for two years in the U.S. Bureau of Health Manpower. He then joined the University of Texas at San Antonio faculty in its department of preventive dentistry. In that capacity he initiated UTSA's mobile clinic program and designed its dental assisting program, before becoming its associate dean for student affairs.
Dr. Smith and Mary Lou settled in the Palm Springs area from where, as dean emeritus, he often participated in School of Dentistry and LLU activities such the Alumni Association Board of Directors meetings, Alumni Student Conventions, and graduation events.
 
Memorial Services for Dr. Smith will be held
Saturday, May 21, 2011 at 4:00 p.m.
Wong Kerlee International Conference Center
Loma Linda University
Loma Linda, CA 92354
In lieu of flowers, gifts should be made to the Dean's Fund, School of Dentistry, Loma Linda University, Loma Linda, CA 92350