By School of Dentistry - April 30, 2010
Carla Lidner Baum, SD'90, MS, assistant professor of Dental Educational Services, is the 2010 recipient of Soroptimist International of Riverside's most prestigious honor the Gold Key Award.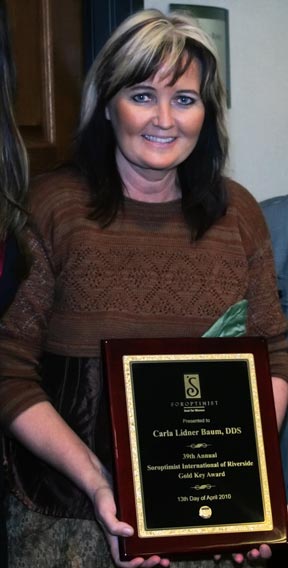 Soroptimist International is a worldwide organization for women in management and professions, with over 90,000 members in more than 3,000 clubs in 124 countries/territories that works through service projects to advance human rights and the status of women.
The Gold Key Award recognizes community volunteer accomplishments and community service to the City of Riverside. More specifically, its annual recipient is a woman who has for at least a decade volunteered her services in a way that has had a significant impact on the lives of women and girls in the Riverside area.
Upon graduating from the Loma Linda University School of Dentistry in 1990, Dr. Lidner Baum volunteered her new profession with State Health Department of Arizona, and for seven years developed programs there for HIV, cancer, and low-income patients.
She returned to Loma Linda in 1997 to develop a dental oncology service at the School of Dentistry for cancer patients who were out of money but were left with a profound need for oral restoration.
Later Dr. Lidner Baum successfully applied for a $900,000 grant to cover the dental treatment of low income children in San Bernardino County—a grant that she continues to administer and that has grown to $3.7 million, the largest dental grant in the United States for that purpose.
Dr. Lidner Baum considers the many awards she has received as "earned credit" that she uses to gather continued support from city and county officials, mental health departments, and child advocacy groups to make much needed changes for the benefit of the underserved children—especially the foster kids—who are nearest and dearest to her heart.