By Anonymous - March 17, 2011
For his personal and professional contributions, the Black Alumni of Loma Linda & La Sierra universities (BALL) honored LLU School of Dentistry alumnus Lloyd E. Stoll, SD'62, as the 2011 BALL alumnus of the year during its 27th annual scholarship banquet February 26 at the Los Angeles Marriott.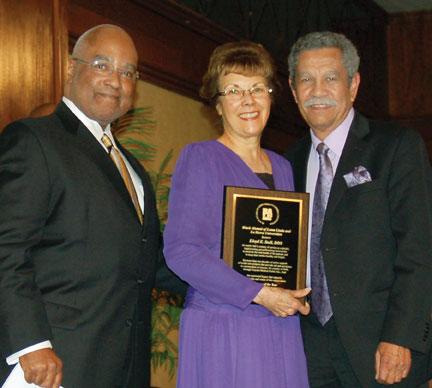 Born in British Guyana (now the Cooperative Republic of Guyana) on the northern coast of South America, Dr. Stoll's earliest years were spent in the Charity district along the Pomeroon River. The eldest of four brothers, he attended Catholic school for his first three grades, and then relocated to the country's capitol, Georgetown, where he attended several grades at an Anglican school before completing the elementary grades at the first Seventh-day Adventist school in that city.
Dr. Stoll attended Caribbean Union College, Union College in Lincoln, Nebraska, and La Sierra College (now La Sierra University) where he graduated with a Bachelor of Arts degree in biology. He then earned his Doctor of Dental Surgery degree from Loma Linda University School of Dentistry in 1962.
The dental clinic for the employees of the Local 770 grocery stores in Hollywood, California, provided Dr. Stoll with his first work as a dentist. After three years in Hollywood, he moved to Watts, California, to work at the Watts Community Health Center run by the University of Southern California.
In 1969 Dr. Stoll opened a solo dental practice on the campus of the White Memorial Medical Center—a practice he has maintained for 42 years.
For the past 22 years Dr. Stoll has been involved with Guyana Medical Relief (GMR)—a non-profit organization (composed primarily of expatriate Guyanese) that raises funds to provide medicine and hospital supplies to seven government and two denominationally owned hospitals in Guyana. He also serves as the liaison between GMR and Davis Memorial Hospital, a Seventh-day Adventist facility in the country's capitol.
Dr. Stoll is the president of the Southern California Chapter of the University of the Southern Caribbean, and has been a leader in the Berean Seventh-day Adventist Church in Los Angeles for the past 48 years.
Dr. Stoll is married to the former Pat Gauff. The couple raised three sons—Jeffrey (deceased), Michael, and Anthony—and has one grandson and four granddaughters.