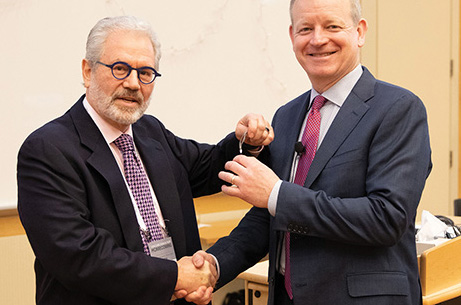 By Douglas Hackleman - August 1, 2019
Gordon M. Rick, DDS'68, MS'72, has donated to the American Academy of Oral and Maxillofacial Pathology (AAOMP) more than 250,000 surgical specimens from the oral, head, and neck region.  They represent the consecutive accessions from 1956 through 2008 of what eventually became Scripps Oral Pathology Service (SOPS). The collection of paraffin-embedded tissue blocks and glass microslides occupies about 425 cubic feet and weighs nearly 12,000 pounds.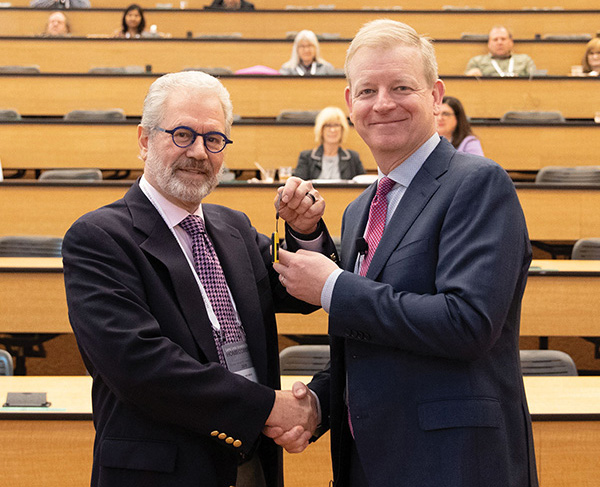 Dr. Rick (left) delivers a thumb drive containing records of the 250,000 surgical specimens to Dr. Lingen before his address on "Differential Diagnosis of Oral Mucosal Lesions" for the Gordon M. Rick Oral Cancer Lecturseship at the 2019 Alumni Student Convention.
The archive is located at the University of Chicago Human Tissue Resource Center that ensures safe storage, management, utilization, and distribution of the material according to the policies of the Center and the Rick Collection Advisory Committee (RCAC) chaired by Mark W. Lingen, DDS, PhD, professor of pathology and scientific director of the Center.
History of SOPS
Oral Pathology Service (OPS), reportedly the first private, independent oral pathology lab in the country, was established by Francis V. Howell, DDS, MS, in La Jolla in 1956.  Beginning a few years later two pathology professors from the University of Southern California School of Dentistry each practiced there a day a week through 1972.
Dr. Rick spent the final year of his LLU oral pathology residency at the La Jolla laboratory and became a part-time associate pathologist there in 1973. (Dr. Rick and Lane Thomsen, DDS'65, MS'74, were the first and only residents to complete the full LLUGS oral pathology graduate program.)  First appointed to the LLUSD faculty in 1969, and while teaching full-time in the Department of Oral Medicine (which later became ODRP), Dr. Rick commuted to practice in La Jolla one day per week until he moved to the San Diego area in 1985 to devote more time to private practice while commuting to LLU to teach part time.  (A human interest note: While growing up in Chilliwack, British Columbia, Elmer Kelln, DDS, was the Rick family's dentist. In 1967, Dr. Kelln joined the LLUSD faculty where he was one of Dr. Rick's instructors and briefly his department chairman.  In 1975 Dr. Rick became ODRP chair when Dr. Kelln was appointed associate dean and later an LLU distinguished professor.)
By the early 1980s, SOPS had become part of the new Scripps Clinic Department of Oral Medicine and Stomatology.  When the department was scheduled for closure near the end of the 1980s, Dr. Rick acquired the oral pathology lab and established Scripps Oral Pathology Service (SOPS) that continued operating on the Torrey Pines Campus of Scripps Clinic and Research Foundation until 1992 before relocating to Sorrento Valley (down the road from QualComm headquarters) and finally to Governor Drive in the Golden Triangle area of La Jolla.
Dr. Rick subsequently broadened the services of SOPS to include a clinical oral pathology (oral medicine) division, to serve the needs of diagnostically challenging clinical cases referred by dentists and physicians primarily in the San Diego area, and an education division licensed to provide California continuing dental education credits.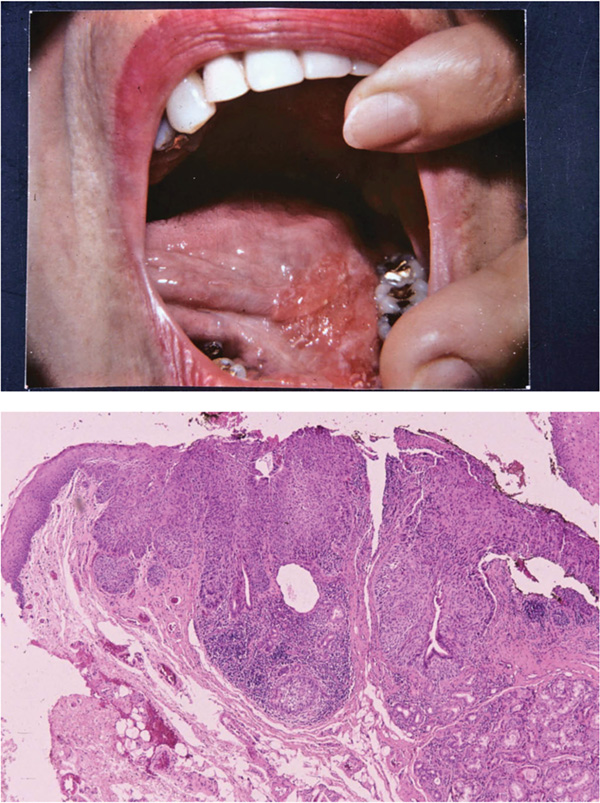 Images above show an asymptomatic erythematous lesion of the left lateroventral tongue mucosa, typical of an early squamous cell carcinoma (the most common oral malignant tumor that the dental profession carries the primary responsibility for detecting and diagnosing), and the corresponding microscopic features showing invading atypical epithelial cancer cells.
In the following years, a number of board-certified oral and maxillofacial pathologists who were working for or had worked at other healthcare institutions (LLUSD, Santa Monica VA Medical Center, UCLA, AFIP, Balboa Naval Medical Center) served on the part-time professional staff at SOPS, including Gretchen S. Folk, DDS, MS who continues to serve as laboratory director.   In 2007, laboratory accessions passed the 250,000 mark and from among those specimens a number of new diseases have been identified, including necrotizing sialometaplasia, florid osseous dysplasia, and sialadenoma papilliferum.  Additionally, the understanding of a number of other conditions has been amplified through publications and abstracts on acinic cell adenocarcinoma, mucoepidermoid tumor/carcinoma, adenomatoid odontogenic tumor, peripheral ameloblastoma, calcifying epithelial odontogenic tumor, verruciform xanthoma, and minor salivary gland calculi. Meanwhile, Dr. Rick is working on an extensive survey of odontogenic tumors he began in 1983 during an NIH Fogarty International Fellowship with the late Professor Jens J. Pindborg, DDS, Dr Odont, in Copenhagen.
Following the sale of the laboratory in 2013 to LLUSD alumni, Craig Chan, DDS'83, and his brother Curtis Chan, DDS'86, Dr. Rick remains director emeritus.
Collection access
The AAOMP is making the Rick Collection available to the biomedical researchers and educators through the custodianship of the University of Chicago Human Tissue Resource Center that offers, in addition to Biospecimen Banking services, Laser Capture Microdissection, Digital Pathology, and Histology (including conventional histochemistry and immunohistochemistry).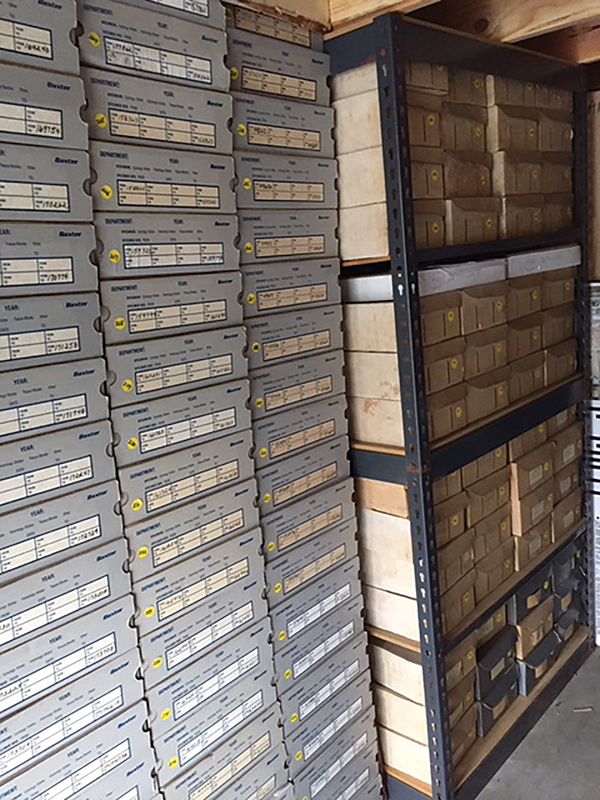 Some of the nearly six tons of paraffin tissue blocks and glass microslides that comprised the initial shipment to the University of Chicago.
The archive specimens were coded by the original diagnosing pathologist using criteria available at the time of diagnosis.  Cases in the database may be searched by histopathologic diagnosis, anatomic location, and multiple demographic parameters. Recut microslides and demographic data are provided to bona fide researchers and educators whose project-specific protocols have been approved by the RCAC.
Healthcare researchers and educators interested in making use of this collection should request a current application form from the curator, Dr. Mark W. Lingen, at mark.lingen@uchospitals.edu