By Anonymous - March 13, 2015
LLU School of Dentistry class of 2015 dental students Jason Joo and Kyle Poulsen each have been awarded $5,000 grants by the American Dental Association Foundation to assist with their continuing efforts to deliver oral health care to the underserved.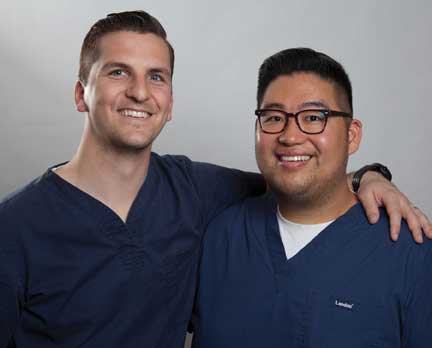 Both Joo and Poulsen have been especially active in the School's service learning programs. Poulsen was granted the American Dental Association Foundation's E. "Bud" Tarrson Dental School Student Community Leadership Award and Joo was chosen to receive the Dr. Thomas J. Zwemer Award. It is the first time that students from the same dental school received both of these ADA Foundation awards in the same year.
"Kyle Poulsen and Jason Joo have led by example—organizing, planning, and operating their teams of student volunteers," says Graham Stacey, PhD, associate dean, Admissions and Student Affairs. "And a behind the scenes contributor to the student's awards,"  he added, "is Irmgart Mitchell, director of Student Services, who pursues scholarship opportunities for students and encourages them to apply."
The Tarrson and Zwemer awards recognize excellence in providing oral health care services to underserved populations. The Tarrson Award supports service programs that take place within the United States, while the Zwemer Award aids efforts to provide dental services outside of the country.
"The School of Dentistry is pleased and proud to have students whose activities have earned the respect of the American Dental Association and these two very prestigious awards," said Ronald Dailey, PhD, dean, Loma Linda University School of Dentistry.
"'Service is our calling,' has been the School's motto, since its founding in 1953, and these students certainly exemplify that calling."