By Anonymous - July 25, 2014
Shortly before his graduation from LLU School of Dentistry senior Matthew Enns, DDS'14, was the honored recipient of a Student Scholarship Award at the Annual Luncheon for the Southern California Section of the Pierre Fauchard Academy during the CDA Anaheim convention (May 15-17).
 
Only six months earlier, during the October 2013 ADA and ASDA meetings in New Orleans (see Dentistry 25:1), Matthew was the recipient of the Academy of Dentistry International (ADI) Terry Tanaka Award, given to one senior dental student in the United States each year during the ASDA meetings.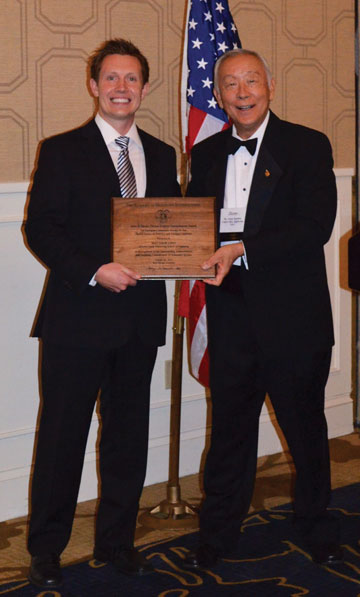 It was the second consecutive year that an LLUSD student was recognized with the award and the fifth over the past twelve years. Jason Mashni, DDS'13, Vincent Drouin, DDS'09, Bradley Szutz, DDS'05, and Dean Brewer, DDS'04, were Matthew's honored predecessors.
His proactive and focused concern for others has been manifest since he began dental school. At the start of his freshman year, Matt helped reorganize and run "The Homeless Clinic Riverside" at the Calvary Presbyterian Church Dental Clinic in Riverside, California, that utilizes the School's Mobile Clinic and now treats well over 40 patients per quarter.
Matt helped to reorganize the Compassion Clinic at the Blessing Center, a non-profit charitable aid organization in Redlands, California, that was treating indigent patients two to three times each quarter. Under Matthew's direction, the Compassion Clinic now typically treats 20 patients on Thursday evenings, 12-15 patients each Tuesday evening who have more urgent needs, and has a waiting list of 950. Matt continues to coordinate the other student volunteers and has been able to get another clinic open for more urgent needs requiring oral surgery. He was especially pleased to recruit nearly a dozen faculty members to rotate through the Compassion Clinic and provide root canal treatment.
Matt drove home to British Columbia during summer break and returned to school with his family's van to be used as a service vehicle for community service projects. On weekends, he uses the van to transport supplies for the clinic on Saturday nights and returns them on Sunday nights.
His first international mission trip was a ten-day service learning trip to Nicaragua in the summer of 2011. Since then, as a student representative, he has helped to plan and organize the trips each year and acquire supplies for those efforts.
Matt is quick to point out that "everything I've done has been in cooperation with other student volunteers and leadership in the Service Learning Department, especially faculty like Dr. Mark Carpenter, Dr. Matt Streelman, Dr. Zegar Zegar, and Dr. Kevin Jetton who are regulars at the Compassion Clinic. Without these faculty members, the clinic would not run in the successful way that it does.
"Eric Chen, my classmate, has been working with me since our D1 year and also received a service leadership award. Kyle Poulsen, Jason Joo, and Michael Cho are D3s who have taken leadership in the upcoming class, while Robert Perry and Michael Cervantes from the D2 class are already taking on leadership opportunities to help these clinics grow and improve."
Matt began in July a residency in LLU School of Dentistry's Advanced Specialty Education Program for Implant Dentistry.