By School of Dentistry - November 14, 2010
Loma Linda University (LLU) School of Dentistry held ribbon-cutting ceremonies Wednesday, November 10, to mark the completion of the LLU Center for Dentistry and Orthodontics at 159 West Hospitality Lane, San Bernardino.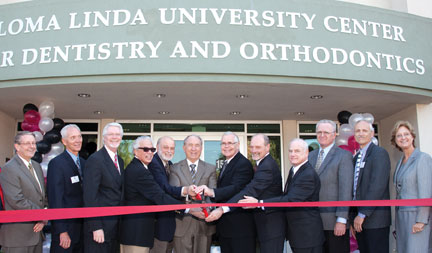 The three-story treatment, research, and teaching facility brings together the University's Advanced Education Program in Orthodontics and Dentofacial Orthopedics and the School of Dentistry's faculty practices, creating the most comprehensive oral health care center in the Inland Empire.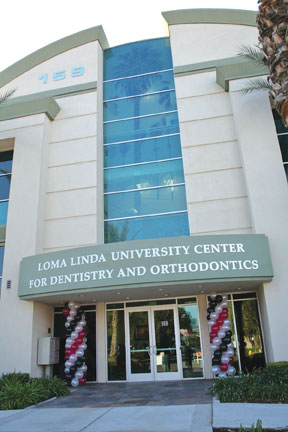 For about a year, the Center's second and third floors have been home to the University's Department of Orthodontics and Dentofacial Orthopedics—including its research lab, graduate clinic, classrooms, and academic offices. But the Center was not complete until last week, when the Faculty Dental and Specialty Practices moved from Taylor Street on the University's main campus to the Center's newly renovated first floor.
With the arrival of these practitioners—40 of whom are teaching faculty in the University's School of Dentistry—the Center is equipped to provide fully integrative oral health care, including general dentistry, periodontics, pediatric dentistry, orthodontics, prosthetic dentistry, endodontics, oral surgery, sleep apnea therapy, dental implants, head and neck pain management, and treatment for temporomandibular joint dysfunction (TMD).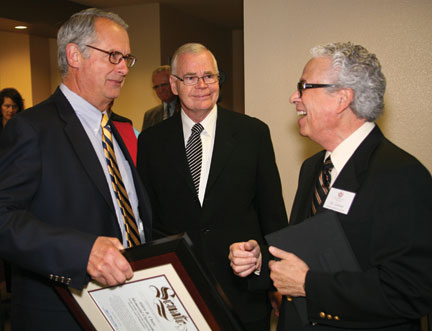 "Our patients have the advantage of multiple dentists, specialists and auxiliary health care providers working in a true team effort to achieve better treatment outcomes," says Joseph Caruso, DDS, MS, MPH, associate dean for Strategic Initiatives and Faculty Practices, who spearheaded the Center's development. "The School of Dentistry's goal was to bring to this community a fully integrated practice where patients needing any dental treatment—from routine cleanings to complex surgeries—could find care that is specialized, coordinated, and convenient."
"Many group dental offices in Southern California are controlled by large corporations and end up losing focus on the key point: that the patient is most important," says Kevin Brown, DDS, a full-time clinician in the faculty dental practices. "I'm proud to work in an office where it's evident that patients come first and where dentists stand by the quality of their work."
"It is a pleasure to be affiliated with dentists, specialists, assistants, and support staff who embrace the University's mission concept of 'wholeness' in their approach to patient care," says Tina Malmberg, manager, Faculty Dental and Specialty Practices. "I'm delighted with the opportunities the new multi-specialty dental center offers our patients, our team, and our community."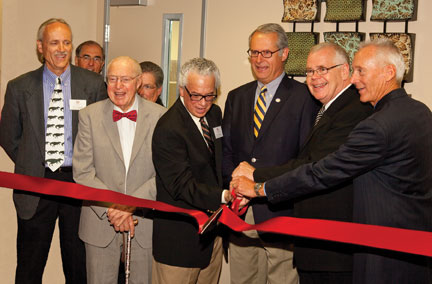 The move to the Center's 9,000-square-foot first floor represents an enormous relief to faculty practitioners who for years have worked in a 3,500-square-foot renovated house. Unlike the older location, which was dated, cramped, and perpetually short on parking, the new facility offers more places to park, more room to move, upgraded technology, and updated décor.
The Center is equipped throughout with closed-circuit TV monitoring—from patient waiting rooms to operatories and hallways—and has been wired throughout for state-of-the-art internet connectivity. Its custom-designed tele-dentistry mobile unit displays patient images in real time, allowing for consultation as needed with instructors at the School of Dentistry or elsewhere. And its video conferencing capabilities can include up to 35 participants joining from up to four locations, facilitating guest lectures and conferences with people anywhere in the world.
Judi Penman, chief executive officer of the San Bernardino Chamber of Commerce, presided over the 10:00 a.m. ribbon-cutting ceremony for three orthodontic department areas, each named in honor of a man who figures significantly in the department's history: the J. Milford Anholm Graduate Orthodontic Clinic, the Alden B. Chase Classrooms and Video Conferencing Center and the Thomas J. Zwemer Conference Room.
The Faculty Dental and Specialty Practices' ribbon-cutting took place at noon, with Penman again presiding and Mayor Patrick J. Morris welcoming the Center to the City of San Bernardino.
To benefit from the services of these uniquely qualified oral health care professionals,