By School of Dentistry - July 31, 2013
Mahmoud Torabinejad, DMD, MSD, PhD, director, Advanced Specialty Education Program in Endodontics, was honored with the Loma Linda University Distinguished Investigator Award during the 2013 commencement services.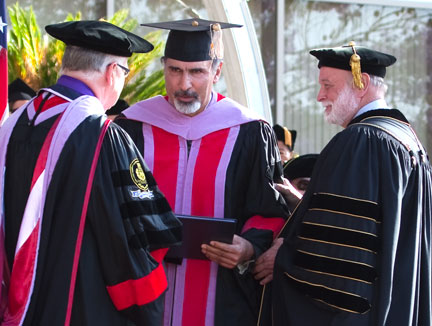 LLU President Richard Hart, MD, DrHS, and LLU Provost Ronald Carter, PhD, collaborated in the presentation of the award to the 36-year veteran of the School of Dentistry faculty that included the following remarks by Dr. Carter.
"Born in Kashan, Iran, Dr. Mahmoud Torabinejad attended local elementary and high schools. From the rigorous selection process that identified students who would be given the opportunity to pursue higher education, he emerged as one of the 404 students chosen from among 14,000 applicants. Influenced by an uncle who was a denturist, he declared dentistry as his professional goal. After completing his six-year program, from which he graduated number one in his class at the most academically challenging of Iran's five dental schools, he knew he wanted to teach and to pursue research.
"His search for advanced training in endodontics led Dr. Torabinejad first to the University of Illinois, where he earned certification in oral pathology and then to Seattle, where he completed a masters degree in dentistry and a certificate program in endodontics. While teaching and engaged in research at Harvard University (1976-1997), Dr. Torabinejad met Dr. Leif K. Bakland at an endodontics conference in Houston, Texas. This encounter led Dr. Torabinejad to choose Loma Linda University from among several schools that were recruiting him for a teaching/research position.
"Dr. Torabinejad's renown in the field of endodontics is undisputed. Identified in 2011 by the Journal of Endodontics as the top-cited author in the field, his prolific contributions as researcher and international lecturer on dental and endodontic issues and procedures include more than 200 national and international presentations in more than forty countries. He has co-authored three textbooks in non-surgical and surgical endodontics, as well as single tooth implant; and has authored more than 300 publications on various endodontic and dental topics.
"Dr. Torabinejad's pioneering research has led to major breakthroughs in the field of endodontics, including development of mineral trioxide aggregate (MTA) to replace the mercury-and lead-laden amalgam previously used for root canal surgery; and an irrigant to wash away bacteria and debris from an infected root canal, replacing potentially dangerous household bleach. He has also conducted numerous studies to help reduce inflammation and pain, which have led to new standards in dental care. The family and professional connections he has maintained in his homeland and establishment of the Mahmoud Torabinejad Clinical Research Center—which opened in Isfahan in 2011—have given him access to a promising research population for important longitudinal studies.
"In addition to his contributions as a scholar, researcher, and teacher, Dr. Torabinejad maintains a private practice in which he treats patients one day a week.
"Dr. Torabinejad has served in leadership roles with various dental organizations, including past president of the Southern California Academy of Endodontists, American Association of Endodontists (AAAE), American Association of Endodontists Foundation, and California State Association of Endodontists. He has also served on the AAAE Board of Directors.
"In recognition of his significant pioneering contributions to health sciences research, Loma Linda University Health is pleased to name Dr. Mahmoud Torabinejad a recipient of the Distinguished Investigator Award.