By School of Dentistry - January 6, 2010
The Keeping Connected gathering in the School of Dentistry's main lobby on Friday, September 11, began with a poignant video tribute to those lost in the Twin Towers attack of eight years ago and an a cappella solo of God Bless America by Shelley Console, academic assistant, Office of the Dean.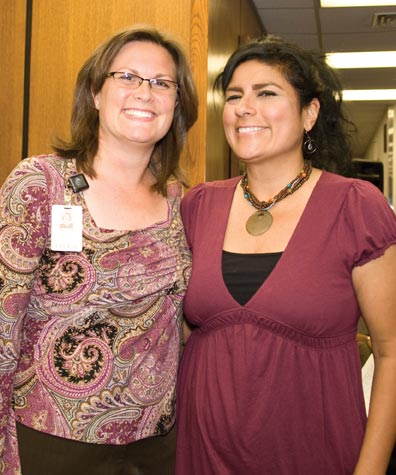 This somber reflection was followed with a 22-slide presentation entitled "Sun and Skin Cancer" by Jamie Strahan, MD, attending physician and Mohs surgery fellow, Department of Dermatology, Loma Linda University. Dr. Strahan reviewed the myths and facts of sunscreen protection and the sometimes-fatal consequences of sun damage to the human body's largest organ—its skin.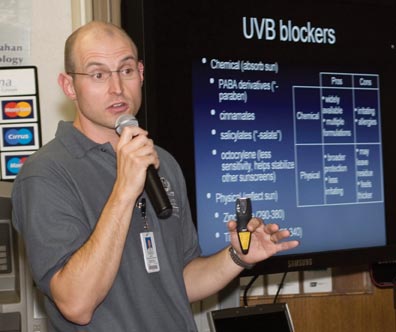 Given the almost continuous daytime availability of Southern California sun, the vanity that is so regularly connected with a good tan, and the pleasant clarity of Dr. Strahan's presentation, it is no surprise that he was peppered with questions that easily could have exceeded the time allotted for the program.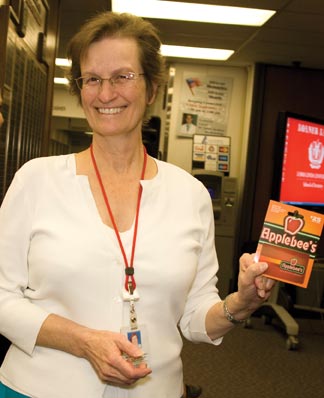 Keeping Connected is a quarterly meeting of the School of Dentistry that has regularly attracted nearly 100 staff members at each meeting over the last several years, and was developed to keep lines of communication open.