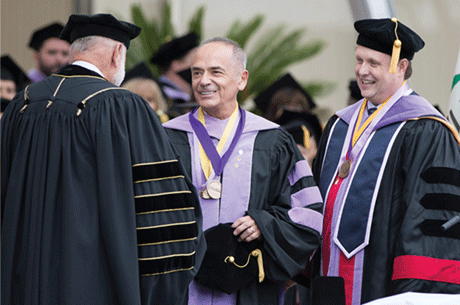 By Douglas Hackleman - August 8, 2019
Jaime Lozada, DDS, program director, Advanced Dental Education Program in Implant Dentistry, was presented during LLUSD commencement 2019 with the School Distinguished Research Award by Dean Robert Handysides who described his contribution to dental education and particularly to research in implant dentistry.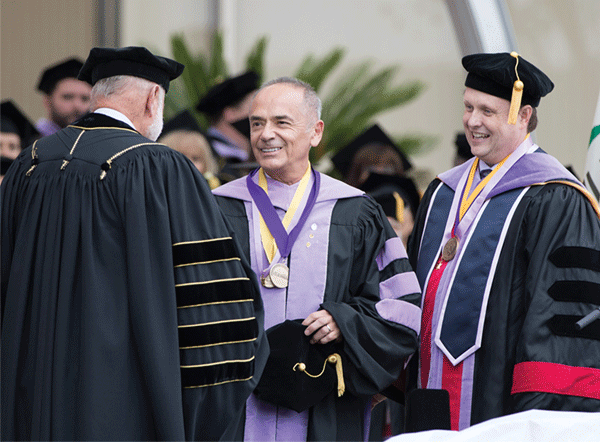 Dr. Jaime Lozada is congratulated by President Richard Hart, MD, DrPH, and Dean Robert Handysides.
 "An outstanding researcher and educator, Dr. Jaime L. Lozada has served the Loma Linda University School of Dentistry for more than three decades. Throughout his career, he has conducted rigorous and meaningful research, resulting in significant innovations in the field of implant dentistry. Dr. Lozada generously shares his knowledge and expertise as an investigator by mentoring graduate students and fellows in their laboratory and clinical research projects, and by publishing his findings. He has published over 100 articles in peer-reviewed journals and authored or co-authored many textbooks and chapters. His publications have introduced new clinical methods and advanced implant dentistry.
"Recognized for his exceptional, significant, and exemplary contributions to the advancement of implant dentistry, Dr. Lozada received awards from the American Academy of Implant Dentistry Research Foundation, the Academy of Fixed Prosthodontics, and the Journal of Prosthetic Dentistry.
"A local, national, and international lecturer, Dr. Lozada has also established valuable linkages and benefitted his colleagues in dentistry through his leadership in prestigious professional bodies—serving as past-president of the American Academy of Implant Dentistry of the American Board of Dental Specialties, a member of the Editorial Board of the Journal of Oral Implantology, a fellow of the American College of Dentists, and currently as president of the American Board of Oral Implantology/ Implant Dentistry.
"Dr. Lozada has been blessed with a wonderful family— his wife, Alicia F. Lozada, and daughter, Daniella.
"The School of Dentistry recognizes Dr. Jaime L. Lozada's unwavering dedication to dental education and his invaluable contributions to research in implant dentistry that have significantly impacted not only the local but also the global dental community—and honors him with the School Distinguished Research Award."