By School of Dentistry - February 21, 2014
Nasser Said-Al-Naief, DDS, MS, recently joined the faculty of two Loma Linda University schools: as professor, Department of Oral Diagnosis, Radiology, and Pathology in the School of Dentistry and associate professor, Department of Anatomy & Pathology, Head & Neck Pathology at the School of Medicine.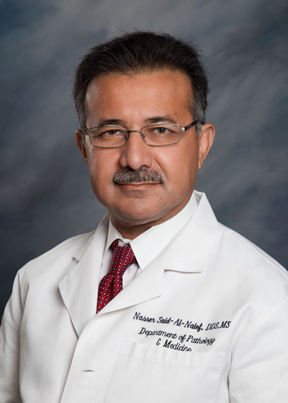 Dr. Said has been teaching at the School of Dentistry since his January 6 arrival from the University of the Pacific's Arthur A. Dugoni School of Dentistry where he served from 2009 as associate professor in the Pathology and Medicine Department, and director of the Oral and Maxillofacial Pathology Laboratory and Clinical Oral Pathology and Medicine. He had previously served as the director of the oral and maxillofacial pathology laboratory at the University of Alabama, School of Medicine, Department of Pathology and at UAB School of Dentistry where he closely collaborated with the departments of otolaryngology head and neck surgery and oral and maxillofacial surgery. He has been managing clinical oral pathology/oral medicine patients for over 15 years.
Dr. Said received his Doctor of Dental Surgery degree from Marquette University's School of Dentistry and a Master of Science degree in oral biology at the University of Illinois at Chicago. He completed two residencies in oral and maxillofacial pathology: one at the University of Illinois at Chicago and another at Long Island Jewish Hospital. He also completed an advanced Head and Neck/ENT pathology fellowship at Mount Sinai Hospital in New York.
As part of his academic leadership and involvement, Dr. Said has spearheaded numerous research studies, has presented numerous national and international continuing education courses, is a member of 16 professional societies (including being on the past executive council of the North American Society of Head and Neck Pathology) and currently is on the council of the American Academy of Oral Maxillofacial Pathology.  He sits on a dozen councils and committees (including past chair of the finance committee for The American Academy of Oral & Maxillofacial Pathology), serves as a reviewer for eight academic journals that address oral, head and neck pathology, and sits on the editorial board of three other publications. He also serves on the American Dental Association's National Board part II test construction committee.
For personal and political reasons, Dr. Said left Iraq in 1985, after completing four years of dental training at the University of Baghdad College of Dentistry. He is most grateful to Marquette University School of Dentistry, Milwaukee, for accepting his translation of his personal transcript copies from Arabic—a trust that permitted him to begin dental school there as a freshman and earn his DDS in 1989.
Dr. Said has a seven-year-old daughter, nine-year-old fraternal twins (boy and girl), and an eleven-year-old daughter.
He expresses joy regarding his marriage to Neda, a stay-at-home pharmacist who spends much of her time guiding their four children through the early years and caring for Dr. Said's elderly mother and father who have resided with them for the last 18 years.
When life normalizes and some injuries heal, Dr. Said would like to resume playing soccer and practicing Martial arts.